September 18, 2013 - 8:11am
Double fed sweet levain bread
My first bake from Ken Forkish's Flower, Water, Salt, Yeast.  Ken says to bake it down dark.  Okay!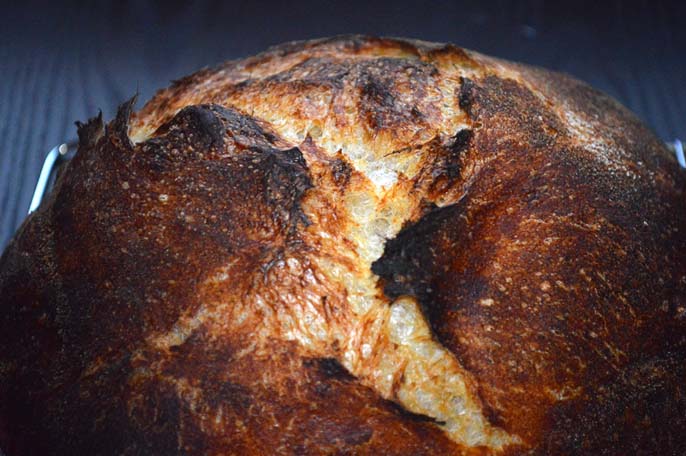 This was baked at 475F n a hot covered DO for 20 minutes then uncovered and baked at 475 convection.  After 10 minutes turning at the half, this was the result and though Ken says bake for 20 uncovered, I thought things were dark enough using a convection bake.  This loaf really crackled and hissed once removed from the oven.
I had planned to follow Ken's instructions to the letter, but sometimes life gets in the way.  Uncle skibum had too much medicine the night before starting this project, so instead of starting the levain at 7:00 am as planned it didn't get done until 9:30.  Oops!  The result was that I was too tired to shape at the end of the day, so the dough went into the fridge in bulk to be shaped, proofed and baked the next day.
Forkish has a most interesting take on adjusting your flavouring by adjusting the levain -- neat concept!
I halved this recipe and the loaf still had so much volume, my bread knife was nearly not long enough!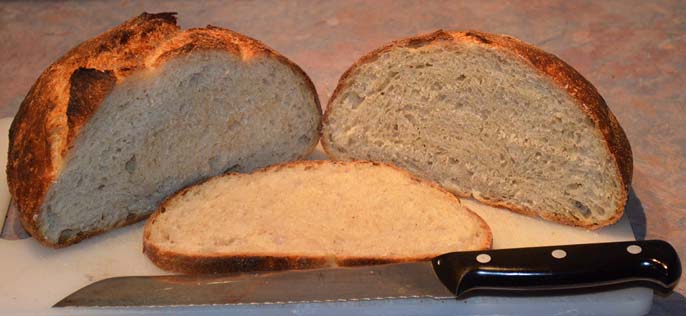 Now I'm sure my overnight bulk in the fridge changed the flavour profile, this is a tasty bread with an almost creamy crumb.
Next up is Ken's Walnut Levain Bread and the starter was mixed by 8:00 am, so I should be able to exactly follow the schedule today.
Happy baking !  Brian