September 6, 2013 - 11:37am
Tzitzel – Take 3 with Triple Levain
We used the same amount of the 3 part levain that we used for the Challah bake earlier this week.  It was a 3 stage poolish with a pinch of DY, YW and SD levain that was retarded for 48 hours 1 hour after the levain had risen 25% after the 3rd feeding.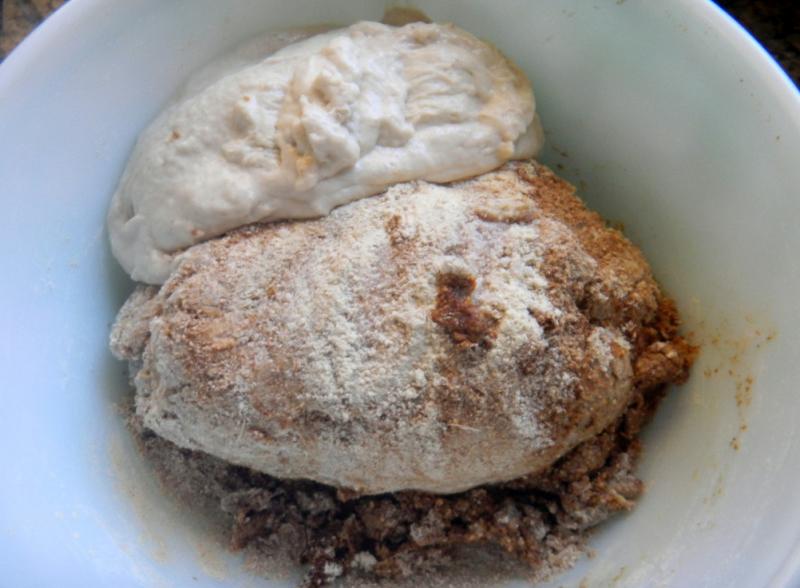 Our last Tzitzel used a SD levain and we know the Pratzel's Tzitzel was commercial yeast.  We would expect that this will more closely approximate the flavor of the St Louis original corn rye.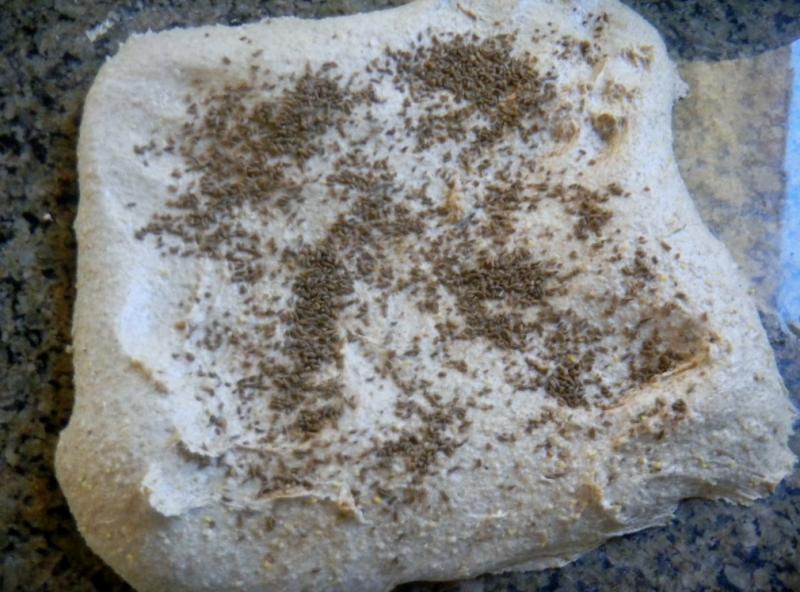 There are no home milled flour in this version.  We used rye, whole wheat bread flour and unbleached bread flour out of the bins at Winco.  We assume the rye is a white rye flour.   Instead of 40% rye we used 35% this time and the corn meal was put inside instead of rolling the exterior of the dough in it like last time.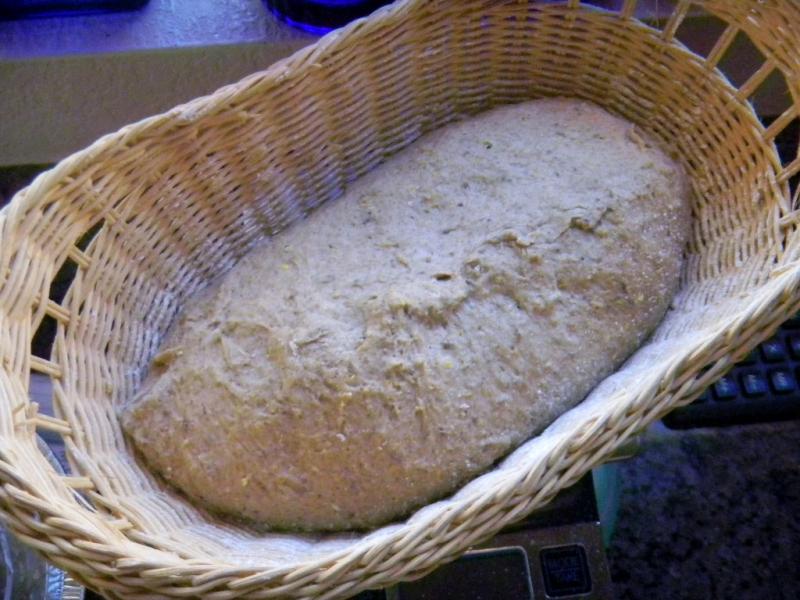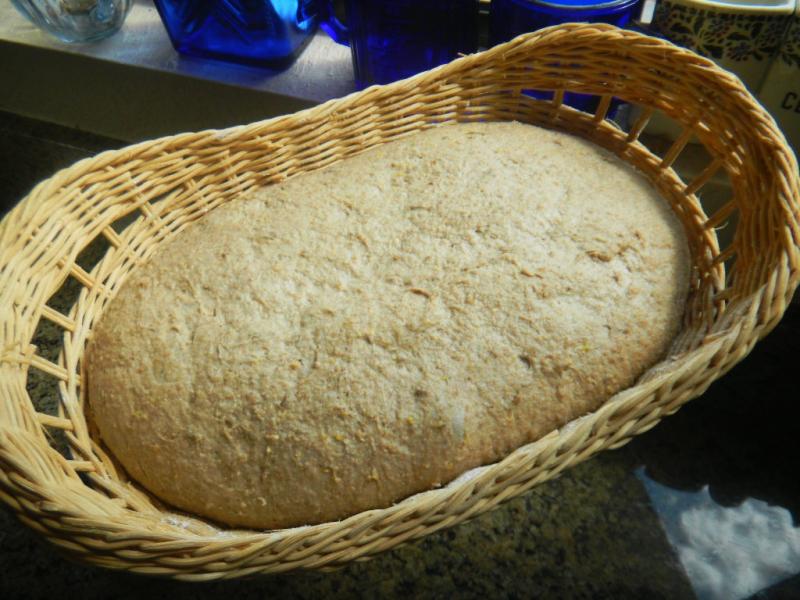 We will have to see how this combination of flour mimics the taste of the Pratzel's version after version 2 turned out very tasty indeed but not very lose to the original.   We reduce the hydration down to 81% thinking that there was only 33% whole grain and non of it home milled.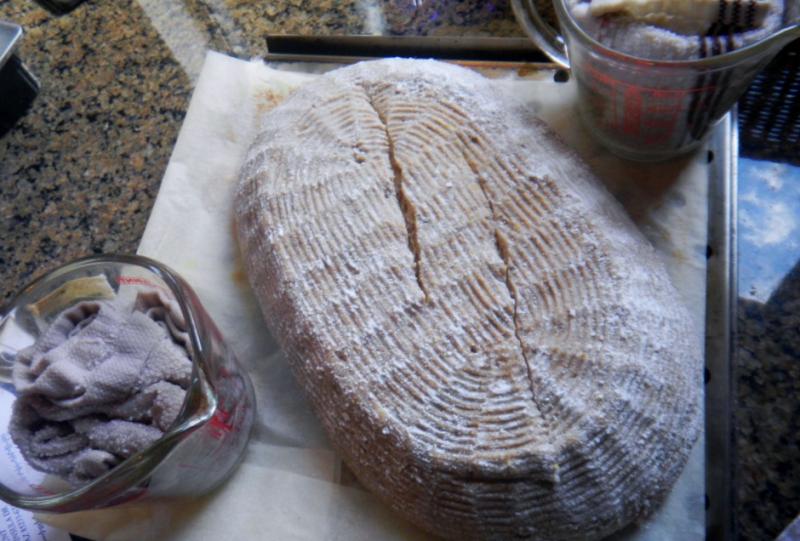 We autolysed the dough flours for the hours that the levain was coming up to counter temperatures from its 2 day retard.  Once everything came together, we did 8 minutes of slap and folds, with a 15 minute rest, and then did another 6 minutes of slap and folds like Josh has been doing of late fir his market barter bakes.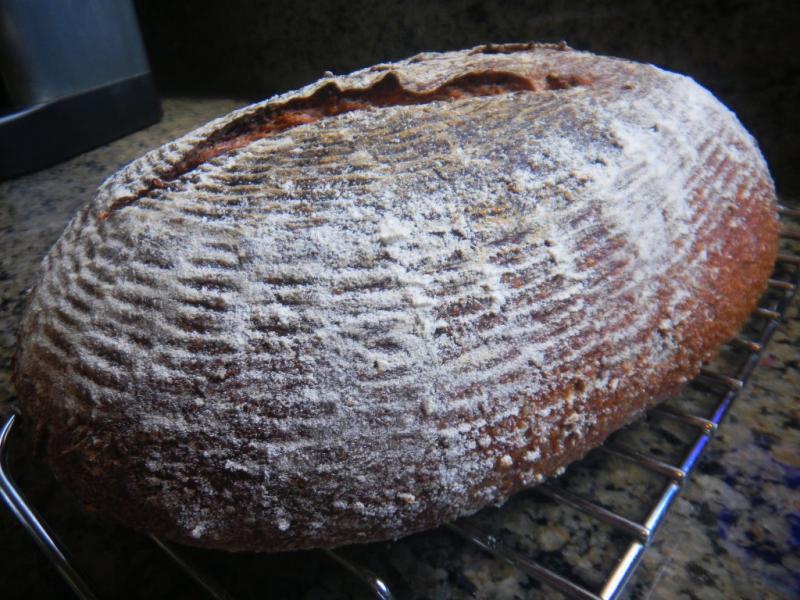 We also did 3 sets of S&F's on 20 minute intervals where we incorporated the 2% of lightly chopped caraway seeds on the first one.  We used an aromatic seed mix last time that included half caraway with anise, coriander and fennel making up the other half.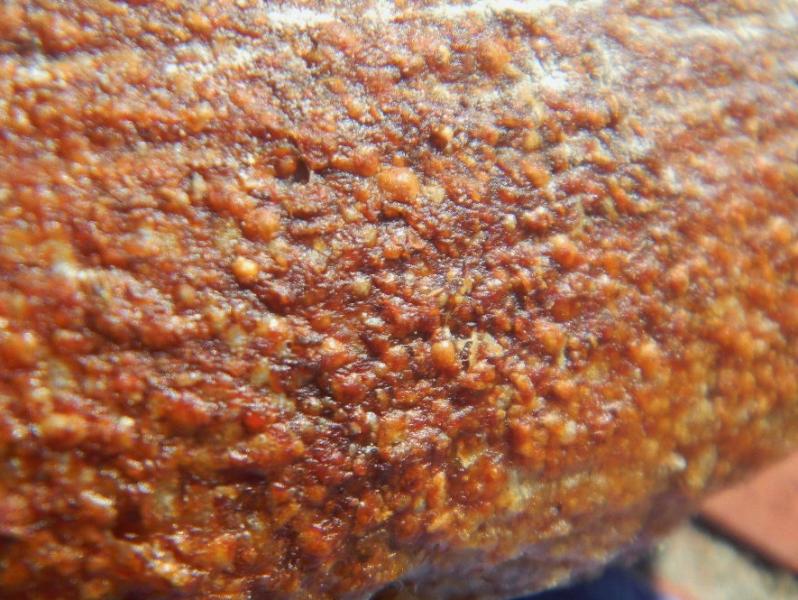 We then let the dough ferment on the counter for 1 hour before shaping an placing in a basket seam side up.  We then did 1 1.2 hours of counter ferment before placing in the fridge for an 18 hour retard.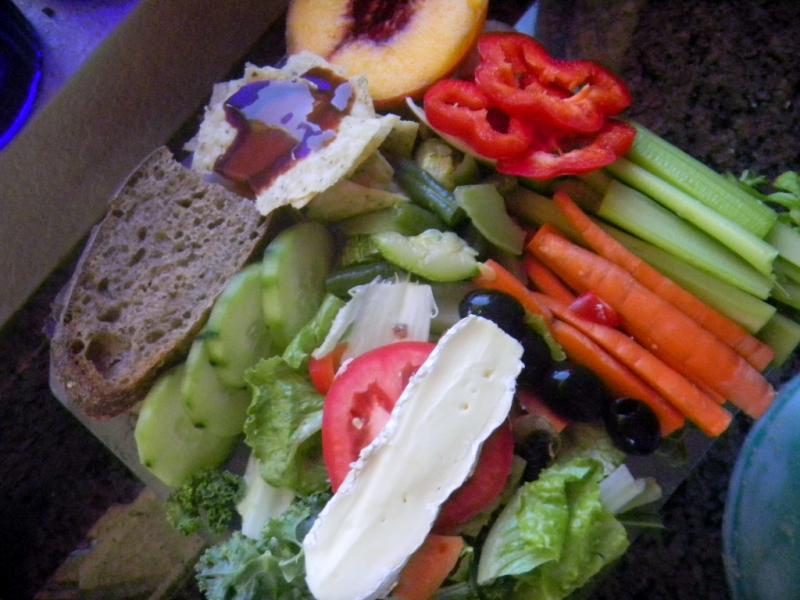 Yesterday's lunch with white bread above and today's lunch with Tzitzel and Aunt Beve's brisket below.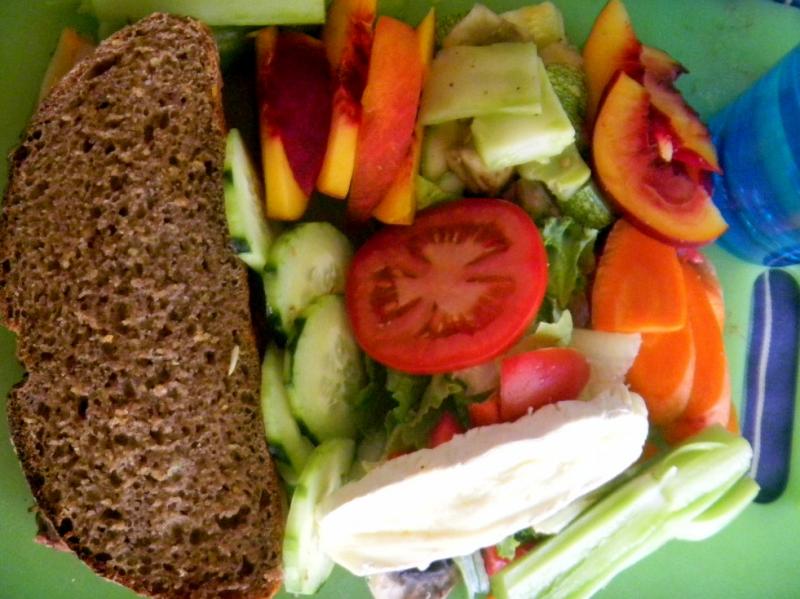 Once freed from the cold the next morning, we let the dough warm up and proof some more for 2 hours on the counter before refrigerating again for half an hour, slashing and placing it in the 500 F mini oven with (2) of Sylvia's steaming cups.
This morning's breakfast with challah and jam, peach, nectarine, blackberries, whit bread with grilled salmon schmear - two white breads in one meal- Can't be?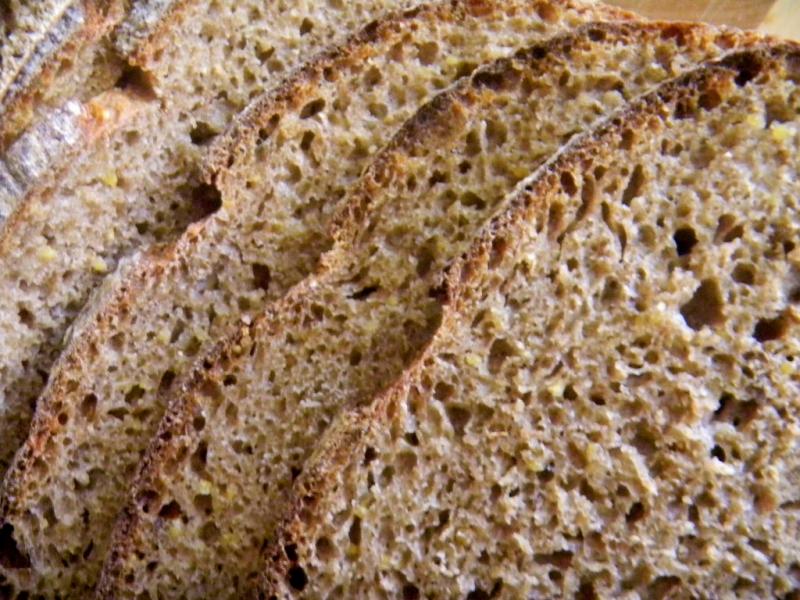 After 2 minutes we turned the oven down to 475 F and 13 minutes later we removed the stem, turned the oven down to 450 F and continued to bake another 20 minutes when the dough tested 203 F.  The oven was turned off and when the bread read 205 F it was removed to a cooling rack.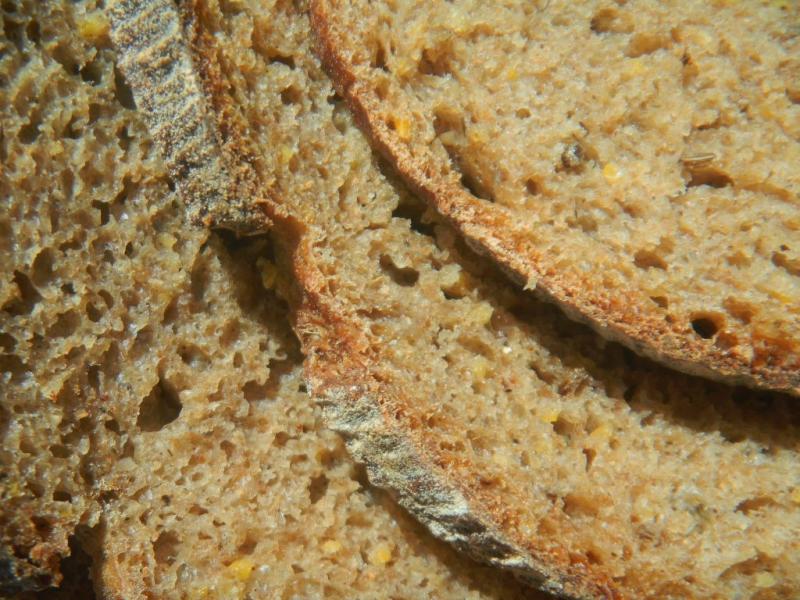 The crust browned boldly, sprang and bloomed well as the mini oven is famous for applying to any dough that hits its heat.   The crust was light blistered with small bubbles, another mini oven trait.  We will have to wait on the crumb but have our fingers crossed.  Well, the wait is over.  The crumb was open moist and soft with the flavor of the caraway coming though well.... but not overly pungent.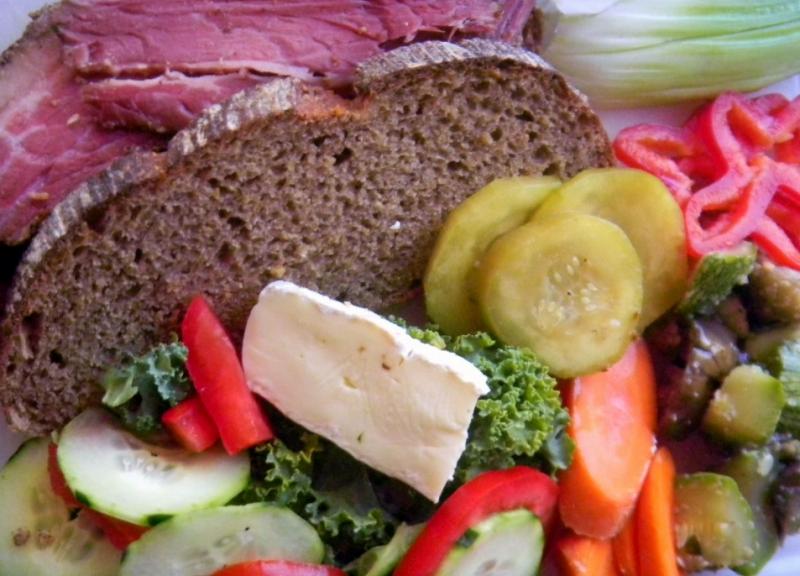 A fantastic lunch with Tzitzel and Meat Week'e home cured and smoked pastrami!
This crumb is similar to version 2.  The crust was originally crunchy but. by the time we sliced it, the crust has gone more soft and chewy.  A good bread that went very well with Aunt Beve's Sweet & Hot Brisket.  We have had a Meat Week like we haven't had in....forever but will post about that separately.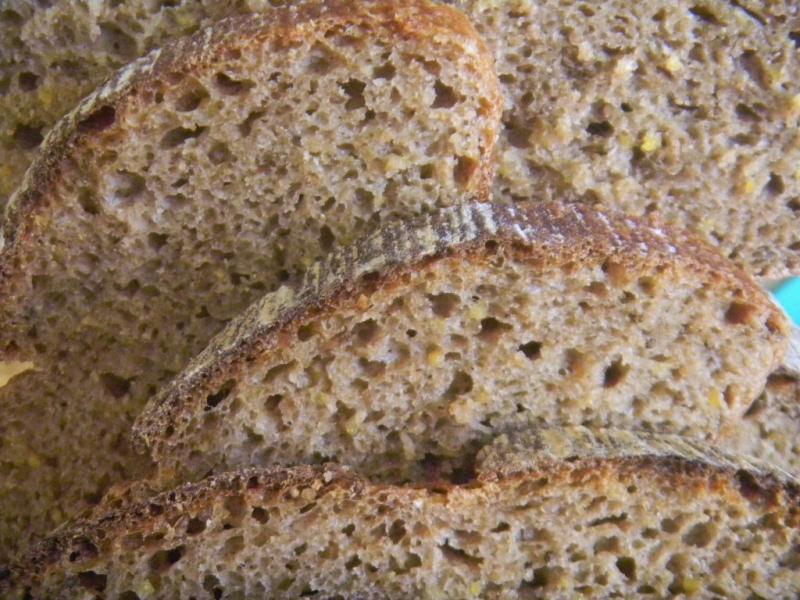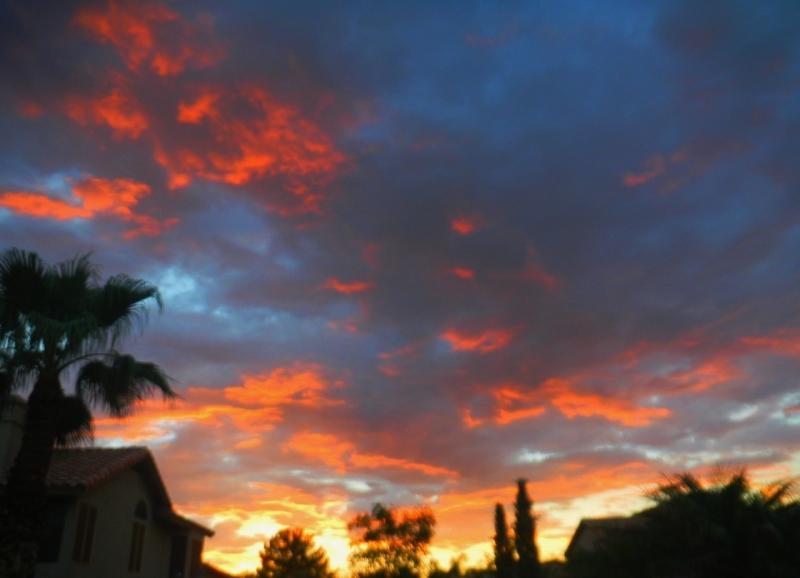 Formula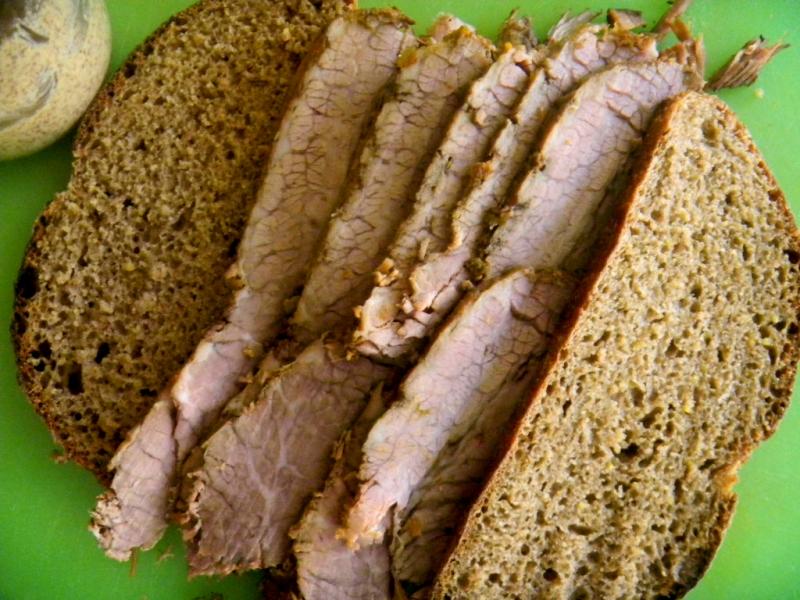 | | | | | | |
| --- | --- | --- | --- | --- | --- |
| Pinch of ADY plus | Build 1 | Build 2 | Build 3 | Total | % |
| Multigrain SD Starter | 5 |   |   | 5 | 0.99% |
| AP | 30 | 25 | 41 | 96 | 19.07% |
| Yeast Water | 30 | 25 | 36 | 91 | 18.07% |
| Total | 65 | 25 | 77 | 192 | 20.06% |
|   |   |   |   |   |   |
| Multigrain SD Levain |   | % |   |   |   |
| Flour | 99 | 19.56% |   |   |   |
| Water | 94 | 18.57% |   |   |   |
| Hydration | 94.92% |   |   |   |   |
|   |   |   |   |   |   |
| Levain % of Total | 192 | 20.47% |   |   |   |
|   |   |   |   |   |   |
| Dough Flour |   | % |   |   |   |
| White Rye | 170 | 33.76% |   |   |   |
| Bread Flour | 115 | 22.84% |   |   |   |
| Whole Wheat Bread Flour | 100 | 19.86% |   |   |   |
| Dough Flour | 405 | 80.44% |   |   |   |
|   |   |   |   |   |   |
| Salt | 9 | 1.79% |   |   |   |
| Water | 341 | 67.73% |   |   |   |
| Dough Hydration | 84.20% |   |   |   |   |
|   |   |   |   |   |   |
| Total Flour | 504 | 100.00% |   |   |   |
| Water 341, Yeast Water 94 | 435 | 86.30% |   |   |   |
| T. Dough Hydration | 86.30% |   |   |   |   |
| % Whole Grain Flour | 32.95% |   |   |   |   |
|   |   |   |   |   |   |
| Hydration w/ Adds | 81.44% |   |   |   |   |
| Total Weight | 987 |   |   |   |   |
|   |   |   |   |   |   |
| Add - Ins |   | % |   |   |   |
| White Malt | 5 | 0.99% |   |   |   |
| VW Gluten | 10 | 1.99% |   |   |   |
| Red Malt | 5 | 0.99% |   |   |   |
| Caraway | 10 | 1.99% |   |   |   |
| Toadies | 10 | 1.99% |   |   |   |
| Total | 40 | 7.94% |   |   |   |