I used the SD method, sorry the dabrownman method once again on this one, using 10% organic rye, 10% duram semolina and 5% WW.  All aspects of this bread went together well and I can't wait to taste the results. So I did an overnight autolyse on the whole grain flours @ 100 hydration and another hour of 100
% auto when the bread flour was added.  I did manage to add the rest of the bread flour  this time.  Mixed in the levain @ 20% and rested it with the aslt on top of the dough, in case I forget to add it.  Four S&F's with 10 minutes rest then 3 more with 30 in between, 1:20 on the counter, then into the fridge for an 18 hour bulk retard.  One hour rest on counter, then pre-shape, rest 15 and shape.  I find boules much easier to shape than batards and baguets and have consistently got great results baking boules in a hot dutch oven.
I also baked a batard today and even with 35 minutes proof as per my last batard bake, I was not able to get a clean score with the lame and though got a tasty loaf, the score was not deep enough to open the grigne. . .   :-(  
I have another batch going for tomorrow morning's batard bake and will proof for only 30 minutes and see if the lame works.  It seems feeding the starter daily and baking daily creates a very active starter!  
Here is the crumb on today's multi-grain boule: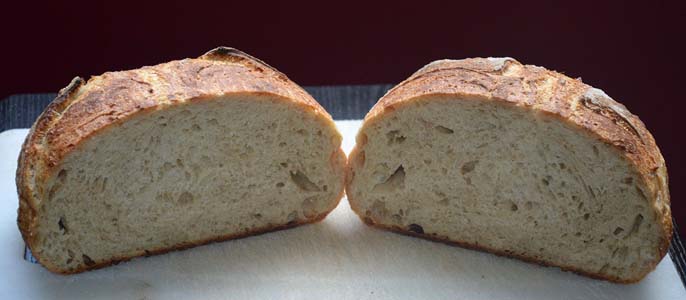 Sorry folks, only 2 out of 4 ears today, but the loaf did bloom beautifully!  
Along with the batard dough that is bulk proofing, I have a first half batch of sourdough Pulla.  Now this will be an interesting bake on two levels:  1.  1st crack at SD pulla;  2.  I ran out of my strong bread flour I buy from the local artisan http://jkbakery.ca/ [1] and ended up using about 10% pastry flour and another 10% duram semolina to get things together. I really, really hope head baker Angela is working tomorrow so I can get another 20 kg of fresh bakery level flour!
Happy baking TFLoafers!
Brian