In our quest for the ever better pizza dough, this time we went with cherry yeast water and a pinch of ADYfor the levain using durum semolina and AP for the flour.  It was built over two 4 hour stages and then mixed with the dough flour, that had been autolysed for 1 hour water, salt and water.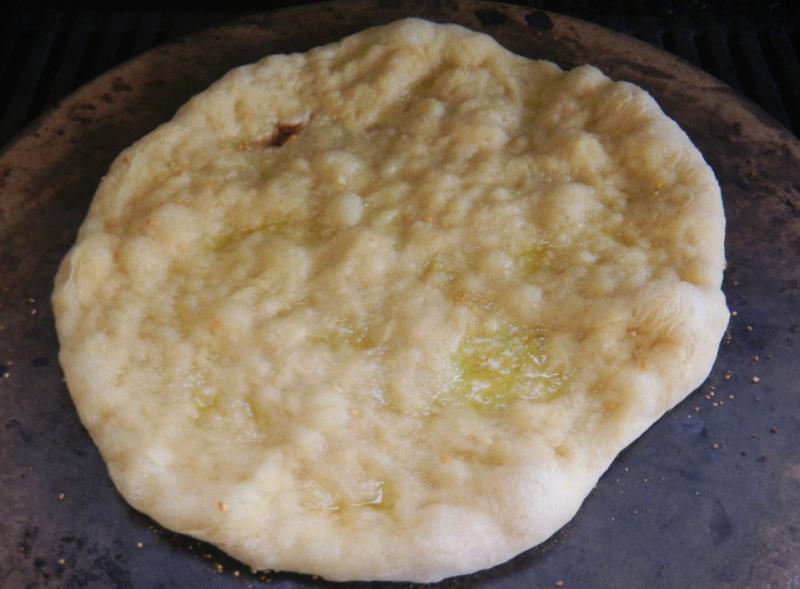 We did 10 minutes of slap and folds before 3 sets of S&F's on 15 minute intervals before being retarded for 12 hours in the fridge.  We took it out of the fridge 4 hours before we wanted to bake with the 1st hour being outside in 105 F heat to make sure it warmed up fast as it only grew 30% in the fridge.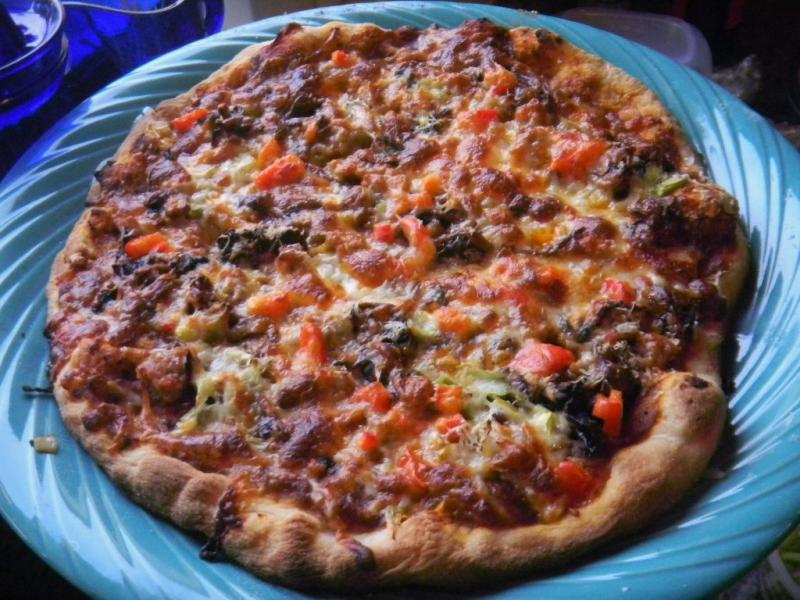 It did press out very nicely and we let it rest half way through.  Since it wasn't rolled paper tin like our normal crusts it ended up being a little thicker but since were baking this on the gas grill outside we thought a little thicker wouldn't hurt at all and we were right about that.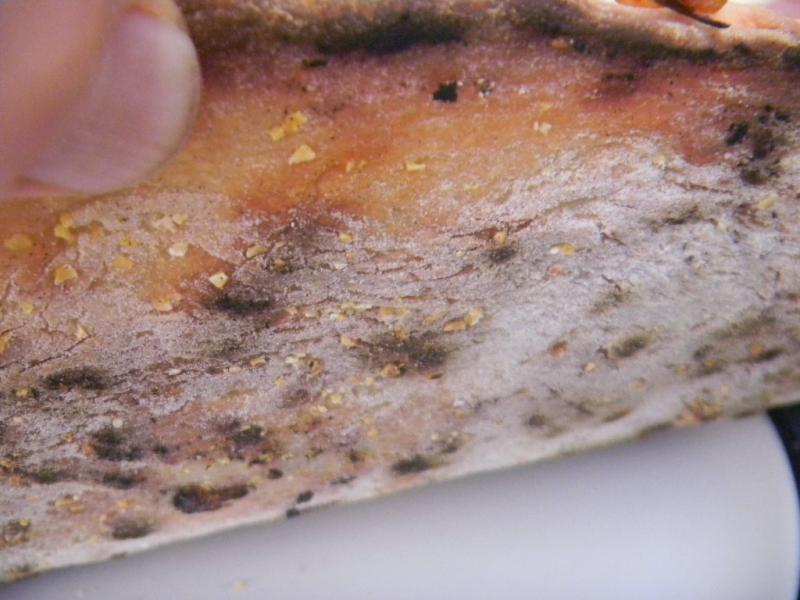 As is our usual, we docked the dough with a fork and brushed Mojo de Ajo over the entire crust to give it that garlic flavor. We didn't put fresh rosemary and sun dried tomato in the dough like we usually do either.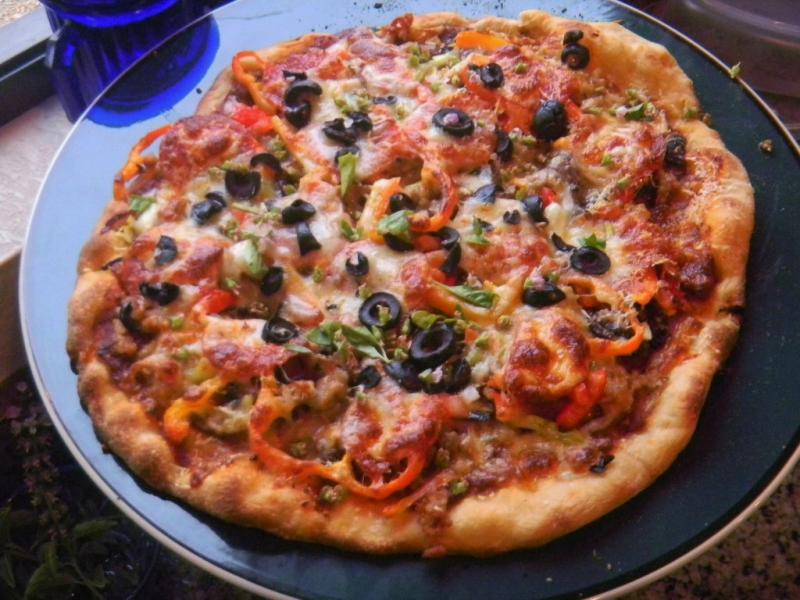 We preheated the stone on the grill for 30 minutes before starting to form the first pizza crust and the grill was was at 500 F when we put the first crust on the stone to par bake for  3 minutes before it was removed to pile on the sauce and toppings.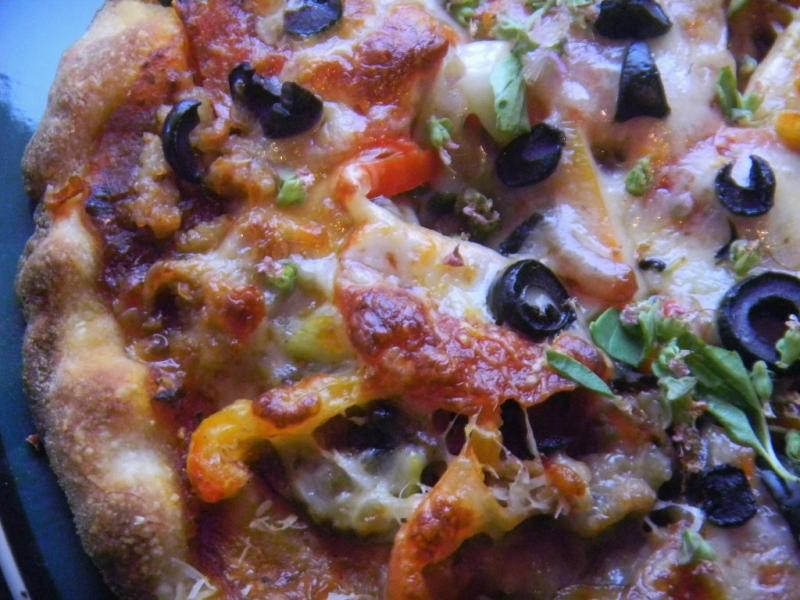 After returning the pizza to the grill we baked them another 6 minutes rotating them on the stone after 3 minutes.  The first pizza, the one my wife built, was on the grill 2 minutes longer (8 after toppings were put on) since I figured that the stone wasn't as hot as it should be but she said the crust was too crispy for her even though the crust wasn't burned anywhere top or bottom.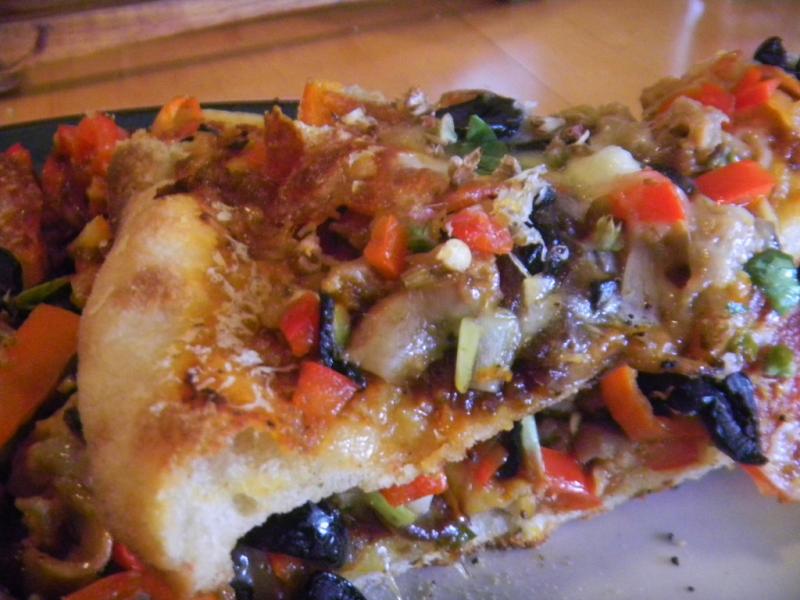 The toppings included store bought mild Italian sausage and pepperoni for the meats, mozzarella and Parmesan for the cheeses, Fresh hatch green chilies and red peppers for heat and color, caramelized red onion and mushrooms, kalamata olives and green onion with fresh basil for garnish.  Not as home made or extensive as our usual but still a plentiful load when piled on.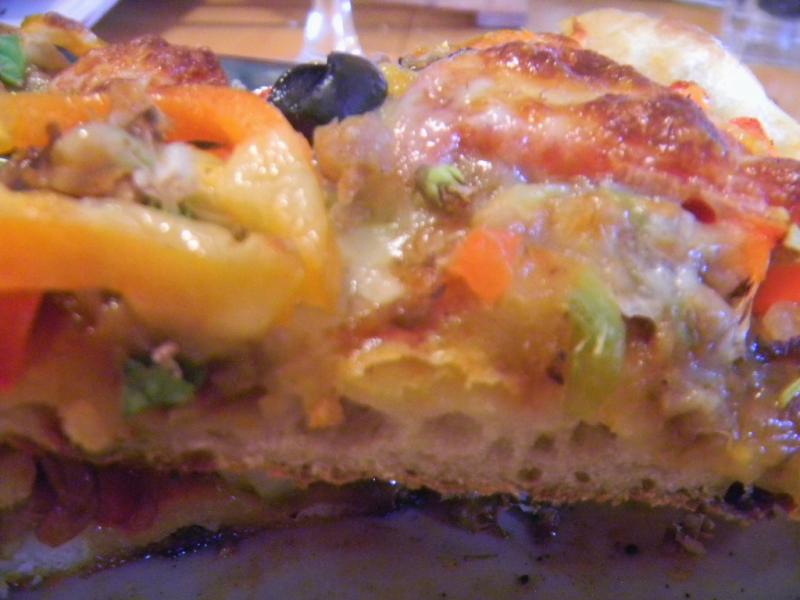 This crust baked up very crispy with dark splotches on the bottom side.  There was not a millimeter worth of sag in the pieces once cut and not much when complete cooled.  The crunch when talking a bite was just testament to how well the crust baked up,  The semolina added a hint of sweetness with no sugar in the dough.  All in all, I give this crust an 8 out of 10,  Not the best tasting or as open and puffed up as some but it is the the best of the crispy by far.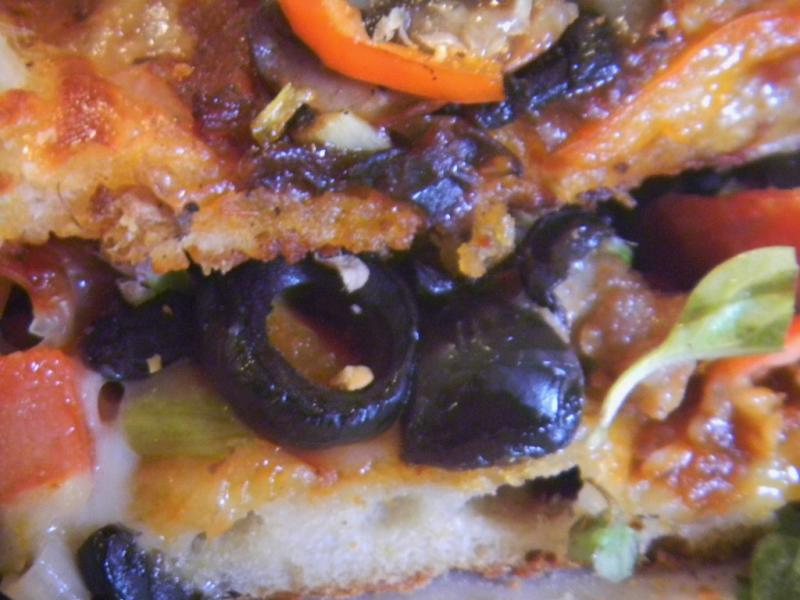 If you like soft, thick crust,  folded over, floppy NY style pizza.... this crust is not for you.  It was stormy at he sun's setting last night and it rained hard for many hours after it set  We need the rain so badly, I will gladly give up a beautiful sun set for it.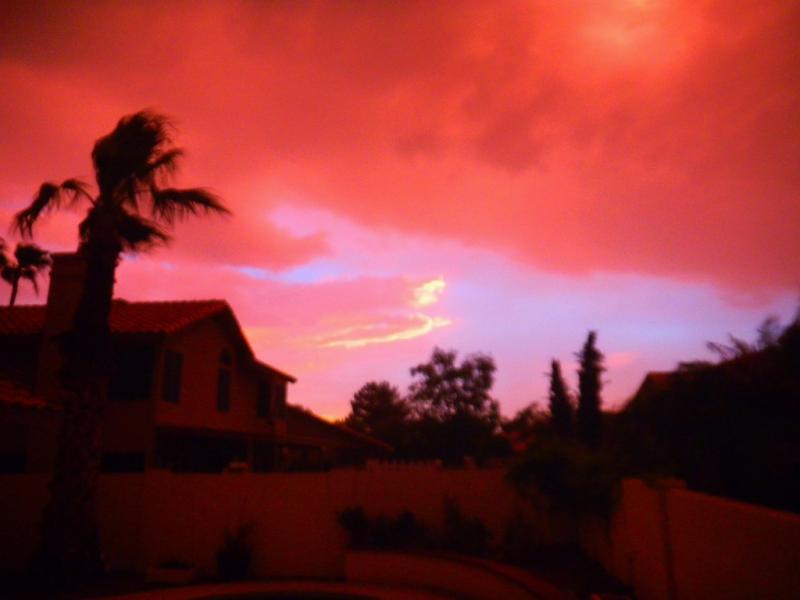 Formula
| | | | | |
| --- | --- | --- | --- | --- |
| YW and Pinch of Yeast | Build 1 | Build 2 | Total | % |
| Pinch of ADY |   |   |   | 0.00% |
| Durum Semolina | 25 | 25 | 50 | 13.33% |
| AP | 25 | 25 | 50 | 13.33% |
| Water | 0 | 50 | 50 | 13.33% |
| Yeast Water | 50 | 0 | 0 | 13.33% |
| Total | 100 | 100 | 150 | 26.67% |
|   |   |   |   |   |
| YW % of Total | 29.06% |   |   |   |
|   |   |   |   |   |
| Dough Flour |   | % |   |   |
| Durum Semolina | 37 | 9.87% |   |   |
| Corn Flour | 25 | 6.67% |   |   |
| AP | 213 | 56.80% |   |   |
| Dough Flour | 275 | 73.33% |   |   |
|   |   |   |   |   |
| Salt | 8 | 2.13% |   |   |
| Water | 190 | 50.67% |   |   |
| Dough Hydration | 69.09% |   |   |   |
|   |   |   |   |   |
| Total Flour | 375 | 100.00% |   |   |
| Total Water and YW | 290 |   |   |   |
| T. Dough Hydration | 77.33% |   |   |   |
|   |   |   |   |   |
| Hydration w/ Adds | 77.33% |   |   |   |
| Total Weight | 689 |   |   |   |
|   |   |   |   |   |
| Add - Ins |   | % |   |   |
| Olive Oil | 16 | 4.27% |   |   |