One of the hurdles that all bakers will have to deal with at one time or another is adjusting his/her recipe for a new flour.  Sometimes your favorite flour is discontinued, the price skyrockets, you move to a new location, or maybe the recipe that you're using 'couldn't possibly be right' with the amount of flour that is called for.
Over the last 5 years of the bakery, I've had to adjust to 6 different rye flours, as a result of all of the above reasons (and a few more reasons, to boot).  First it was Bob's Red Mill, then it was Montana Milling, then Giusto's, then Arrowhead Mills, then ConAgra Dark, and now Montana Flour and Grain.  Of course when you're selling rye bread commercially, not only do you have to make the product's appearance consistent, you also have to keep your customers happy without creating a drastic change in flavor or texture. 
As you may or may not know, Montana is known for some of the best flour in the world.  Much of it is grown and milled north of here in an area known as 'the golden triangle'.  Having recently moved to the Bozeman area, I decided to try Montana Flour and Grain's organic rye flour, which happens to be reasonably priced at $.50 per pound when bought in a 50 pound bag. 
As you can see, it has a nice speckled color, is medium coarse (my opinion), and has a slightly sweet smell.  Of the previously mentioned flours, I would compare it to both Montana Milling's and Bob's Red Mill.
The first step in switching from one flour to a new one is matching the consistency.  With the ConAgra Dark Rye flour (which is what I was switching from) I kept a 125% hydration starter.  At this hydration, the starter was best described as 'very stiff'.  To give you an idea how stiff, I would use a plastic scraper to remove it from the mixing bowl, as opposed to a rubber spatula, and I could 'lift' the dough out in one 3 kilo glob, when I needed to.
Since the new flour appeared to have a much finer texture right out of the bag, I decided I would do my first sponge (using a portion of the old starter) at 100% hydration, then I would check the consistency as it mixed.  If it was thicker than the previous ConAgra starter, I would add water, if it was thinner, I would add flour, recording the results regardless.
sponge original:
471g rye flour
540g water
45g rye starter
new sponge experiment:
540g rye flour
540g water
45g rye starter
As you can see, I made a 'drier' sponge by adding more rye flour to create the 100% hydration, as opposed to reducing the water.  This was for two reasons:  I wanted to have enough dough for the amount of loaves I needed to make and I felt a slightly stronger rye was better than a slightly weaker rye.
Anyway, the sponge ended up being very close in texture; a little bit 'wetter', although I felt it was within a workable margin. 
For the final dough which I mixed the following day, I decided to reduce the water, the same amount in weight as the rye flour I had added the day before.  This means I reduced the final dough water by 70g, or, keeping all of the other ingredients the same as before, I was left with the same final dough total weight.
As it was mixing, I observed how quickly it 'came together' and how it moved in the bowl.  Pressing my finger into the dough part way through the mix, it felt identical to 'how it should be'.  By the time it was finished mixing, it was identical to ryes I had made in the past.  If it hadn't been, then I would adjust during the mix by adding water or flour, and recording my results in a notebook.
With this adjustment and increase in rye flour and reduction in water, the rye loaf changed from being a 37% rye to a 42% rye.
Below are the results.  The texture and flavor a very close, although the color of the crumb and crust of the bread on the right is lighter.
-Mark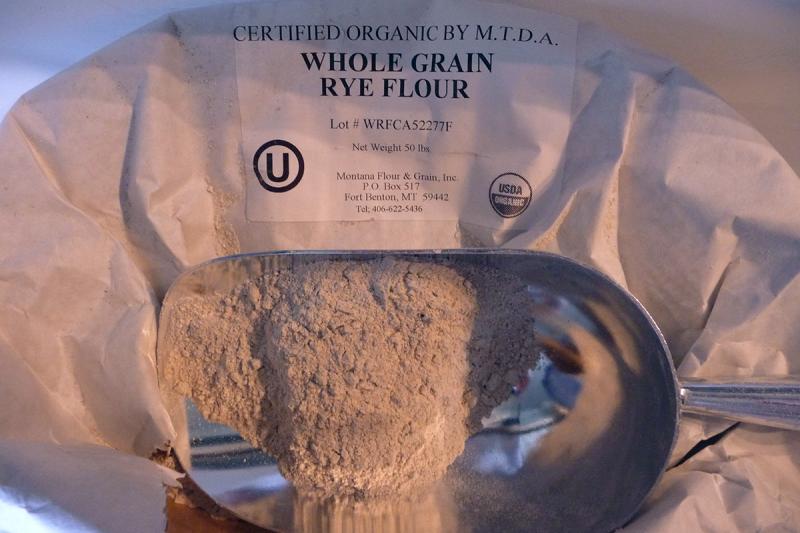 37% rye made with ConAgra Dark Rye flour (left) and 42% rye made with Montana Flour & Grain Organic Rye