Newbie Bakes Pain de Campagne - Help!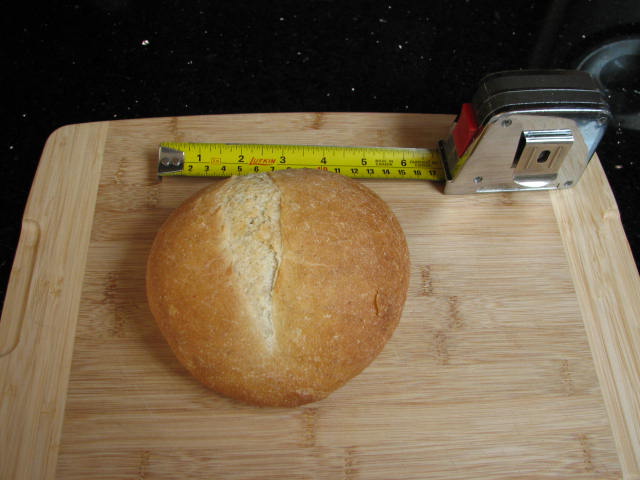 This was my first time baking Pain de Campagne and I had a few problems so I would appreciate any and all comments and/or suggestions.
I followed Reinhart's Pain de Campagne formula in the BBA, using Roger's (Armstrong, BC, Canada) unbleached all-purpose flour (a high protein/gluten flour around 14%). To begin, I followed Reinhart's formula for making a pâte fermentée. I ended up with dough at 78°F, which I placed in a bowl and set on the counter for 1 hour, as per instructions. At this point, the dough had increased significantly in size, at least 1½ times, so I put it in the refrigerator for 24 hours.
The next day I was ready to make bread. By  this time the pâte fermentée had more than doubled in size so, rather than letting it sit for an hour on the counter, I immediately cut the pâte fermentée up into small pieces and, following Reinhart's Pain de Campagne formula, proceeded to mix all the remaining ingredients using a mixer with paddle, then dough hook. After mixing for 1 minute with paddle and 5 minutes with dough hook I had dough that was smooth and was clearing the sides and the bottom of the mixing bowl. The temperature read 77°F. I cut off a piece and tried the windowpane test but the dough tore. Also the dough was very sticky (rather than tacky). I decided to continue mixing and to add some flour. I mixed for an additional 5 minutes, adding at least 3 tablespoons of flour to the dough. The dough temperature was now 82°F and I tried the windowpane test again, with better results (the dough still tore a little however), and the dough was still a little sticky as it still stuck to my fingers after the test. I decided not to do any further mixing (because I had mixed for over 10 minutes on medium speed and the dough temperature concerned me). Instead, I placed the dough in a bowl on the counter, covered it, and waited until the dough was 1½ times in size (as per instructions). This took about an hour.
Now for shaping. I cut the dough into 3 pieces, weighing each, so that I ended up with 3 pieces of 303 grams (10.6 ounces) each. I shaped these pieces into a baguette, a batard and a boule and set them aside to proof. About an hour later, when the pieces had grown in size 1½ times (as per Reinhart's instructions), I scored the batard and the boule and, using scissors, "epi cut" the baguette. I baked the 3 pieces (boule and batard on parchment paper directly on my pizza stone while the epi was on parchment paper on a cookie sheet on the rack nearer the top of my oven.
One of my problems was with the crumb being "dense". As you can see from the boule photos (the other two bread pieces have already been eaten) there are no large holes. Also the 3 pieces were all small. Being a new formula, I was not sure how large the bread pieces should end up being.
When shaping the baguette, I started with dough weighing 303 grams (as previously mentioned). After shaping, I had a baguette that was approximately 2" in diameter and 15" long. With equal sized dough pieces, my batard, after shaping, ended up being about 3" at its thickest and about 8" long, while the boule ended up about 4" in diameter. The boule photos show a boule of 5½" in diameter after baking.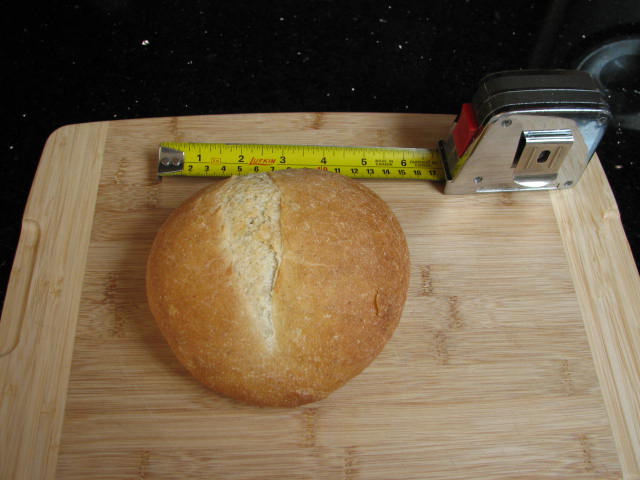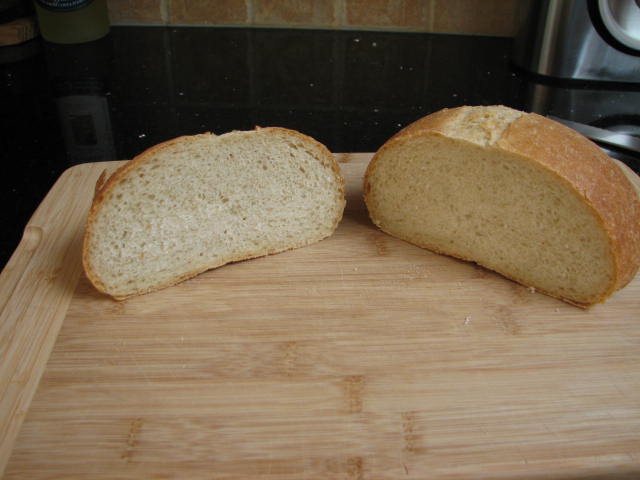 I let these pieces proof for about 60 minutes, until they had grown in size 1½ times. I gave the boule a poke test and the dough slowly sprung back, but not all the way. I could see an indentation where I had poked it. This suggested to me that it was time to bake.
The pieces were baked initially at 550°F, with steam (I poured water into cookie sheet on bottom of oven and sprayed oven side walls twice). After steaming, I turned the oven temperature down to 450°F. The Epi came out after 25 minutes (202°F internal temperature) while the boule and batard took another 5 minutes baking, at which time I turned off the oven, cracked the oven door open, and left them for 5 minutes before removing them to a cooling rack.
So what went wrong? Did I proof enough? How big a boule should I expect from 303 grams/10.6 ounces of dough? How big a batard and baguette? What can I do to improve the crumb?
If a recipe/formula says that it makes a 1½ pound loaf of bread does this mean that the dough weighs 1½ pounds? Is there a correlation between the two?
Thanks for your help.