This week in and out of the kitchen
I haven't used my Bell LaCloche in quite sometime.  It is one my favorite pieces of baking equipment and one I don't feel I wasted my money on...which I have plenty of those.  
I had a single large boule of a 'Basic 100% sourdough'. The formula I used with some minor changes is from 'Northwest Sourdough's' bread site.
I pre-heated my  regular oven and BLC.  It baked up one lovely, crackly tasty loaf as always and didn't take as long as heating up and baking on my oven stones.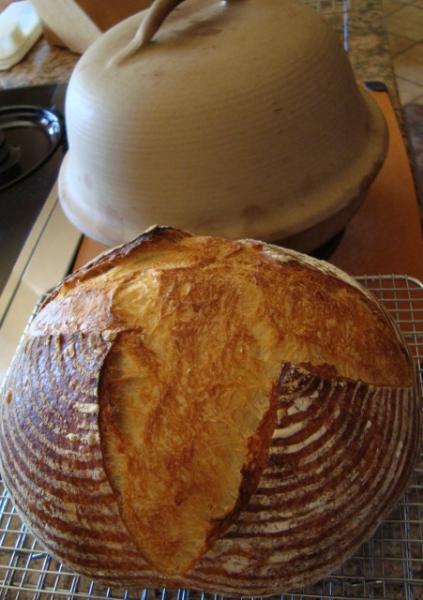 Fine looking crust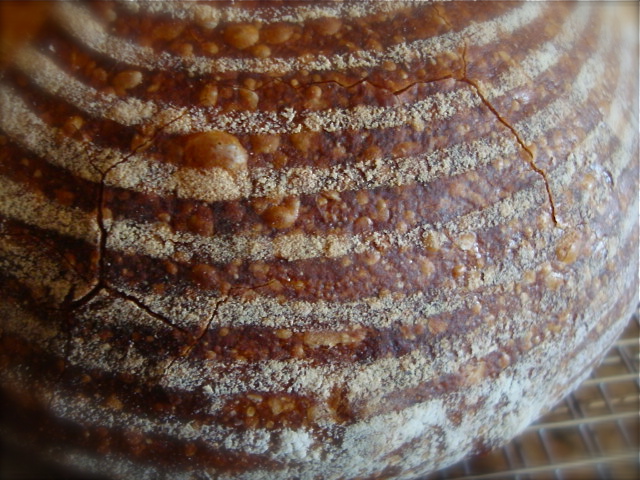 the crumb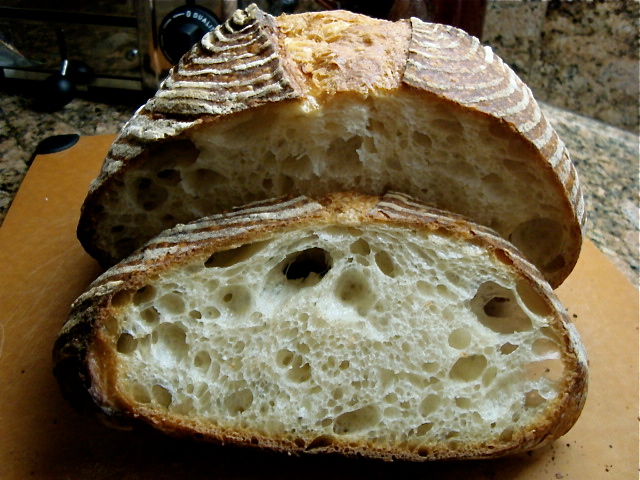 Topped with some homemade Fig Preserves.    So easy to make. Recipe below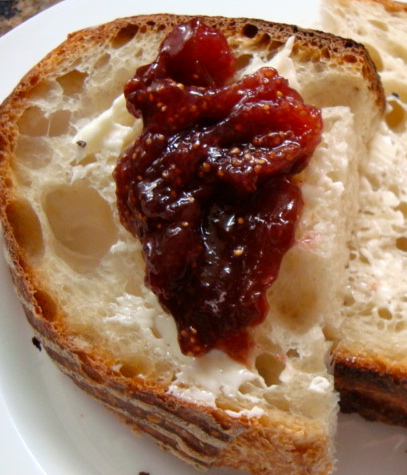 Fig Preserves
This jam doesn't take a lot of sugar or need a pectin to thicken.
I use about 11  large figs for a pound.  Makes about 2 - 8 oz. jars of thick preserves for me.
I can my preserves in a boiling water canner for 5 minutes.  I'm 400 ft. about sea level.
1 lb. of organic ripe figs.  I have a Black Mission Fig tree that the birds share with me.
3/4 cup of sugar -  you can use a cup if you like - but I found 3/4 cup plenty sweet.
2 Tablespoons fresh lemon juice.  
I also added a little grated ginger and  a dash of cinnamon to taste.
I find if I slice my figs lengthwise into quarters and then dice.  They cook up best.  You can make larger pieces, as I did with this little batch of preserves.
If your preserves are thick.  Run a knife of canning blade around the inside of the jar to release any trapped air pockets.
You  can add a little water while cooking if you want a thinner jam...or need a tiny bit more to fill up a jar that's a tad bit short.
In a large stainless steel pot.  Over a medium high to low heat.  Just bring your mixture to a low boil and cook, stirring, don't let it burn,  until you have a nice thicken jam.  About 30 minutes.
Sprouted WW Flour  - Maple Banana and Banana-Fig Muffins
This recipe is from Essential Eating 'Sprouted Baking' by Janie Quinn.
 I did make some minor changes.
I didn't use any butter, instead I used Coconut oil.  
In the second batch I also used a combination of fresh diced figs and banana's.
These muffins were delicious and were taken to a family dinner party.  Everyone loved them...even the teens.
I was very happy with the texture of the muffins.
I fill the cups to the top before baking and with muffins you have to be very careful not to overmix.
I'm sorry to say the book gives only US measures.
The recipe 
6 Tablespoons of melted Coconut Oil -  I did not use butter
1/2 cup of organic pure maple syrup
2 large organic eggs
4 ripe mashed banana's -  or a combination of mashed banana's and diced figs
1  1/4 cups of Sprouted Wheat Flour 
1 cup of yellow cornmeal - I used regular cornmeal - not gluten free
2 teaspoons baking powder - 
1/2 teaspoon baking soda
1/2 teaspoon sea salt
Bake in a pre-heated 375F oven - non convection oven was used -
12 cup muffin tin lined with muffin cups
Mash your bananas/figs in a large bowl.  Slightly beat 2 eggs in a small bowl.  Wisk together dry ingredients.   I melt my coconut oil in the microwave for just a few seconds.
Add your maple syrup, eggs, coconut oil to banana/fig mixture.  Add dry ingredients to wet and gently fold until combined and still lumpy.
Ladle into muffin cups up to top of cups.  
Bake until slightly browned and test done.   Mine took about 20 minutes.  Larger ones took a little longer.   I insert a spagetti noodle and see if it comes out dry.
Cool muffins removed from muffin pan on a rack.  There hot son I lifted them up gently with a knife inserted underneath to get them out of the pan.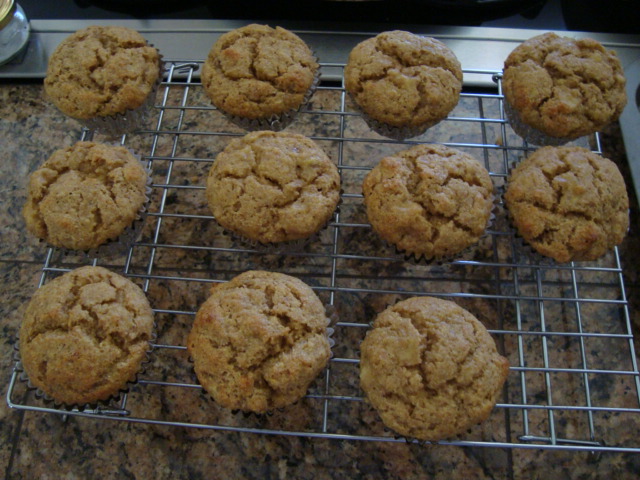 I put a pinch of organic cane sugar on top of the fig/banana muffins for sparkle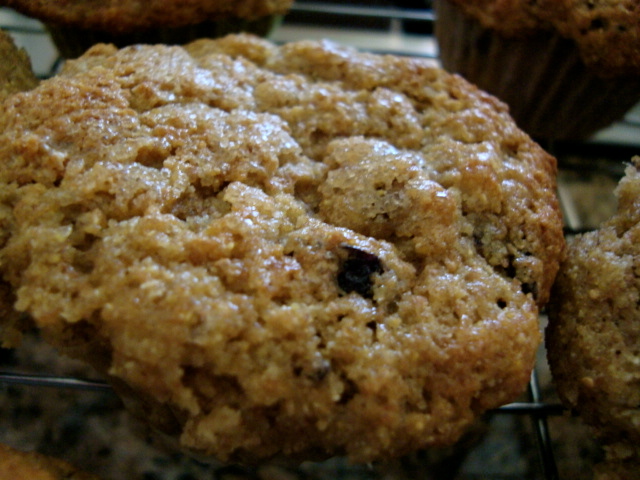 Did I say these were very tender and satisfying as in filling too.  A very nice ming of flavors all
come through.  Didn't miss the butter at all.  Coconut Oil..wonderful healthy stuff : )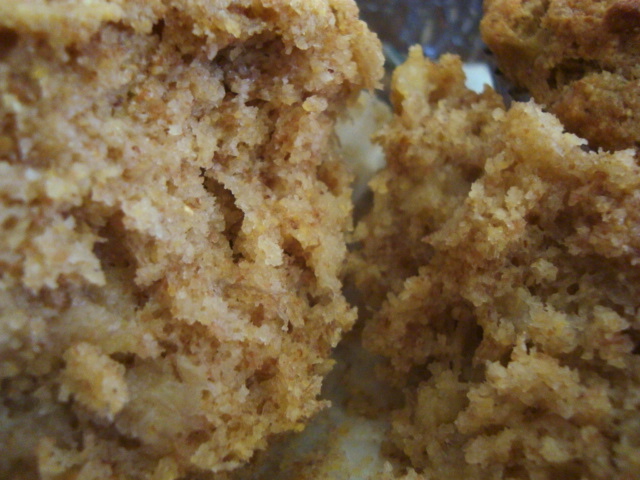 This is my Sourdough Semolina Country Bread.  I posted my formula for it on my blog not to long ago.
I never get quite the best results I like, when I bulk ferment, and shape my loaves the next day.  That's what I did with this SSCB.  I also added some sesame seeds.  Just delicious on this bread.  It was also baked in the Bell La Cloche.  Turned out wonderful.  But, still would have been nicer shaped and then retarded overnight and baked the next day.
Sourdough Semolina Country Bread [1]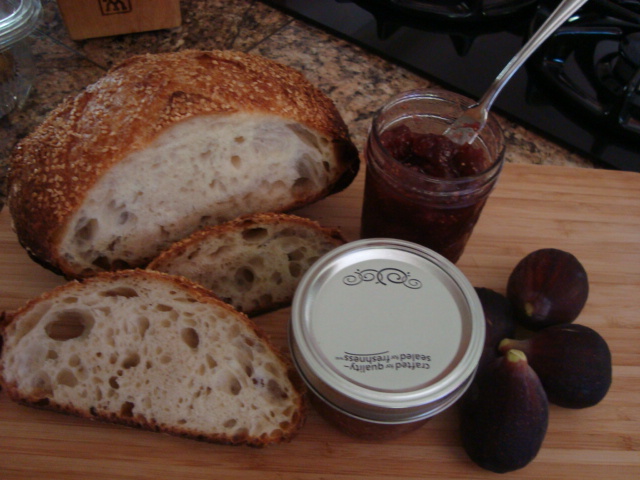 Here's a lovely and very delicious way to use a baguette.    
Sliced thin, rolled and toasted in an oven. -----------'Correction' the chef did use the word 'baked' in the oven  
It was just simply perfect along side a salad.  
Tucked in the center of the rolled toasted baguette was delicious compot of filling with Peaches, ginger, lovely fruits, like dried tender juicy figs, herbs.  Just an added perfect crunch and blend of flavors alongside our salads.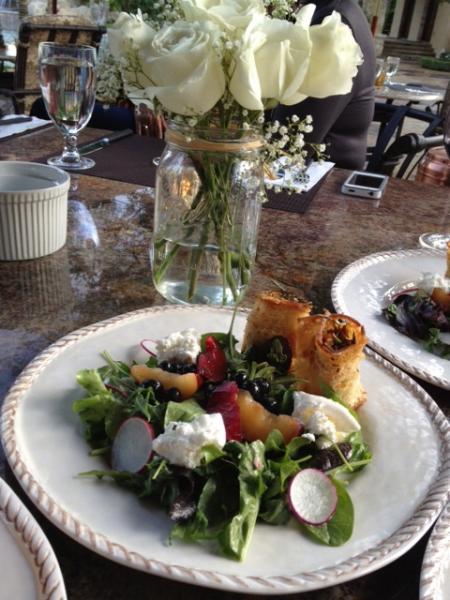 Sylvia