Got this idea while watching Pizza Cuz on the Cooking channel. The two cousins visited a shop that sells only focaccia with toppings. It seemed to be a better rendition of Sicilian Pizza, distributed locally--Scranton, PA--and sold in Mom & Pop grocery stores when I was a kid. It was delivered in baking-sheet pans, and, as I recall, a 5-inch square sold for 5-cents. The crumb was like white bread, but chewy. The tomato sauce tasted like...tomatoes, with nothing but salt for seasoning.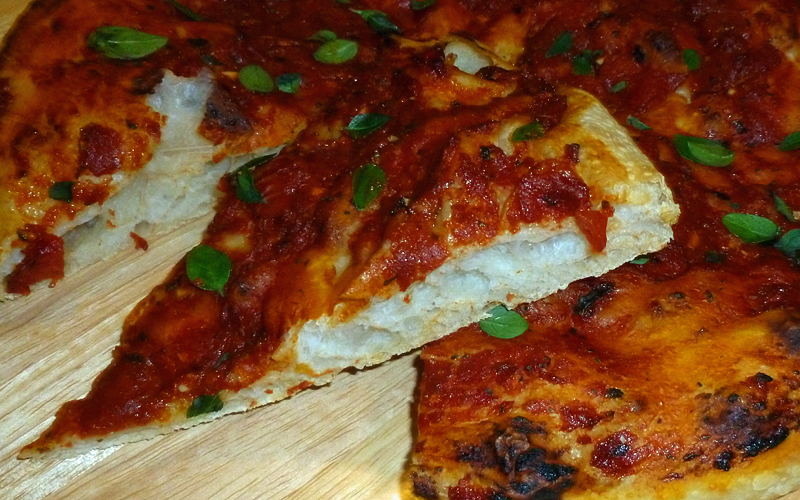 I used sourdough focaccia dough (all Bread flour 72% hydration, 30% liquid levain), and made a tomato sauce with a 14 oz. can of diced tomatos, a 6 oz can of tomato paste, 4 oz of V8 juice seasoned with 4 minced garlic cloves, salt, pepper, basil and marjoram. I retarded the dough overnight at 54°F. I sprinkled a few fresh Globe Basil leaves on top immediately after baking.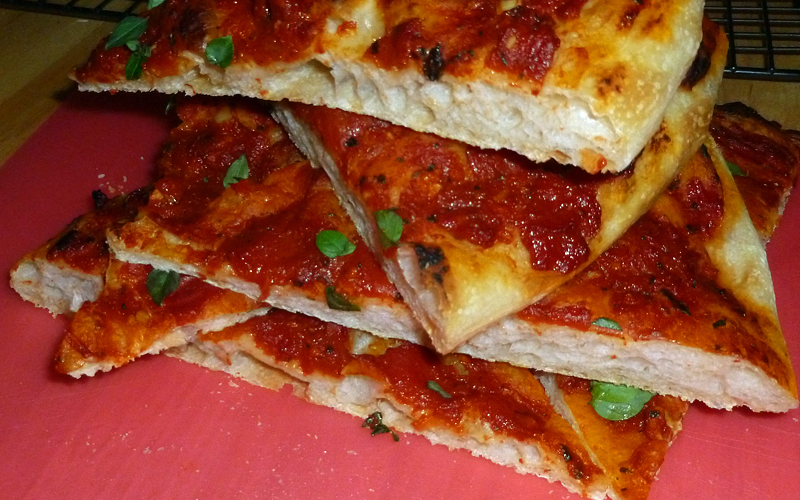 My go-to pizza dough is a 50/50 mix of semolina and AP flours at 60% hydration, retarded overnight also. I roll it thin; we generally prefer thin-crust pizza. This is a nice change. The dough is particularly light, open and soft, and the bottom crust is crispy.
I made two. One is today's lunch, the second will be frozen. I will warm it up in a 375°F oven for a few minutes hoping to regain the bottom crust's crispiness.
David G