Strawberries are here for their short stay
Oh, Strawberries!  They are abound now and will be gone soon.
I was thrilled that a local 3 generation family owned farm with organic, pesticide free,  picked daily, fruits and veggies, have opened a second stand down the road from me.  They have another stand near by but this one is super convenient for me.  Now I have three to pick from all within less than 15 minutes drive and, that's not counting the 2 farmer's market's.  
I feel so spoiled after moving from the desert.  There was one ranch that was picked over and trampled before anything was ready at least by the time I arrived.  It made me so sad to see had people abused all the brothers hard work.  Thank goodness Whole Foods arrived.  
I've made a few batches for sending to some of my family and, extra for Mike..who loves  my strawberry jam, strawberry shortcake and anything else strawberry.  
I made some strawberry shortcake cookies.  It's an old Martha Stewart recipe that I've tweaked with sour cream instead of heavy cream.  Basically, I think it's just like a scone.  I think I would like scones made with these fresh strawberries even more than the cookies.  But these are different and very enjoyable.    
I also baked a Pain Au Levain with whole wheat ala Jeffrey Hamelman's 'Bread'.  Mike loves a bit of toast with the SJ.  
Strawberry Jam on Pain Au Levain w/ whole wheat - Jeffrey Hamelman's 'Bread'
Strawberry Shortcake Cookies -  These cookies remind me of a scone, they are not mild in sweetness and, the strawberries really come through in flavor.  
I've posted the recipe below.  They should be eaten right away or refrigerated for a short time.  They won't last long.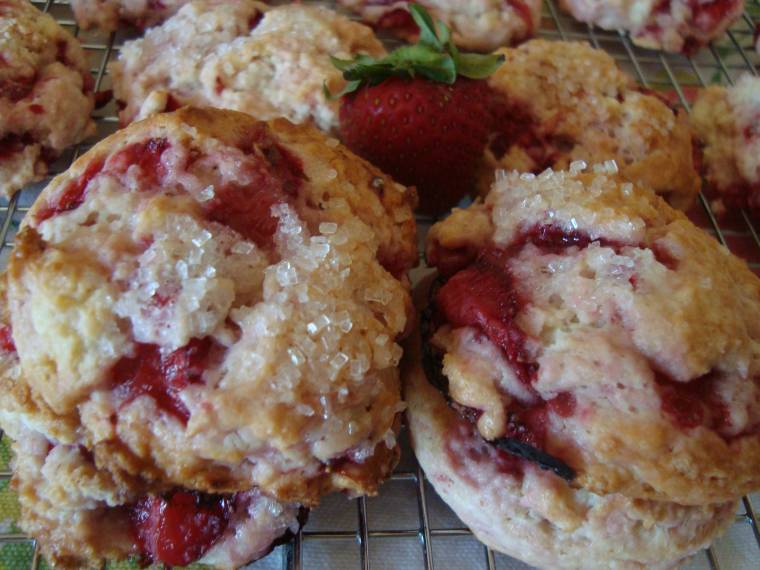 Martha Stewart's strawberry desserts
Strawberry - Shortcake Cookies
A handy portable version of a classic dessert.
12 ounces strawberries, hulled and cut into 1/4 in diced pieces (2 cups)
1 teaspoon - fresh lemon juice
1/2 cup plus 1 tablespoon granulated sugar
2 cups all purpose flour
2 teaspoons baking powder
1/2 teaspoon salt
3 ounces (6 TBsp. cold unsalted butter cut into small cubes
2/3 cup of heavy cream -  I didn't have any cream so I used sour cream
Some sparkle sugar crystals to sprinkle on top of cookies before baking.
1.  Preheat oven 375F - I use convection setting for best results.
Combine strawberries, lemon juice and a Tablespoon of granulated sugar.  Whisk together flour, baking powder, salt,
and remaining 7 Tablespoons granulated sugar in a large bowl.  Cut in the butter with a pastry cutter, or rub in with
your fingers, until mixture resembles coarse crumbs.  Stir in cream until dough starts to come together, then stir in
strawberry mixture.
2.  Using a 1 1/2 - inch ice cream scoop or a tablespoon, drop dough onto baking sheets lined with parchment,
spacing evenly apart.  sprinkly with sanding sugar, and bake until golden brown, 24 to 25 minutes apx.  
Transfer to a wire rack, and let cool.  Cookies are best served immediately, but can be stored in an airtight container
at room temperature for up to 1 day. 
Have a Berry Happy Day!
Sylvia