It was late.   I had three breads to prepare for.   This meant two starters, two soakers and a biga.   My eyes drooped.   I was almost done - once I made the second soaker, and then the biga, I could go to sleep.   Yet something was wrong and I didn't know what.   I looked down.   Instead of holding a bag of whole wheat flour, I was holding a bag of whole rye flour.  And I had already made the biga and the soaker for whole wheat sandwich bread with rye instead of wheat.   No rest for the weary.   I placed the mistaken soaker and biga in sealed tubs in the back of the refrigerator, and made the biga and soaker again - this time with wheat.    
What a difference a day makes.   My three breads prepared, I thought, hmmm.   Wonder what I could do with that rye soaker and biga?   I had extra starter.   That's always a good place to start.   But isn't it the case that wheat doesn't raise rye?   That's what I have believed for the last three years.   And yet.... extra starter, misbegotten biga and soaker.     I pulled the rye soaker and biga out of the refrigerator.   They both had taken on the texture of cement during their overnight stay.  Not very promising.    I'd probably be throwing good flour after bad.   But really, what did I have to lose?
So I mixed up the soaker, biga, starter, added some extra bread flour, salt and water for good luck, and had a dough of some sort, not sure what.   Then went through sort of half rye, half wheat bread steps, as I wasn't really sure what I had.    Then baked it.   It came out of the oven looking surprisingly pleasant.   As it cooled, I finally sat down to write down the formula of what I had in front of me.    More rye than wheat, percentages reasonable given that I did all the computations in my head at the counter.   And not enough rye that I had to wait until next day to cut.   All it needed was to cool down. 
I cut.   Hmmm.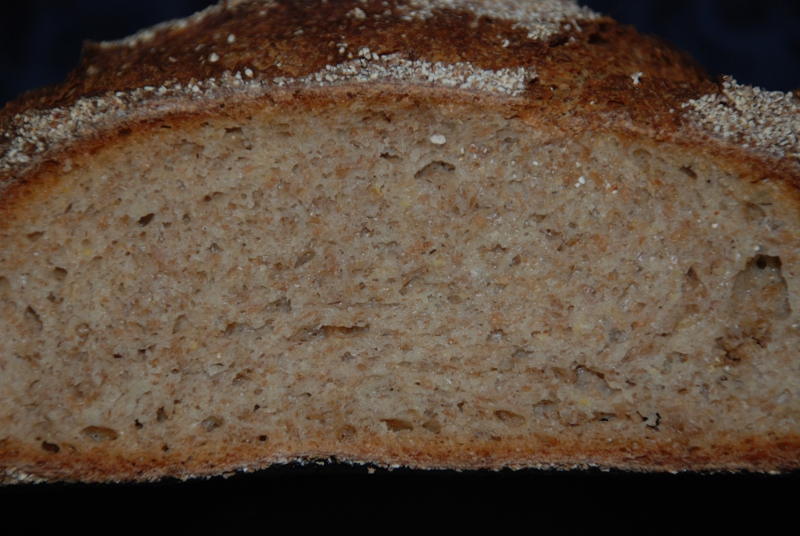 Really not that bad looking.  I tasted.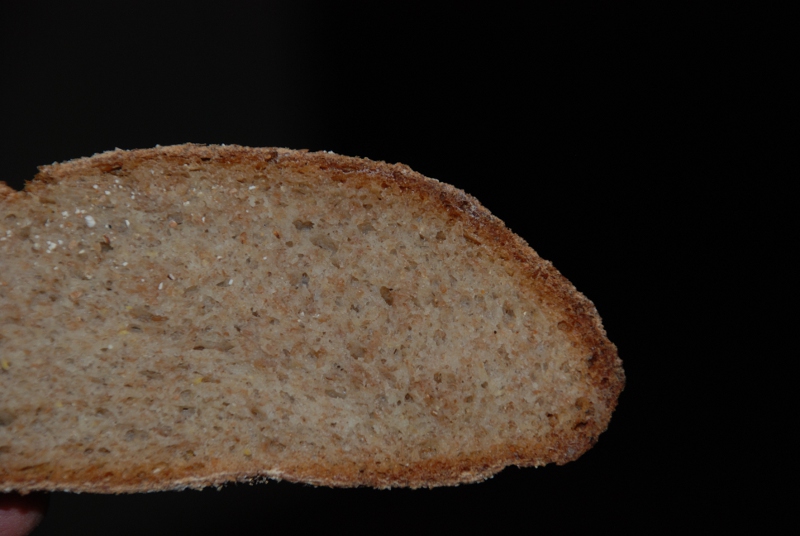 Pleasant, mild, rye bread, without the sour tang that comes from leavening with rye sour.   A bread that many people might enjoy.   A bread that I would like to make again.  But on purpose next time.
Weird.
Formula and method:
Mistake Bread

 
 
 
 
 

5/23/2013

 
 
 
 
 
 
 
 
 
 
 
 
 
 

     Final

       Starter

       Soaker

          Biga

          Total

        BP

KAAP

105

60

 
 

165

44%

Rye

 
 

106

106

211

56%

Water

88

40

 

79

207

55%

Milk

 
 

92

 

92

24%

Salt

5

 

2

 

7

1.8%

Yeast

 
 
 

1

1

0.3%

Starter

100

 
 
 
 
 

Soaker

199

 
 
 
 
 

Biga

186

 
 
 
 
 
 
 
 
 
 
 
 

Total Flour

376

 
 
 
 
 

Total Dough

683

 
 
 
 
 

Hydration

80%

 
 
 
 
 
 
 
 
 
 
 
 

Scald milk

 
 
 
 
 
 

Make biga and soaker night before and refrigerate

 
 

After 15 hours mix all.

 
 
 
 
 

Dough is pasty but relatively firm

 
 
 
 

BF 1.5 hours

 
 
 
 
 
 

Shape into boule

 
 
 
 
 

Proof 1.5 hours

 
 
 
 
 

Bake at 450 with steam for 40 minutes