Rye pain au levain with new Rye flour
Ever since i started baking bread at home, I have been baking with rye flour quite judiciously. Rye flour sold for retail on the shelves of supermarket chains in Dubai, and the UAE in general ,is mostly exclusively Doves farm organic rye flour. The flour is quite expensive given that it is organic: US$ 3.4 per Kg. I continued baking with it for years, with beautiful results and excellent finished products, until today.
 The other day, I was restocking on Bread flour (12.6% protein) from the mill , and I was curious whether they mill other grains too. To my delight, they milled Rye too! Non-organic of course, but German rye (t-170 flour - Dark rye flour) nonetheless. I was thrilled with the idea of having Rye flour in bulk, to bake with at will. The flour also was considerably cheaper, being non-organic, and in bulk: US$ 0.81 per Kg! I forgot to take a picture of the flour, but it had a consistency similar to whole rye flour, but with finely milled bran.
I was eager to test run this new flour, so I fed my rye starter with it, and let it ferment. Usually, the organic doves Rye flour raises and collapses in 3 hours at room temperature, this one took an hour more. This was my first encounter. I created a sour levain from the ripe starter, and it rose and ripened, but the unique scent of a fermenting Sour was not as potent as I'm used to. That was my Second encounter. I mixed the sour with the flours for the autolyse, added salt , fermented with stretch and folds, shaped, proofed, and baked.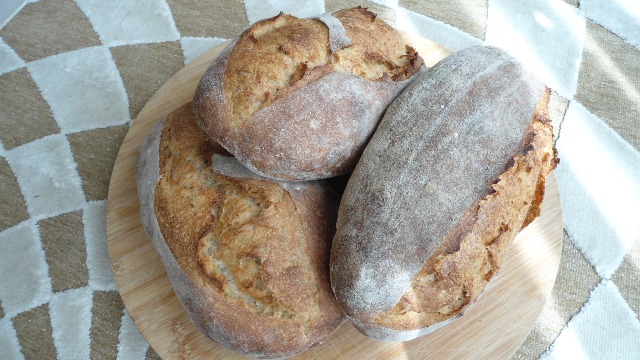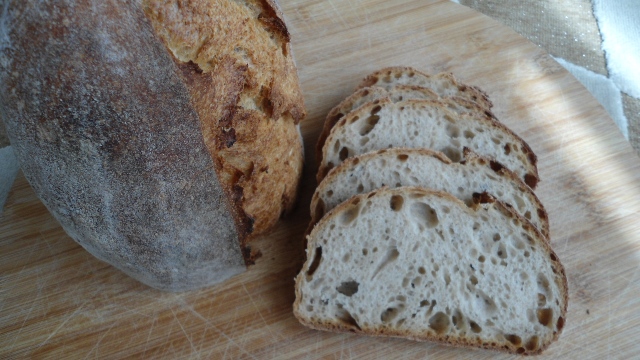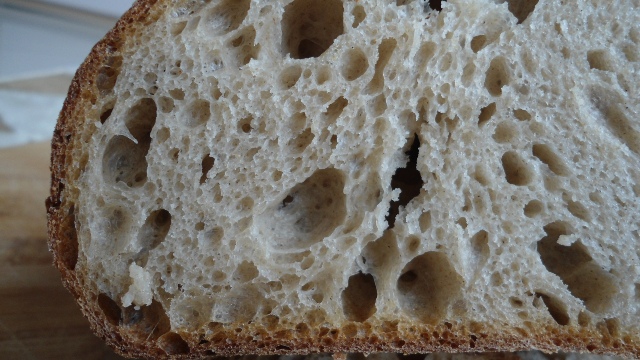 The aroma of the finished loves were the usual, nutty and sweet with a hint of rye. The flavor was almost identical to the ones i made with the organic rye, though slightly inferior. I'm partial to the ones i made with organic rye, but the true test will be in a 100%  Rye bread; this is were the the true difference will be revealed.
I'm not sure whether the flour being non-organic has to do with it's slower fermentation rate (fewer bacateria and wild yeasts), or it being Dark Rye, but i'm paritial to the first reasonining.
Anyway, overall, my new t-170 Rye flour did a good, and i'm very pleased with it.
Note: the the Rye flour package says bread mixes, but the sticker shows:T-170 Rye flour, Which, i think, is the german grade for whole grain Rye flour (anyone?) No additives here.
-Khalid