It's all about timing - WFOven, Pain Au Levain
I made the Pain Au Levain 'sourdough' pg. 158 from the book 'Jeffery Hamelman Bread'.
What a lovely delicious bread that has been enjoyed by many who have baked it.
When preparing my wfo for this bake, timing was very important because, I also make dinner in it before doing my baking.  
I call our dinner on Mike's work days 'time orders'.  
When he arrives home from a cycling exercise ride.  He has just enough time for showering and eating before, leaving the house.
So dinner is on table usually about 4:15.
I fired the oven up, mixed my bread and, roasted the chicken after the first logs burned down.  I only needed to add one log at a time to burn  a low flame for the roasting.
When the chicken was done.  I placed it into my elec. oven to keep it hot.  I made the salad, tended to my bread strectch and folds and made the pizza's.
Dinner was ready.  The pizza's only take a few minutes.  Everything was timed great and tasted delicious.
Just after dinner.  The loaves were shaped.  
Now there only some hot coals to rake over the oven floor.  Then I cleaned up after dinner.
After cleaning up the kitchen, I raked out what was left of the dying embers and ash.  Mopped my oven floor, placed the door on and left the oven to stablize for one hour and 15 minutes.  
The oven and loaves were both ready.  The timing worked out very good.
Everything was done.  Now the fun.  Baking my bread and I also put in some yams.
I had plenty of stored heat in the oven and could have baked longer.  But, it was a long day and I was tired and didn't really need the extra rustic pies I was thinking about adding to the days bake.  Easter and my birthday will be here soon.  How time flys.  Plenty of time for sweet eating and calories.
The neighborhood farmers market was full of fresh greens.  I should have brought my camera.  I especially wanted the Cara Cara Oranges for my roasted beet and goat cheese salad, basalmic glaze, all were topped over spinach.  Roasted walnuts were forgotten :/ would have added a nice crunch.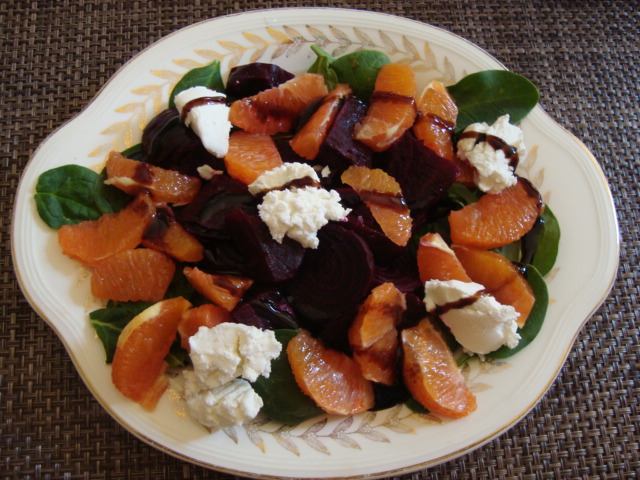 Whenever I fire up my oven.  I always include an organic chix.  Good for dinner, sandwiches or, what have you!
Lemon, Garlic and Herb Chix.  Delicious and very tender.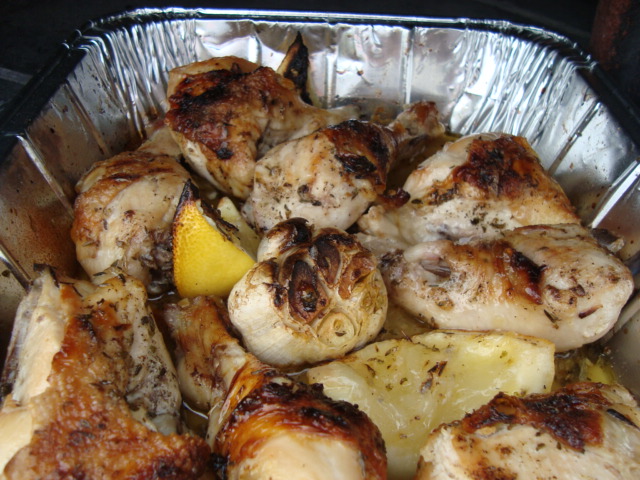 Mike's favorite  -  Pepperoni
The dough I had already frozen and used it today.  It was 100% Caputo 00 flour.
Heirloom tomato from the FMarket on this one, with a little pepperoni that was left.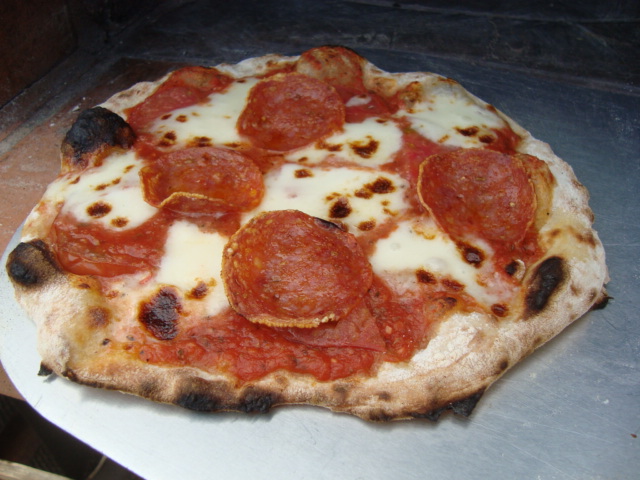 Farmer's Market Squash Blossom's for this Pizza
These were the female blossom's, so I added the tiny zucc's
Delicious and tender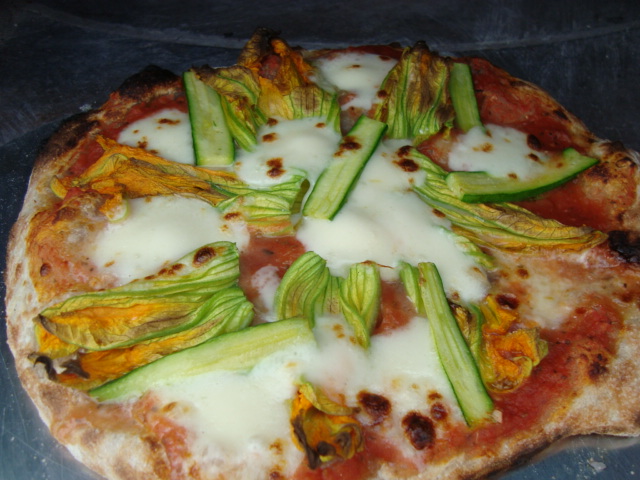 And now for more bread bakes. 
The lovely JH Pain Au Levain ' sourdough', melt in your mouth delicious 
They sprung so fast and started browning.... 10 minutes in the oven... before I got the steam pans out.  Not to much harm done.
Browning up nicely... apx. 30 min. in the oven... I removed them.  Let them cool overnight.
The bakers hand fell asleep about 3/4 away down the slash on the loaf on the left.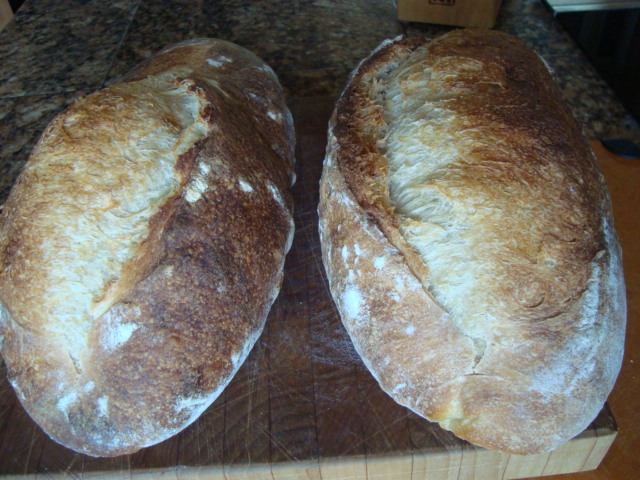 Crumb was open.  No extra hydration was added.  I stuck to the books formula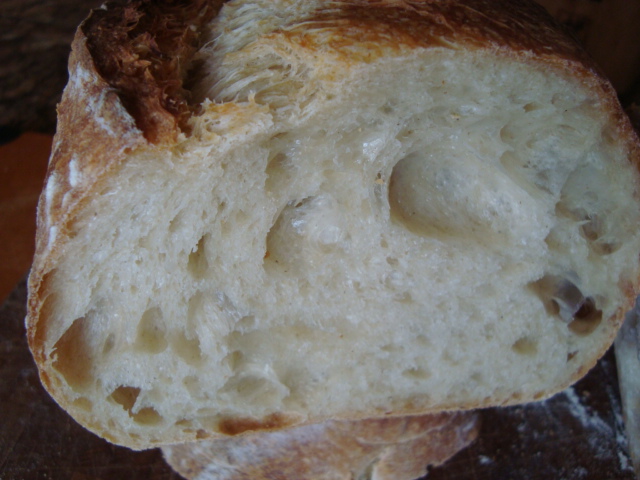 I was happy with the bottom crust.  The oven floor was a nice temperature.  Oven was apx. 500F and lowering.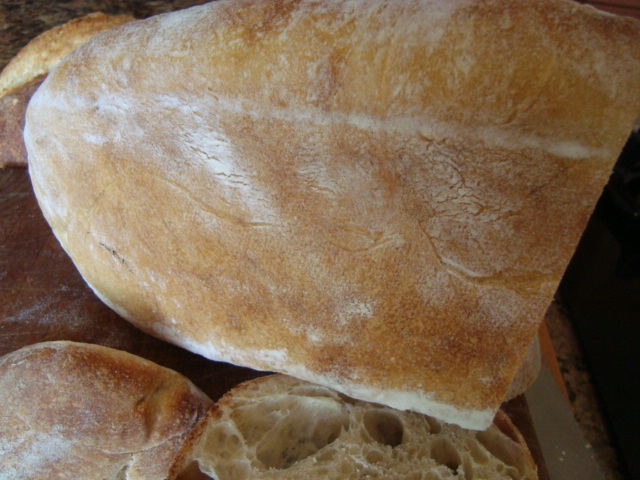 Oven's clean and ready for the next firing.  Nothing beats a self cleaning oven.
Sylvia