Bread rookie from Sydney, Australia!
Hi guys,
2 weeks ago I stumbled upon this site looking for information/opinions on a new stand mixer purchase (Bosch MUM86) and am now hopelessly addicted to the forums! I've always been passionate about food (previously a chef now a food science undergrad) and now it seems I've caught the bread bug!
I'm ashamed to say that I've never baked bread in my life previous to last week. I have since baked 3 batches of bread using richard bertinet's (that guy is awesome) white dough recipe and twinkering with kneading and fermentation times. Behold, my abominations!
white dough #2 (#1 was a complete flop.. dense, flat, doughy.. not pic-worthy!)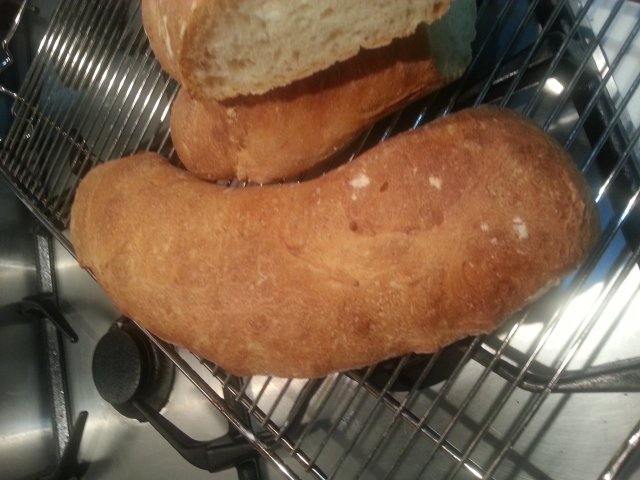 I used bertinet's kneading method and left it in the fridge for 2 nights to ferment. The 'boomerang' shape came from the dough sticking onto my peel while I was trying to slide it on to my stone! The flavour of the bread was really good despite some pretty crazy fermentation odours it was giving off when I took it out of the fridge. I totally failed on the scoring division; I used an old stanley knife and it kind of just dragged the surface of the dough around. The crust was really crusty and chewy and the crumb was shiny and chewy. Perhaps a tad too chewy overall..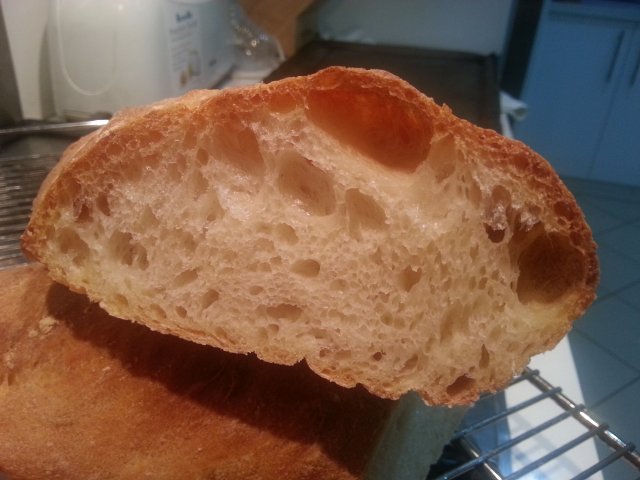 white dough #2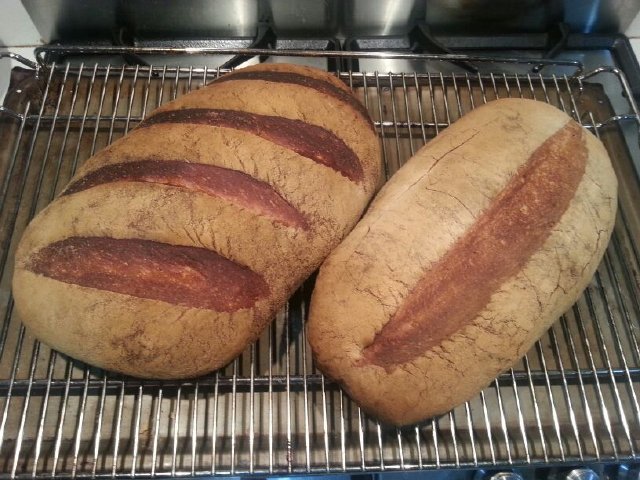 I used my stand mixer (speed 2 for 6-8 minutes) for these and the same recipe. To solve the sticking to peel issue I let the dough complete its final rise on some baking paper before sliding it onto my peel. I also solved the slashing issue with my serrated bread knife. The crust was nice and almost shattered to the bite, not nearly as chewy as my previous creation. The crumb was very soft and delicate, but I want bigger holes! One issue I had was the bottom of the right loaf just didn't want to harden up to a hollow knocking sound. I proved the left loaf for about an hour longer since i could only fit one loaf on my stone at a time. Perhaps this is why?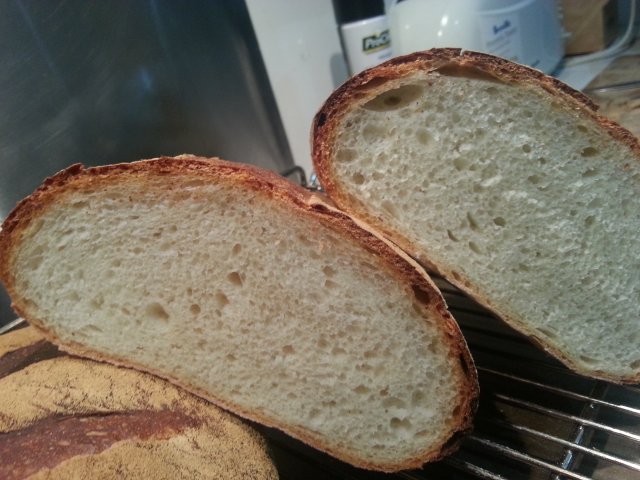 Anyway, I'm really looking forward to future baking and it has been really fun immersing myself into the bread culture. I love it how there is always room for improvement! Thanks so much guys for creating such a nice community!
Jason