February 17, 2013 - 8:46am
A Meditation on Sourdough Pancakes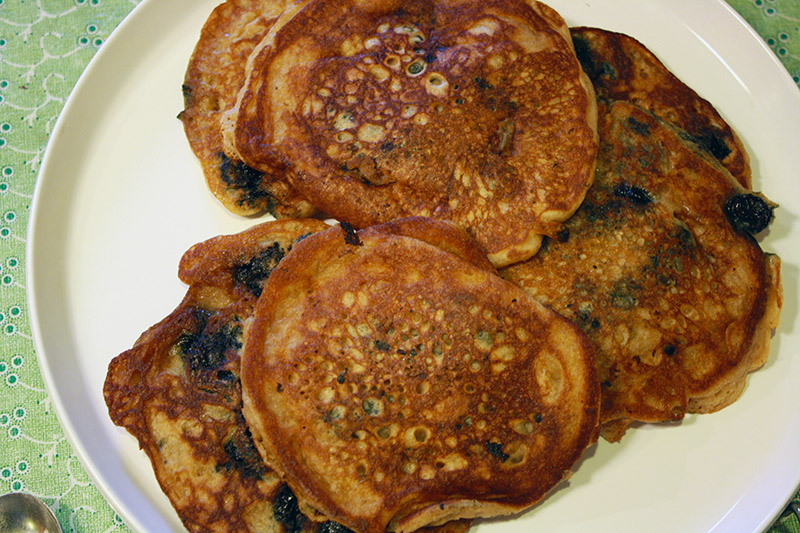 My sourdough starter became viable about 4 days ago. Since then I have been keeping it at 100% hydration (1:2:2) on a 12-hour feeding cycle, with the discard stored in a mason jar in the fridge.

Today was pancake day...

Like many folks, my personality is comprised of a series of contradictions. I have an artist's (or perhaps a cook's) appreciation of the unpredictable. I enjoy throwing things together until they taste good. However, this is tempered by a scientist's (or a baker's) desire for precision. And an enjoyment of clear, precise, well-articulated direction. I like to understand the why's of something in the beginning, so that I can go ahead and do what I want in the end.

I may spend hours researching various recipes for the same dish -- trying to figure out why one calls for an extra egg and the other for butter instead of oil. Sometimes the difference is a matter of taste. Other times texture or cooking times may be affected.

After I understand it, I try to develop my personal version.

Pancakes are no exception.

Like most quick-bread batters I have splattered my way through, Pancakes require flour, salt, liquid, a leavening agent, fat, and eggs.

The flour and salt are self-explanatory, but the liquid can be water or some kind of milk (cow, soy, almond,  butter, etc.) The leavener can be sourdough starter (i.e. wild yeast), baker's yeast (less common in pancakes), or "kitchen chemical" (i.e. Baking Powder, or Baking Soda. If using Soda, remember that an external acid is needed for activation. Great article on Soda v Powder... http://kitchensavvy.typepad.com/journal/2005/01/baking_soda_vs_.html [1])

Eggs are often added for flavor, texture, richness, nutritional value, and of course, to hold it together. Fat can be butter or oil, which, as I understand it, helps with the texture and chew.

It seems to me that a pancake batter works best when it is at 200% hydration - in my mind, that is what makes it a "batter" as opposed to a "dough". Some may posit that the eggs and liquid fats are also required for batter. I am not sure. Plenty of doughs have eggs and vegan batters clearly don't. So, I am going to say it is a matter of hydration.

Anyhoo, batters are often given in cups as opposed to weight or baker's %'s. But once I realized that I was going for a 200% hydration, it made working up a recipe much easier.  

200% Hydration Sourdough Pancakes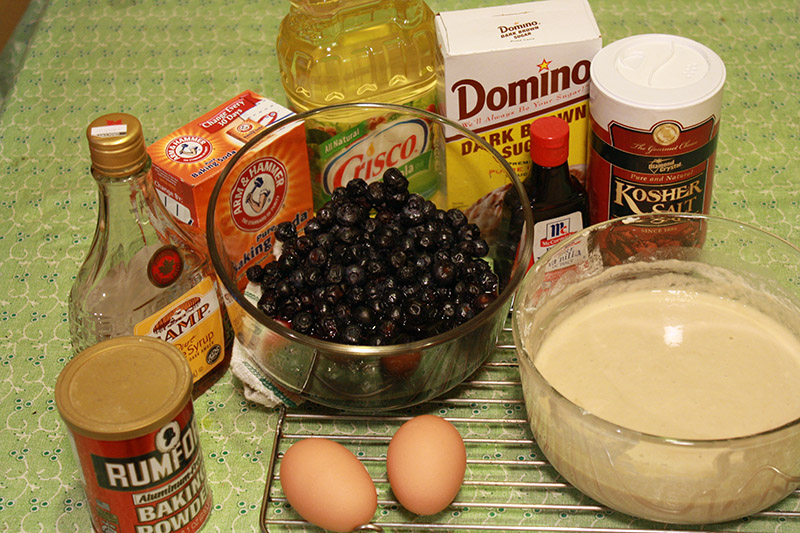 3 oz 100% Hydration Sourdough starter (room temp)*
3 oz milk (I used Vanilla Almond)*
1.5 oz Flour (All Purpose)*
2 Tbs Brown Sugar
2 Tbs Canola Oil (plus more for pan)
½ tsp Vanilla
¼ tsp salt
1 egg
½ tsp Baking Powder
½ tsp Baking Soda

* you can also use ⅓ cup

Directions:

1. Dissolve starter in milk.
2. Incorporate flour & sugar.
3. Let the batter sit for 30 minutes or so. It might get a little bubbly. It might not. Don't sweat it. Its a pancake. (See my note below.)
4. Beat eggs in a separate bowl until frothy - set aside
5. Mix salt, oil, vanilla into the batter
6. Heat and oil (or butter or Pam) your pan (griddle) -- I used a capfull
7. Dissolve Baking Powder and Baking Soda into the batter
8. Lightly add eggs (folding in to keep the frothiness)

Pan should be on medium-high heat.

Add "pancake sized" dollops of batter, heat for 2 - 3 minutes, flip. Heat for 2 - 3 minutes. Remove. Eat with butter &/or Maple Syrup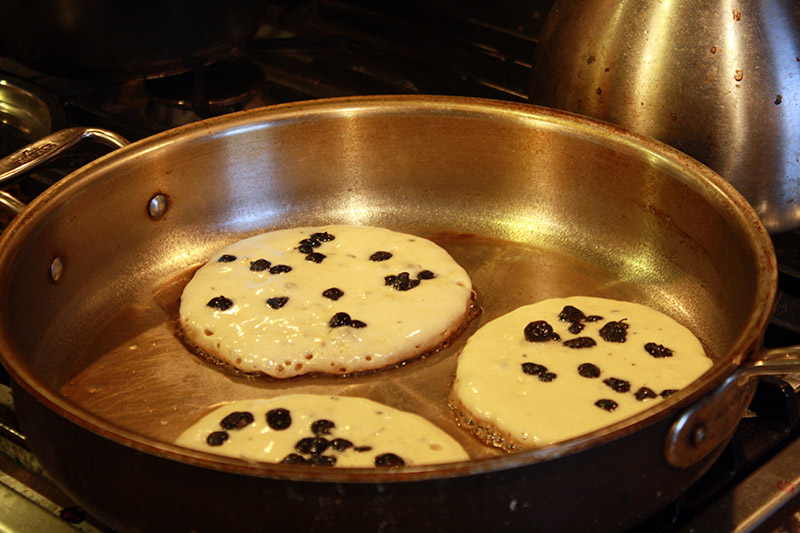 Some notes about pancakes in general and this recipe in specific...

1. Lots of pancake recipes call for an overnight fermentation process. I am sure that giving the yeast a chance to wake up and get the batter all bubbly results in a lighter, fluffier pancake. And I like light and fluffy. Really. I do. But its a pancake. You know, that thing that you are going to eat for breakfast... doused with maple syrup and butter. If your boss or the father of the girl you are getting ready to propose to is coming for breakfast, ferment overnight. If this is just a nice thing to do for yourself or a loved-one on a Sunday or on the spur of the moment before work one day, I think this recipe is just fine.

2. Having the starter at room temp makes it easier to work with.

3. Brown Sugar contains molasses which is acidic and will provide the needed acid substrate to activate the Baking Soda. It's also sweet and provides caramel or butterscotch notes to the final product, which I like. You can skip the sugar (or substitute white sugar or splenda, etc)  by switching to buttermilk which will react with the Baking Soda (as, I hear, will applesauce, cocoa powder, etc.)

4. For maximum lift, don't add Baking Powder and Baking Soda until the very end, right when you are going to start pouring into the hot pan. Otherwise, your batter may rise and fall before you cook it. I use both Baking Soda and Baking Powder because it provides the fluffy lift I want without the overnight fermentation.

5. If you are adding fruit or chocolate chips, etc, (except for bananas, which can be mashed and added to batter), I prefer to add manually to the raw side of pancake during the cooking process. One time, I added thawed frozen-blueberries to the batter and the additional liquid threw off the recipe.

6. The more air in the batter, the more pancakes you are going to have (and fluffier.) The first time I made this recipe, they were not as fluffy and the recipe made 3 nice size pancakes. Good for one person. The second time, I doubled the recipe, and let the batter sit for about an hour. It got frothy and I had enough pancakes for 3 people. I guess what I am trying to say is, you can easily double or triple the recipe and you will get at least double or triple the number of pancakes.

7. I find that a ⅓ of a cup dollop yields a "restaurant size" pancake. A ¼ cup dollop results in a smaller pancake which I find easier to work with (flip, etc.)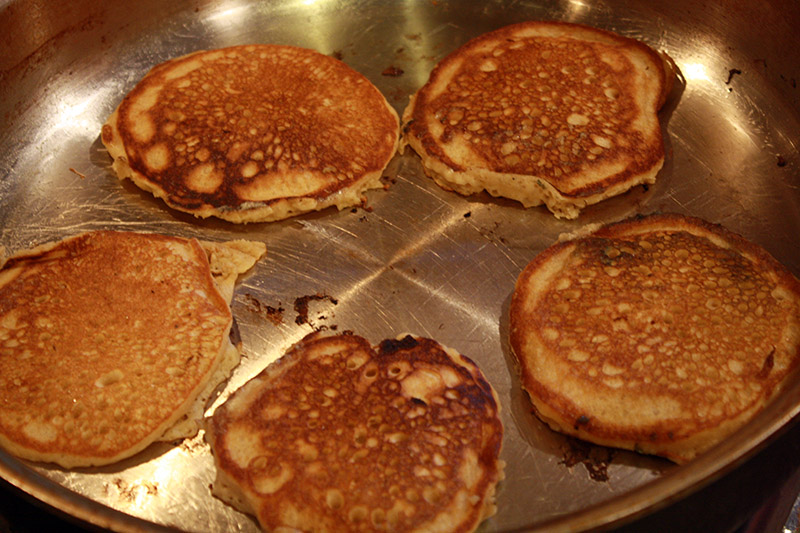 Enjoy.
Kneads_Love