January 30, 2013 - 12:44am
Weel, a nice sunny day, cold outside , frozen but with snow that makes everything look merry. A wonderfull day for baking inside, and for me to gather the courage to write this post.
after reading here for almost a year, I gathered my courrage and I post my bread. It is a whole wheat bread with some seeds in it. I have a Komo mill and I make my own flour.
thank you all for inspiring me, for posting all the information and havingr the patience to answer alla the questions, this forum is a gold mine.
so here is my bread, fresh from the wood fired owen,  the first slice with smoked fish, fresh onion, just a little grated ginger and some letuce.
[1]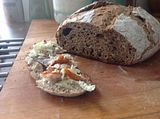 [2]
http://i599.photobucket.com/albums/tt75/corinasim/a28a0e694d83187e2dd0cc9877bedb17.jpg [3]
http://i599.photobucket.com/albums/tt75/corinasim/6ab53ff382ce924e715cbe8cdab5f16f.jpg [4]