First bake of the year: Semolina bread and Sesame tartine bread
 Hello everybody:),
It was a cold weekend here in Timisoara, Romania, just good for baking:). In this case, the oven is a good friend who offers both baking and warming. I've decided to take my chance with two breads: a semolina bread, that I've tried two times before and I failed every one of them and a sesame tartine bread, that I've never made.
First about the semolina bread. I've read about it on Codruta's blog (http://codrudepaine.ro/2011/11/paine-cu-faina-de-grau-durum/ [1]) , I've liked the looks of it and what she said about the taste. Unfortunatelly we don't have durum flour in Timisoara and that kind of specific flour Codruta used is made and can be found in Italy. I've tried some other type of semolina flour but it was not good. It was a little adventure to get a batch of semolina rimacinata De Cecco, but finally I've got one. The result was as you can see below: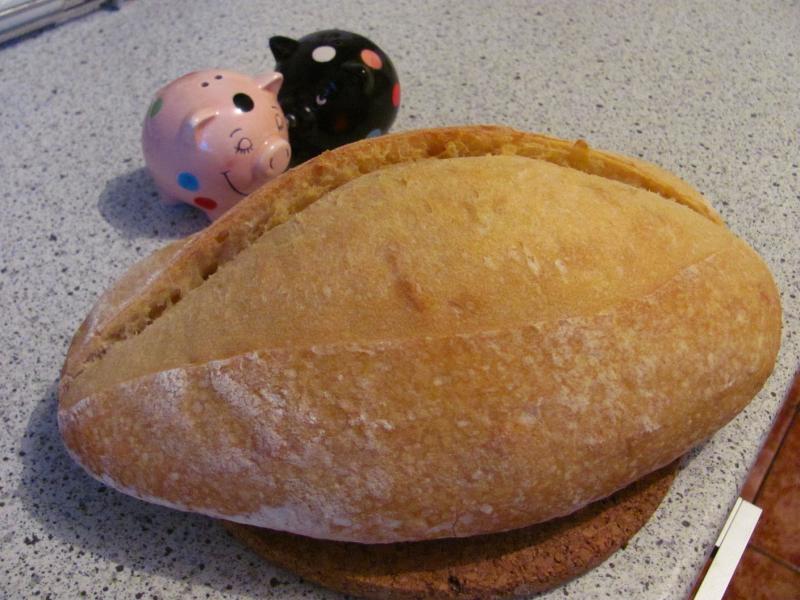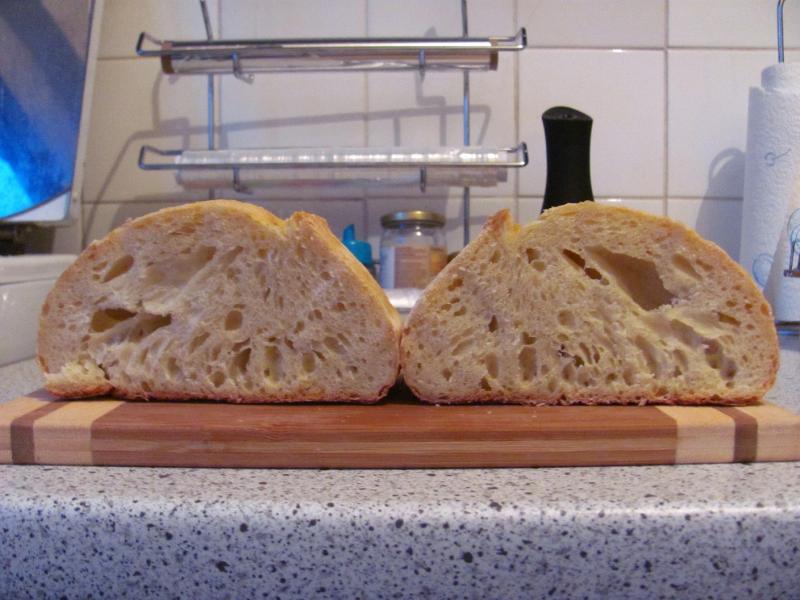 I retarded the dough in the fridge overnight for 11 hours, I baked it directly from the fridge but it seems to me like the dough was a bit under proofed. I would appreciate a piece of advice :). The taste is good, but I have a hunch that it could be better if the baker has all the knowledge and abilities to do it right :).
Secondly, about the sesame tartine bread: I've seen this bread also on Codruta's blog that has been my first source of inspiration for almost one year. I don't have Chad Robertson's book  (http://www.amazon.co.uk/Tartine-Bread-Chad-Robertson/dp/0811870413/ref=pd_sim_b_7 [2]), but it's on my shopping list for the next months.  I've tried the recipe in September  from Codruta's blog and the results were great: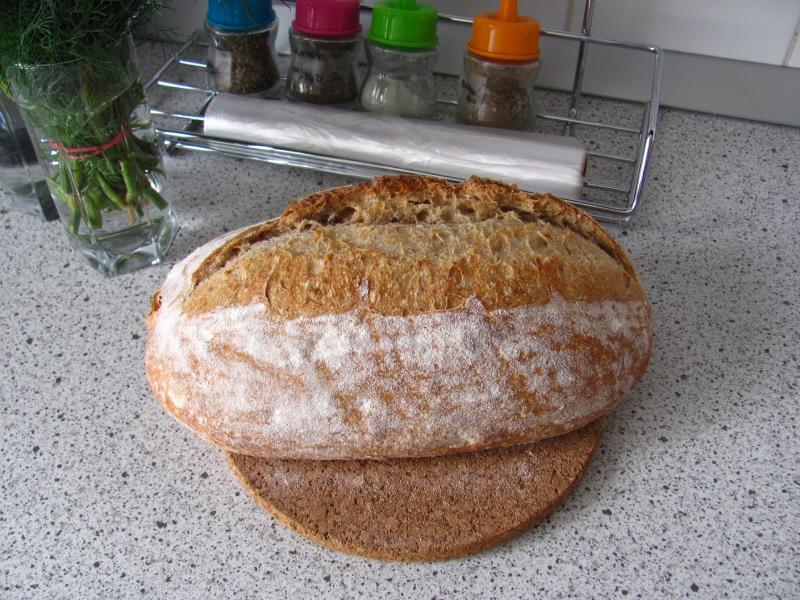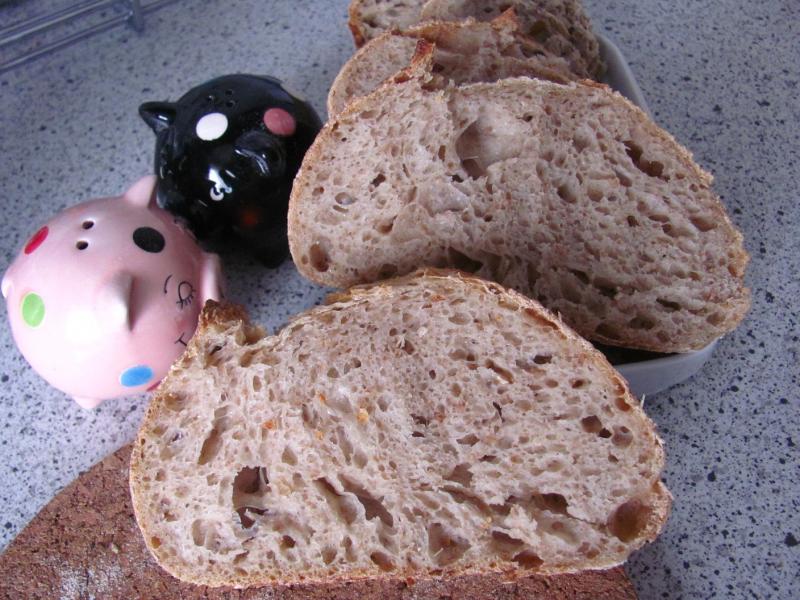 But this week I found Pip's Tartine sesame bread (http://www.thefreshloaf.com/node/30635/tartine%E2%80%99s-sesame-bread-tempered-high-extraction-miche [3] ) and I started to think more about it.
Note: In the last two  months I must admit that I've had two little "obsessions", borrowed from txfarmer blog: 1. croissants, where I think I'm heading in the right direction and 2. baguettes, where I am a total disaster, despite the fact that I've had at least a dozen tries (seems to me like I am not able to master the final fermentation  yet:( )...As a result, my bread baking had been limited to some Vermont breads and their variations , as there were easier to make and the results were great.  Considering all mentioned above, tartine bread seemed to me like a good way of reentering the universal bread world :).    
Finally, I've decided to make Tartine bread with black sesame and raisins inside and white sesame seeds on the crust. The result can be seen below: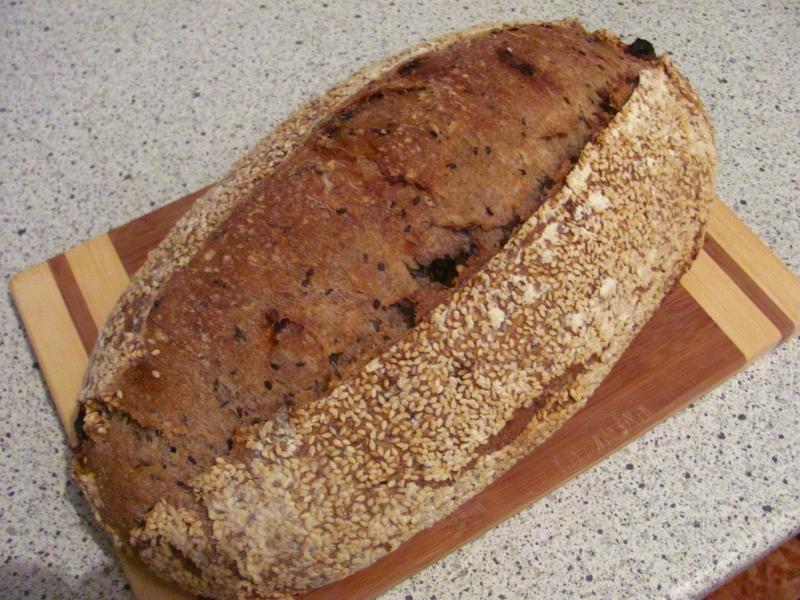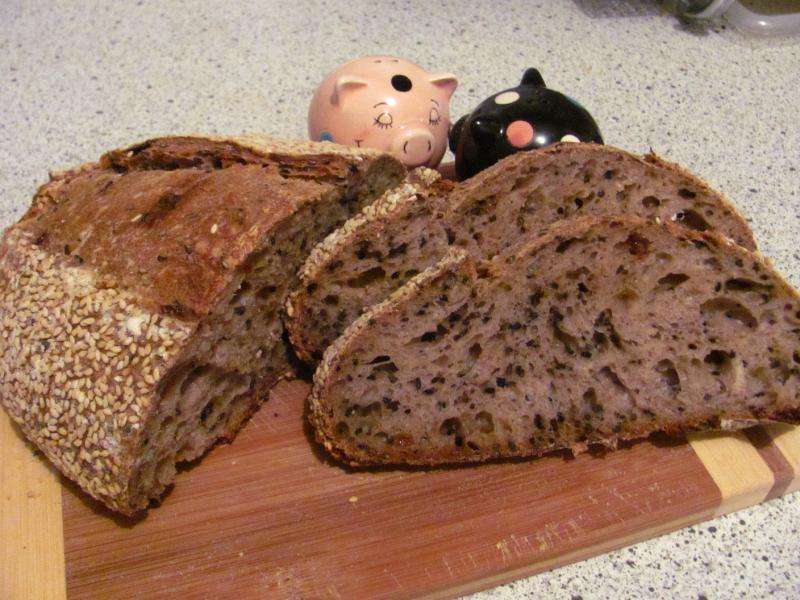 Not so good looking, from my point of view, but extremely good taste:). My husband loves its taste also.  But I feel the need to make a few notes:
-          In addition to the basic recipe of tartine bread, I used oatmeal (10% of the overall flour), black sesame (6% of the overall flour) and raisin (5% of the overall flour). The addition of seeds and raisin made me belief that I should use more water. After the autolyse of sourdough, flour, water and oatmeal,  I put the salt, more water and mixed the dough until medium gluten development . Then I put the sesame seeds and raisin. As a result the hydration of the dough was ~81%, some of the highest I've ever worked with.  Frankly, I though the seeds would call for more water than they actually did.  The dough was a bit difficult to handle.
-          Codruta's recipe was for two breads of ~ 750 gr each. I've made one bread of ~ 1.000 gr. It was too much dough for me to handle correctly in shaping as I have small hands. Moreover, it was my first time to put sesame seeds in the crust. I've done it using the method Hamelman suggests in his book, with a wet towel, but I think I handled the dough too much.  For a beginner in putting seeds on the crust, I would recommend to work with a smaller amount of dough and a smaller degree of the dough hydration than I did.
This is my first bake of this year :). Hope the next one would be more successful. I would very much appreciate any piece of advice you could offer.
Happy baking everyone! See you soon!
Happy baker Andra:).
Ps: Please excuse my English. It's my first time writing in "bread English language".  Some of the word associations may sound odd for you, as I might translate them from Romanian :|.