A baking-stable fruit filling preparation
I have been experimenting with fruit filling for a long time, seeking for the perfect consistency, which will not drip out of the cake while baking. Unfortunately nowadays in shops you can find only jams and jellies which are rich with pectin. Those do not behave well during baking, being not thermo stable. One can also buy ready-to-use fruit cake fillings, but the percent of fruit there is very low.
Also we don't have fresh berries sold here, only frozen (cherries, raspberry, and blackcurrants).
Keeping in mind all these obstacles, I decided to try some ideas from the works of Prof. Amos Nussinovitch [1], about hydrocolloids in food technology.
 Unfortunately I worked without exact measurements and quantities, next time I will follow the precise amounts:
For the filling I used the mix of Agar Agar, Alginate, Konjac and cornstarch ( all this components possible to purchase in shops for "molelecular cuisine".
500 gr. of berry mix, thawed.
 Preparation:
The berry mix was crused with blender into a smooth puree. Then I eliminated the seeds and the peel using a strainer. In the end there was 300gr of liquid fruit pulp to which I added 4tbsp of sugar, and heated till the sugar was dissolved.
In a little pan I made a liquid solution of 5gr of Agar flakes with 100gr of water. In another bowl I mixed with a blender 2.5gr of Sodium Alginate + 50ml of water + 1.5gr sodium citrate as a buffer (to prevent the inactivation of alginate in a low pH). The purpose was to create a combined Agar-Alginate gel, which will have the thermo stability of the Alginate and the easy shape forming of Agar.
Unfortunately I forgot the Calcium bath, so it was not a combined gel after all.
Then I mixed 5gr of maltodextrin with 2.5gr of konjac. 
With a blender I mixed the liquid Agar-alginate solution and the berry-sugar mix. Then I added two tsp. of cornstarch and the maltodextrin-konjac mix.  The blender was working constantly while I was mixing all together.
The puree got thick, and I put it in the fridge in a slightly oiled container.
In the next morning I took it out and cut it to nice pieces, then put it as a filling in a yeast dough (Briosche)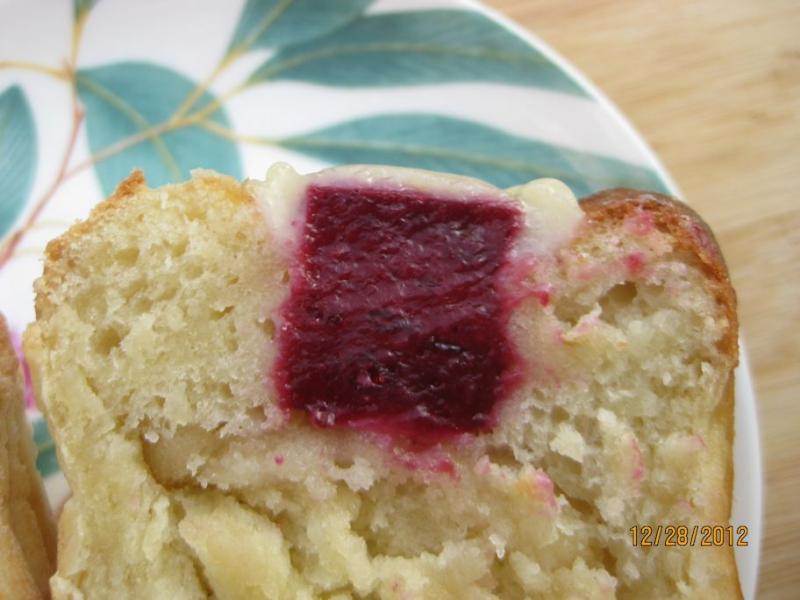 and a crusty pastry.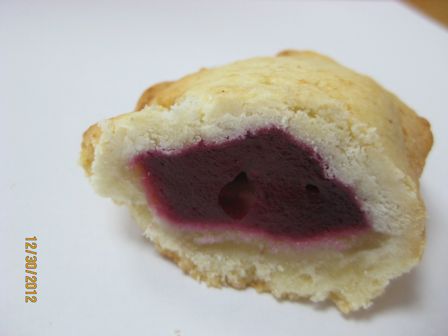 There are not "wet" dough under th filling, but a thin layer of marzipan.
The baking temperature was 200-210 0C * 15-20 min.
You can see that I didn't become too fluid and runny, and stayed well on its place. It also didn't make the baking around it wet, meaning that the water stayed in the filling and didn't go out too much. The consistency is nice, smooth but not sticky or gooey. The taste and aroma of the berries was also well preserved. I can estimate a percentage of fruit flesh in filling as  about 65-70%.
My thought is that the Agar and Alginate contributed to its firm consistency during the low temperatures of baking, and then, during the high temperatures, the cornstarch began to firm.
As I said earlier, I forgot to cross link the Alginate with calcium, so I don't know how much it really contributed to the firmness.
Next time I will try it with a lemon/orange juice.