December 20, 2012 - 6:45am
Yeast water + Water wheel + Buns = Yeast water wheel buns (I hope my math checks out)
Incubated for over two weeks, the yellow hued liquid bubbled and frothed, wafting a mild but sweet aroma. It was time, I thought. Time to test my very first yeast water---a culture of microbes created and substained by only three ingredients: mineral water, honey, and loose tea leaves.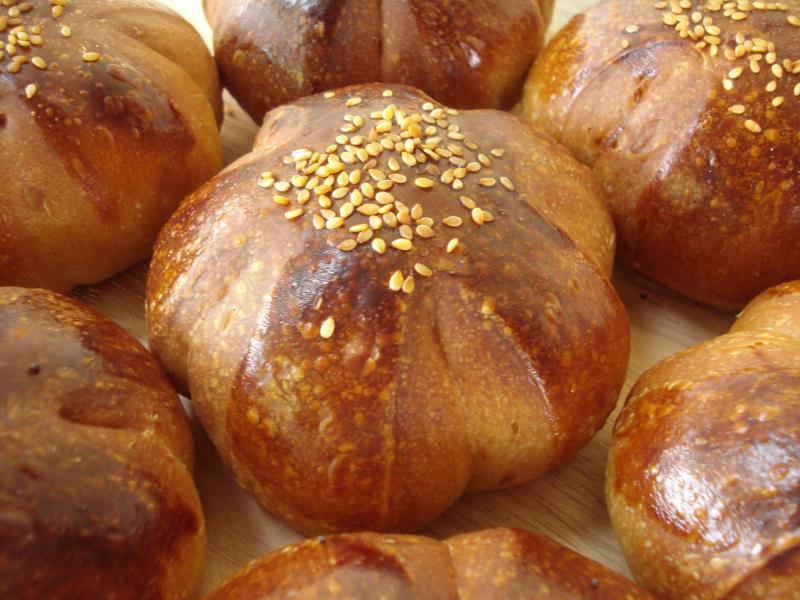 Based on Akiko's Japanese sandwich loaf recipe [1] (from her highly informative blog on yeast water, I might add), I divided the dough into twelve portions, 100 to 104 grams each, and baked them in the shape resembling water wheels. What I did was, I rounded the portioned dough during the shaping phase, compressed them with modest pressure, slit five cuts along the rim of each flattened ball of dough, then applied an egg wash consisting purely of yolk for that glossy sheen.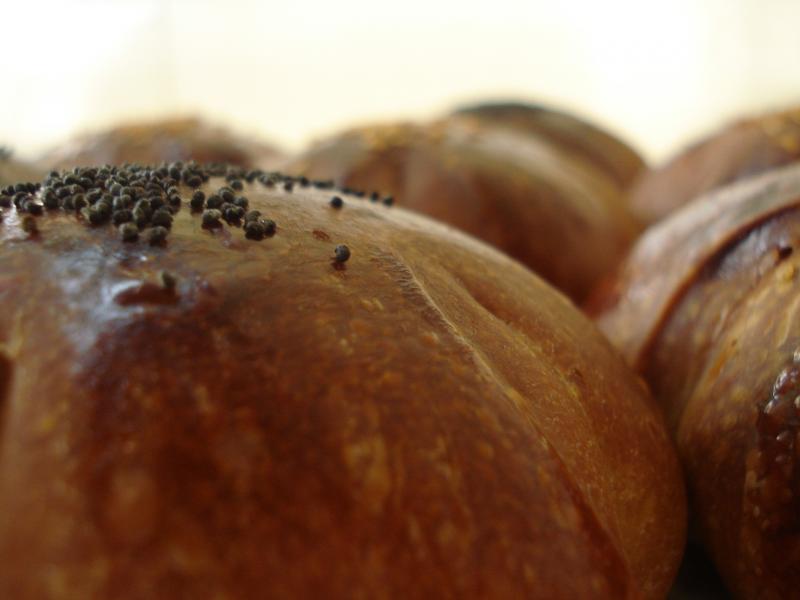 Not only was shaping the dough into water wheels was new to me, but the way I shaped the dough into balls was new as well. As demonstrated by Mark in this video [2], in a smooth, circular fashion I rolled the portioned dough between the counter and the palm of my hand. Initally, however, I fumbled---quite badly---and relinquished all thought but one:
"How the heck did he do that?!" 
Undefeated, I re-attempted the ball-shaping technique with steady effort and a tongue peeking from the corner of my lips.
Ever seen a bread baker with a stupefied grin while shaping dough? Well, you would have if you were observing me that day. Never in my life had I felt this peculiar but pleasant sensation: a small ball of dough tightening beneath my palm.
As experimental as I am, I wanted to test and observe the effects of cinnamon on dough and yeast. Of course, that's what I did.

Prior to hand kneading, the dough was divided into halves (631 grams each), where one would contain less than a gram of ground cinnamon. To reduce any confusion, I sprinkled poppy seeds onto the portioned cinnamon dough to indicate that they were spiced. In contrast, the portioned but non-spiced dough was topped with white sesame seeds.

My results?...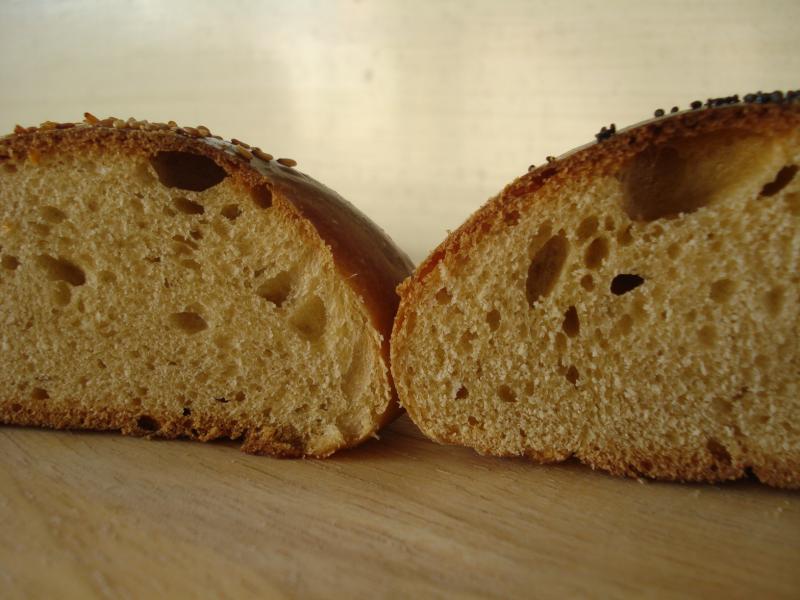 Both baked simultaneously on the same baking tray, the crumb on the left does not contain cinnamon, whereas the crumb on the right was spiced with cinnamon.
In general, the buns containing ground cinnamon were more porous, with slightly larger holes. However, I'm not totally convinced that this was caused by the addition of cinnamon.
During the shaping phase, did I apply less pressure onto the portioned cinnamon dough compared to its non-cinnamon counterpart? Well, it's a possibility.

Nevertheless, this particular experiment was fraught with valuable lessons. Boule shaping. Single-hand ball shaping. The cold oven method. The slow metabolism of yeast water. The effects of yeast water on dough. The possible effects of cinnamon on yeast. The differences between French type 65 flour and American all-purpose flour. And oh, so many more.

:) Thanks for dropping by. Keep well and happy baking.

Zita