December 16, 2012 - 11:06am
1st Attempt At Baguettes - I Was Worried For Good Reason
I tried my 1st go at baguettes today/yesterday.  The recipe I chose to try (because my sourdough starter recently died and haven't developed a new one yet) is a riff on Bouabsa's Baguettes.  Key problem here is the word I used, RIFF.  Why the heck would I riff on a bread recipe for a bread that I have never tried before, and was quite nervous trying??  I don't know.  I am slowly learning many lessons by my mistakes.
The changes I irresponsibly made to the original recipe was to add 10 grams of light rye flour and 45 grams of whole wheat flour to the overall formula.  I adjusted a bit of hydration for the WW addition, but I think perhaps it was a bit too much added.  The dough very much resembled the Tartine Country dough during the S&F's and shaping.
Everything seemed to look good after the 22 hours of fridge retarding: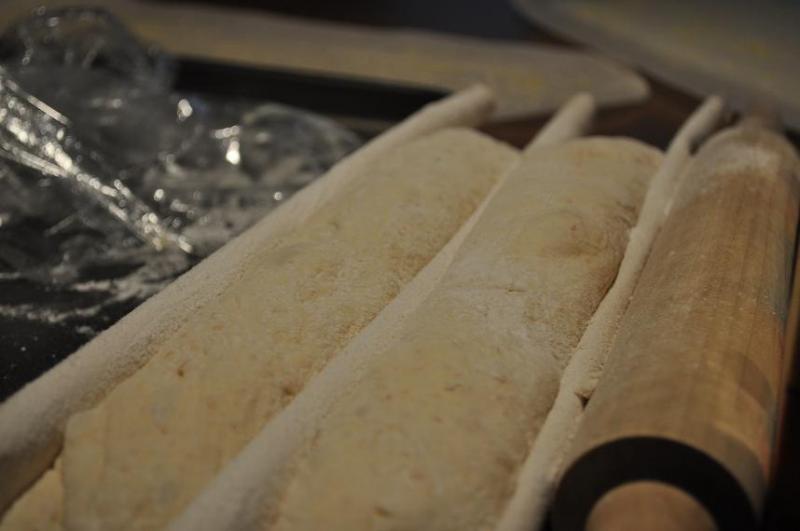 Parchment paper with a bit of oil/corn meal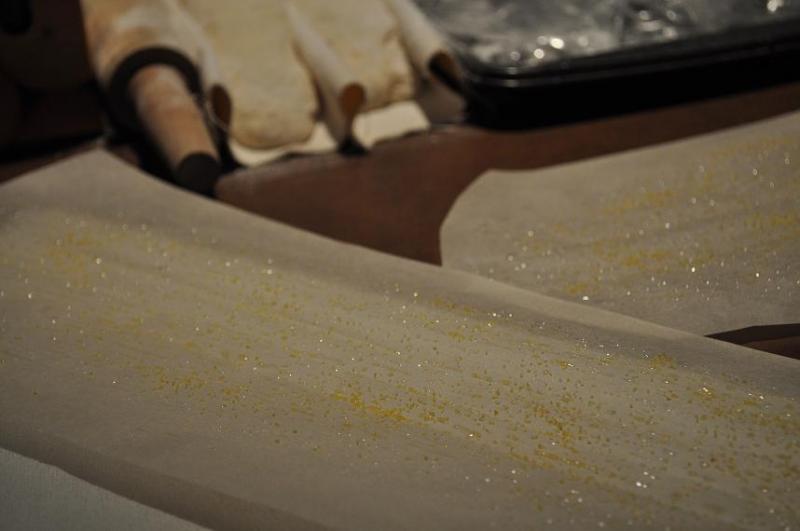 When I transfered the proofed dough onto the parchment, they spread out a little more than I would have liked.  This could be due to the high hydration?  I slashed them nervously and sloppily and threw them into my roaster steam bake method and into the oven at 480 degrees.
They turned out a bit uneven in colour, bit burnt on bottom, and overall, just not looking how one would want in a baguette.  At least not the results that many have posted on here of baguette bakes.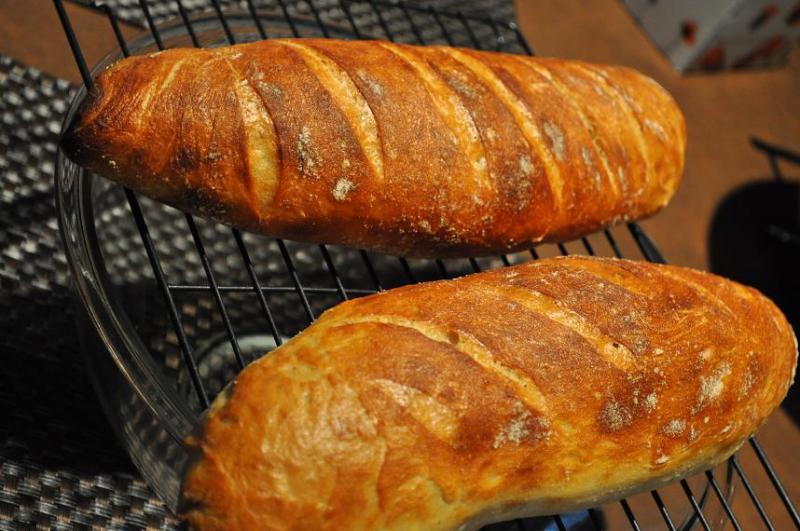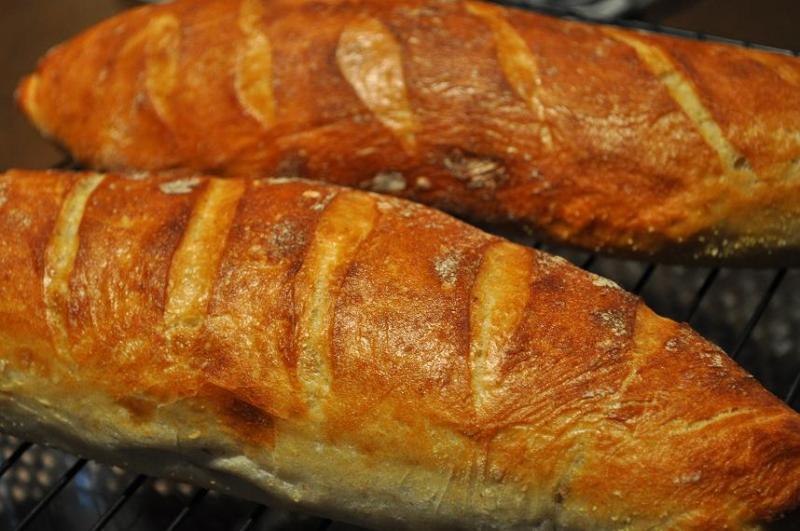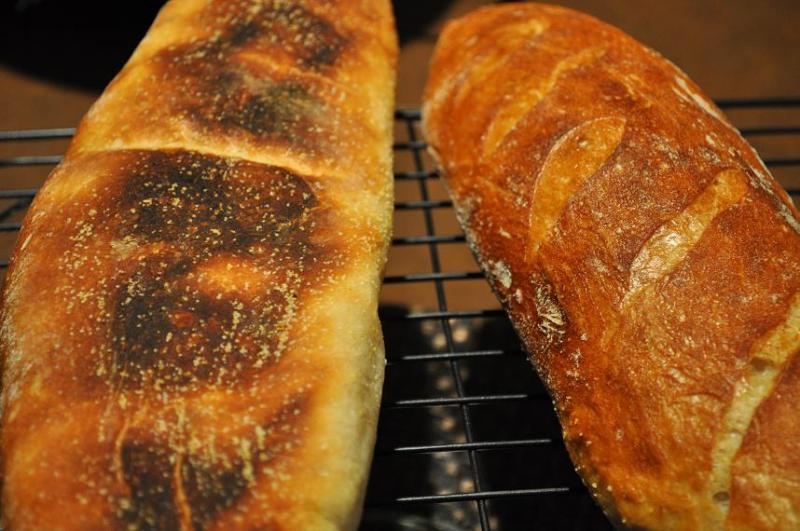 Crumb turned out ok but maybe a bit too dense?  Perhaps I cut into it too soon.  Still hot.  Has a nice sweet flavour.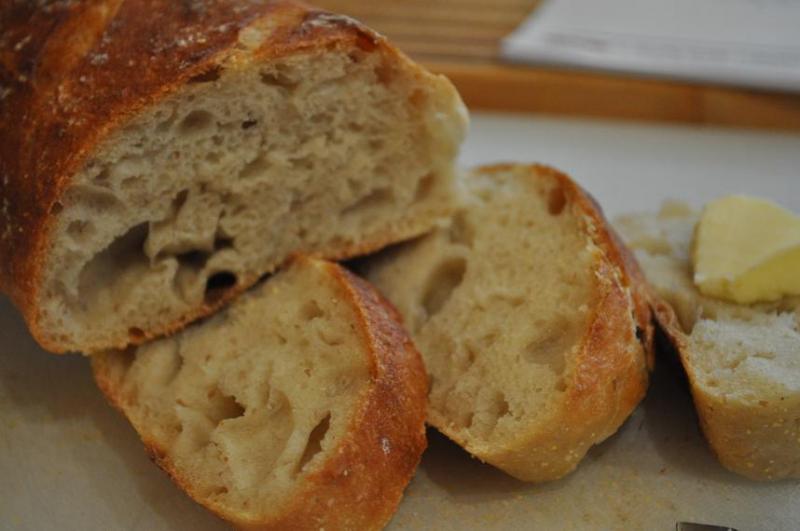 I guess due to the size of loaves, I had to extend the baking time for about 10 minutes.  They were still quite light at the 25 minute mark.
I definitely learned a lot in the shaping process.  I watched some great baguette shaping videos posted on past forums which helped a great deal.  One item I have to mention is the elongating part of the shaping.  The dough did not easily stretch/elongate out to make a thin baguette, thus my thicker baguettes.  I was trying to not force the elongating as I know you have to use as little downward pressure as possible.  Maybe I was too careful?
Any comments/suggestions on my issues would be much appreciated.  All suggestions OTHER than the obvious that I am still sore from kicking myself - NOT following the recipe and trying to riff on something I have never tried before.
John