December 13, 2012 - 9:46pm
Fannie Farmer's Boston Brown Bread
I was browsing through Fannie Farmer's  The Boston School of Cooking Cookbook, 1918, and ran across a recipe for Boston brown bread. It is a steam cooked bread from a batter. A search through the Fresh Loaf found several posts on this bread, mostly from Maggie Glezer's book, made with a fairly stiff dough.
Farmer's recipe calls for 1 cup each of rye meal, corn meal and Graham flour,  ¾ cup molasses, 1 tsp salt, ¾ tbsp soda and 1¾ cup milk or water (or 2 cups sour milk).
I converted to weights as follows:
130g rolled rye (like oatmeal, but from rye)
130g cornmeal
150g whole wheat flour
11g baking soda
6g salt
240g molasses (I was a little short so made up the difference with blackstrap molasses)
400g milk
I whisked the dry ingredients together, added the milk and molasses and mixed well. The batter was poured into a buttered melon mold, the lid was secured and it was put on a trivet in a stock pot. I poured boiling water around the mold to halfway up, covered the pot and set the stove-top's burner to simmer.
From the crumb pic, you can see that the bread fell before completely setting up. I think this was due to my bumping the pot about an hour into the steaming. After 3½ hours, I turned the burner off and allowed the whole thing to cool enough that I could lift the mold from the water bath; then turned it out to cool on the rack.
That was Monday evening. Tuesday morning I cut a slice. The taste was of sweet cornbread with a strong rye kick. Using the rolled rye adds a texture that complements the density of the bread. I might try using all blackstrap molasses next time, as the corn and rye pretty much cover the molasses flavor — and I like molasses.
Each day, the flavor and mouth feel have improved. By today, Thursday, the flavors have melded much like leftover stew and the bread still has moisture with no sign of staling. Opening the bread box brings a wonderful corn+rye aroma into the kitchen. Heated and spread with butter, you have breakfast Nirvana.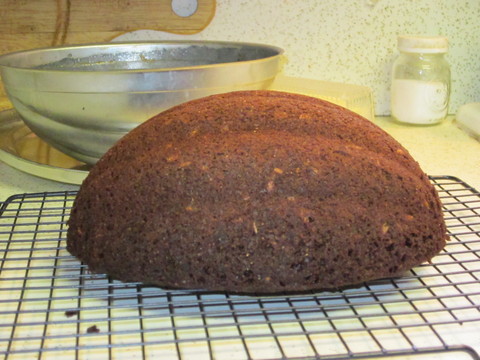 The molded bread. Notice the melon mold in the rear.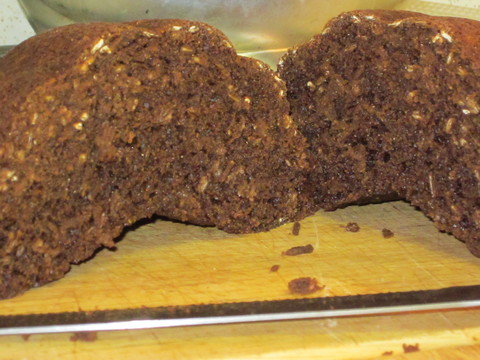 My mom would yell at me for running through the kitchen while a cake was in the oven; now I grok in fullness why.