November 29, 2012 - 12:06pm
Success: Torta Limone with Red Star Platinum Yeast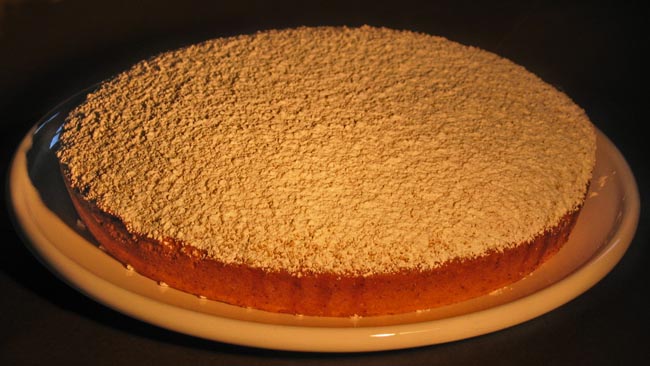 Using free samples of Red Star's new Platinum yeast I baked a bread and a dessert. I obtained the free product by responding to an October offer [1] at The Fresh Loaf, from KosherEye.com [2].
I used the first of three yeast packets I received to make an enriched white bread, like the Vienna bread from Inside The Jewish Bakery. The resulting loaf was good but not the best I've obtained from the same formula. Paying closer attention to proofing and small adjustments to hydration have produced bigger differences in previous loaves than did switching out instant active dry yeast for Red Star's Platinum yeast.
I mixed the remaining two packets of yeast into the batter for doubled recipe for Torta Limone, an Italian lemon cake. Never having made this cake before and finding the mixing/combining process (below and here [3]) different from any of the cakes I normally make, I forgot the admonishment [4] from KosherEye.com to mix the dry yeast with the flour before mixing in very warm liquids. Instead I followed the recipe instruction from the original Italian, "Stir until the end, the packet of yeast."
I was worried the cakes wouldn't rise at all and that, whether or not they did, that they might have an unpleasant, yeasty flavor since I used 14 grams of yeast to raise just 600 grams of flour/corn starch mixture, much more yeast than I ever use. I was concerned, too, that the recipe called for no rise prior to baking. But I decided to trust the recipe and the yeast by proceeding directly to the preheated 320°F oven. The three nine-inch cakes took almost an hour to reach an internal temperature of 202°F.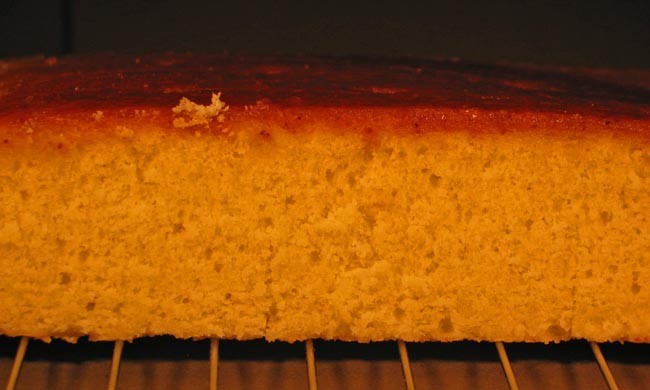 I wanted to submit comments, photos and a recipe to KosherEye.com ASAP because I had missed the deadline I had a greed to when I requested the free samples. It was late evening, I was tired and not a bit hungry when I snapped (bad) photos and took one quick bite of a lemon cake. My first impression was not good. "The lemon syrup is quite bitter, overwhelms all other flavors. Cake didn't rise as I would have liked, more like a pound cake than a coffee cake," I wrote.
As I was deciding next morning between tossing the cakes and drying them for crumbs  I took another bite. What an amazing difference! Somehow the flavors had mellowed overnight. Whereas before the lemon syrup was overpowering and bitter, almost acrid, now it tasted bright and fresh. The cake that had previously felt heavy and dense was now delicate with a finely balanced flavor, one of the best cakes I've ever made. The fine, soft, moist texture reminds me Entenmann's crumb cakes, which I've never before duplicated at home.
Formula below. Photos show the cakes topped with a fine layer of sieved cake crumbs and confectioners' sugar.
Lemon Cake
INGREDIENTS
150 g flour (I used KA AP),
150 g cornstarch,
250 g sugar,
3 eggs,
170 ml milk (next time I'll use milk powder and heat water to 110°F),
140 g of vegetable oil, warmed,
zest of 3 lemons (preferably the Amalfi Coast)(next time I'll try Meyer lemons),
1 packet of yeast,
a pinch of salt ,
butter and flour for the mold.
For the syrup: juice of 3 lemons, 100 g of sugar.
PREPARATION
Beat the egg yolks with the sugar until the mixture is light and fluffy. Add the milk (or warmed water if using milk powder) and mix it with the egg mixture. Stir in the sifted flour and cornstarch. United Finally, the oil and then the egg whites (I beat the egg whites to stiff peaks and added them after incorporating oil), the grated rind of three lemons (preferably pureed) and a pinch of salt. Stir until the end, the packet of yeast.
Pour the mixture well blended and fitted into a mold oven 24 cm well-greased and floured. Bake at 160 ° C (320°F) for about 55 minutes in a static oven.
Meanwhile squeeze three lemons, transferred their juice in a saucepan with 100 g of sugar and heat until it is will be melted sugar (230°F). When the cake is cooled, wet it with the lemon syrup just made.