September 9, 2012 - 12:23pm
8 Hour SD YW Saturday Night Pizza and Friday Shrimp Kabobs
There is no question my apprentice likes to retard her pizza dough overnight but, sometimes you just don't have that much time when the pizza urge hits you.  No worries!  We managed a very nice pizza in 8 hours starting at 10 AM yesterday.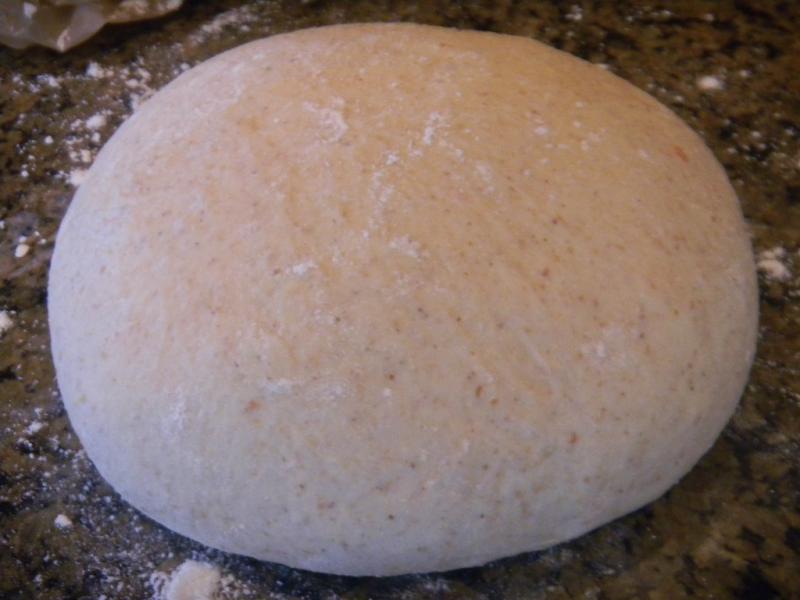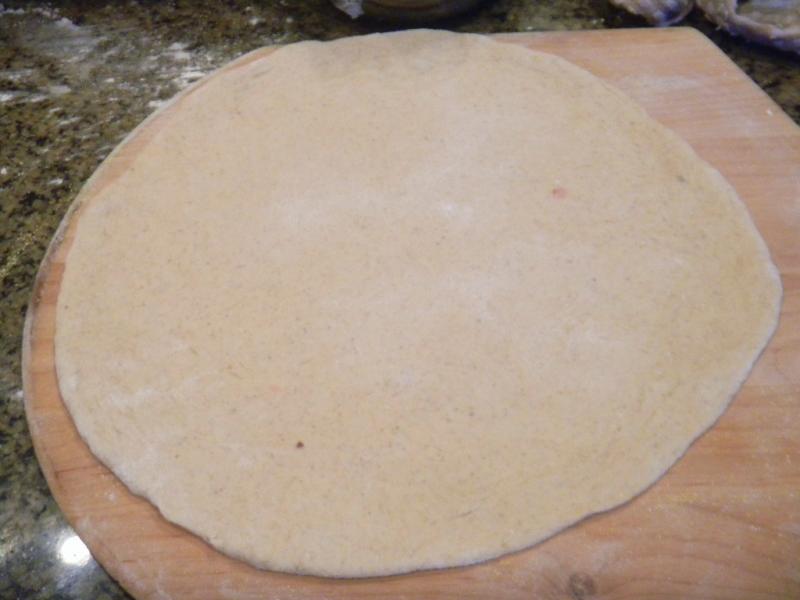 We started the combo YW and Desem WW levain build and cut the 3 stage build from 3 to 2.  Two hours for the first stage and 3 hours for the second.  It had doubled in 5 hours.  For the last 3 hours of the levain build we autolysed the flour, dried rosemary, olive oil, Moho de Ajo, (2) malts, sun dried tomato oil, salt and the dough water.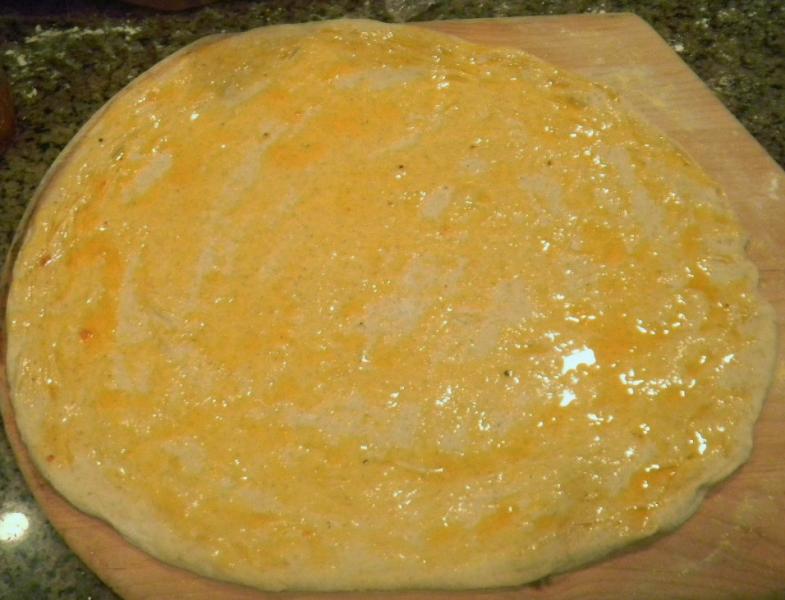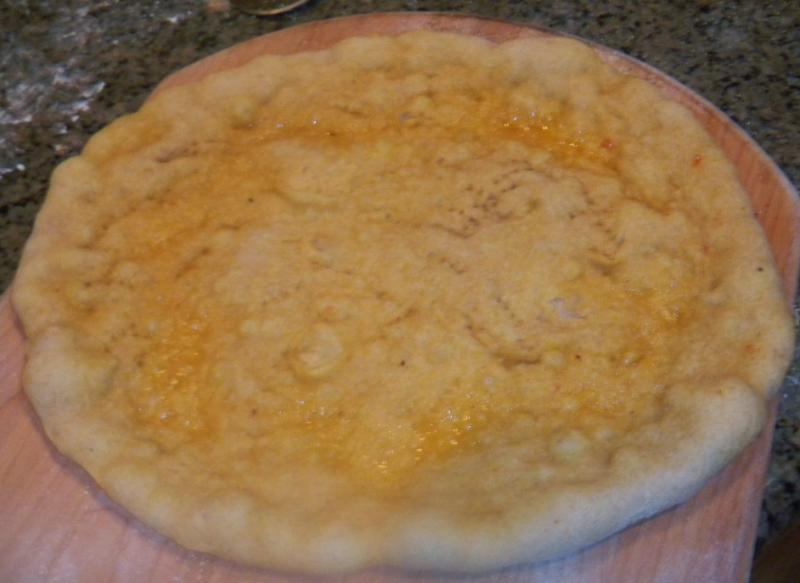 We always try to have around 30% whole grains in our formulas if possible and this time it was a mix of whole wheat and soft white wheat that we ground at home.  So Desem WW starter was in order and we wanted the boost that YW gives to speed things along some due to the shot amount of time we had to get this dough ready.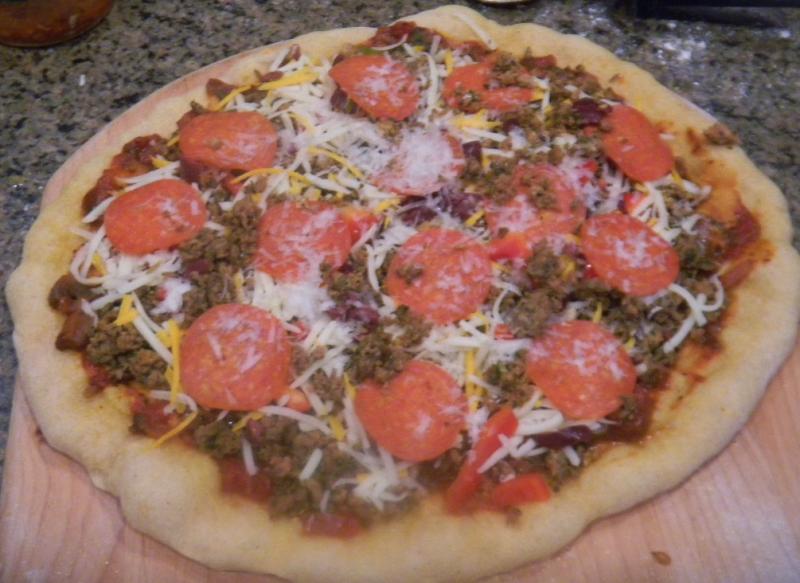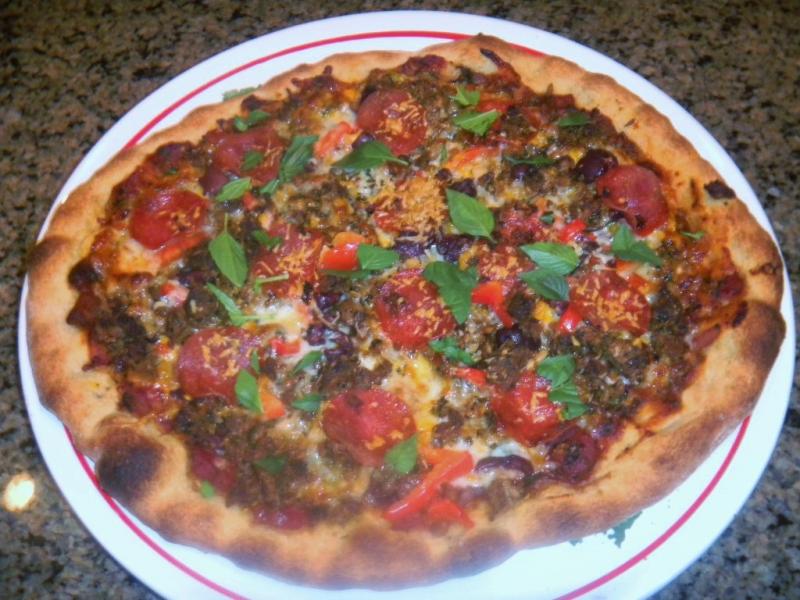 5 hours in; 3 PM, we mixed the autolyse and the levains in the KA for 6 min on KA 2 and 2 minutes on KA 3.  Then we let it rest for 10 minutes.  We then did 3 sets of S & F's, 10 minutes apart on a lightly oiled counter, starting with 20 stretches and ¼ turns and reducing the stretches by 5 each set – a total of 45 stretches.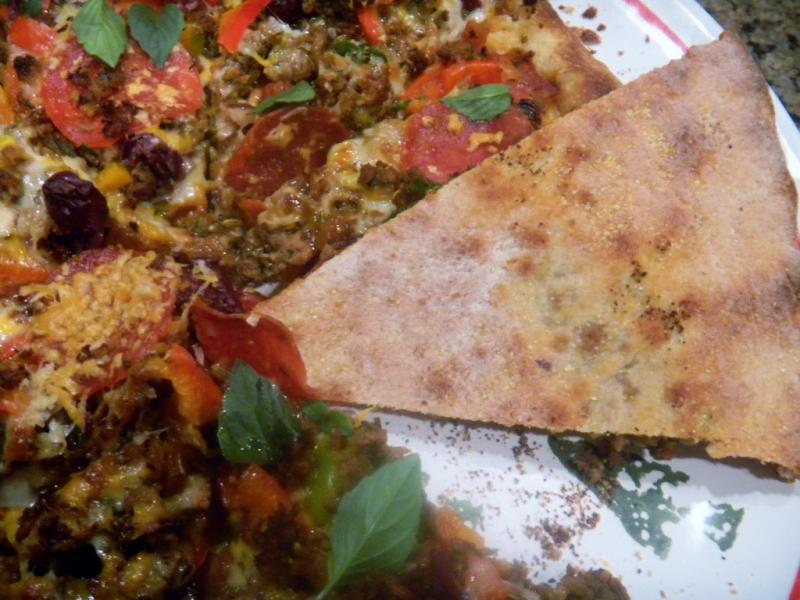 The dough was ready to go after 2 hours and 15 minutes of resting and fermenting in a plastic covered oiled bowl.  At 5:15 PM we fired Old Betsy; Big GE oven too 500 F no steam.  These 2 pizzas were fully peel size and there was no way these were going to fit in the mini oven without some serious magic or 'Honey I shrunk the pizza' going on.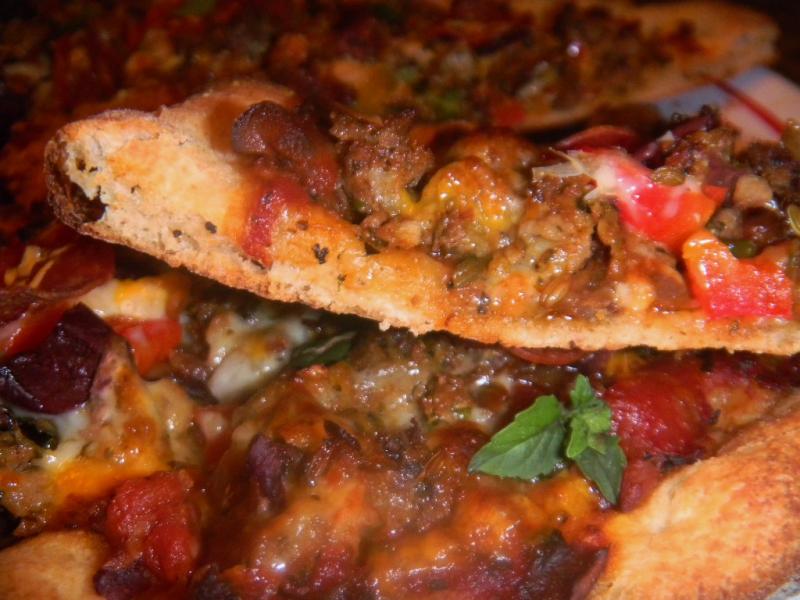 We also had the baking stone in there too since we never take it out of the oven except to move it to the grill for pizza there - like last time. Thankfully, after yesterday's torrential rain it never got over 92 F so a little more heat in the house was not a big deal if you are used to 115 F for the last who knows how long.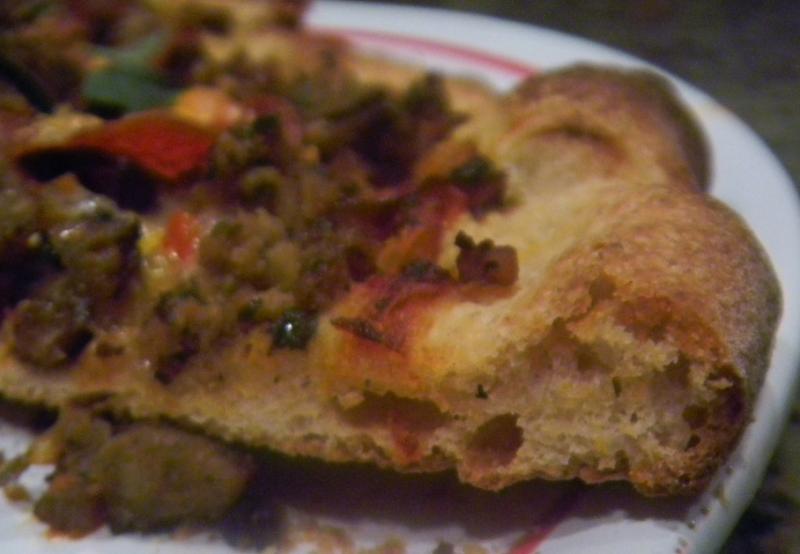 After dividing the dough in half, we hand stretched it out to peel size, brushed a layer of some more Mojo de Ajo on, docked it  and put it in the oven to par bake for 3 minutes.  Then we removed it and then piled on the toppings of our choice, kalamata olives, hatch green chilies, red peppers, caramelized onions, re-hydrated dried shitake mushrooms, home made Italian sausage, pepperoni; parmesan, Colby and mozzarella cheeses  and some fresh basil for a garnish after it came out of the oven.
Then back into the oven for another 7 minutes or so to get nice and brown  - since, as Anne Burrell says "brown food tastes good' and Brownmen agree with her.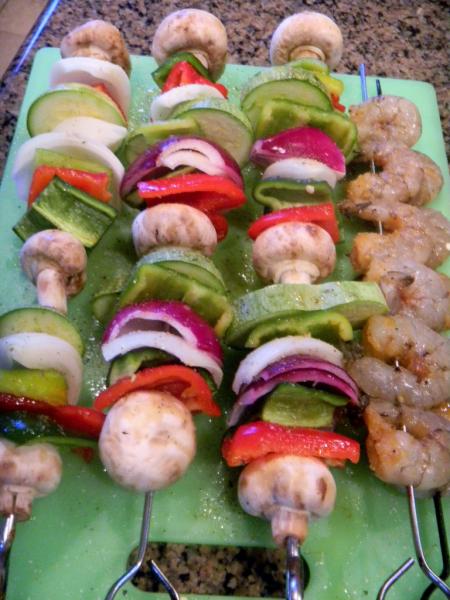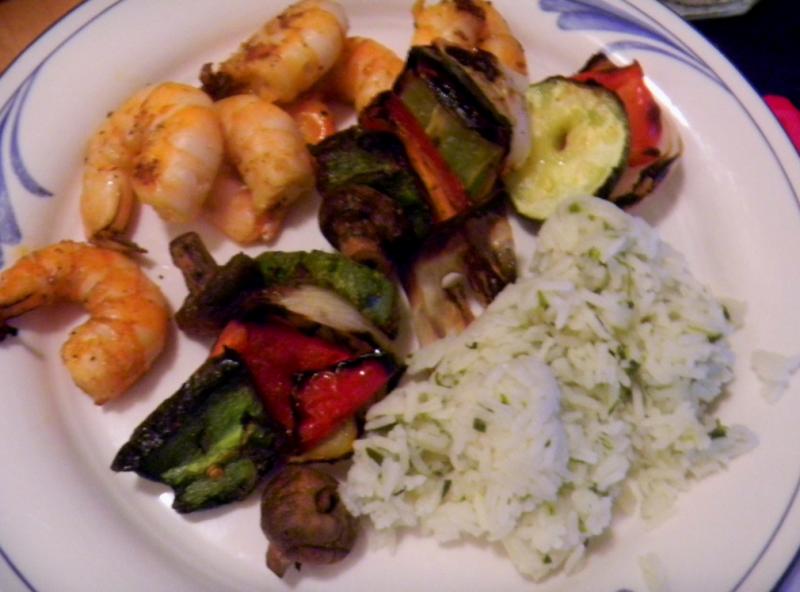 Friday night grilled shrimp kabobs with Mexican Green Dirty Rice.  We are thinking beer can chicken for tonight.
The crust came out picture perfect thin and crisp, nicely browned on the bottom and tasted good.  After cutting, the slices were flat out rigid when held up, even with all the toppings and didn't go limp, like NY Pizza, until the left over slices were being wrapped for freezing.
Sorry the photos are so bad this time but at night with indoor lighting it is the best my apprentice could manage.  They are still better then the ones my phone takes!  Formula follows at the end.
| | | | | |
| --- | --- | --- | --- | --- |
| Soft White Wheat, WW,  SD YW Combo Pizza Dough |   |   |   |   |
|   |   |   |   |   |
| Starter Build | Build 1 | Build 2 | Total | % |
| Desem  Starter | 10 | 0 | 10 | 2.75% |
| Yeast Water | 10 | 0 | 10 | 2.75% |
| Soft White | 0 | 25 | 25 | 6.89% |
| WW | 25 | 0 | 25 | 6.89% |
| AP | 0 | 50 | 50 | 13.77% |
| Water | 20 | 50 | 70 | 19.28% |
| Total | 65 | 125 | 190 | 52.34% |
|   |   |   |   |   |
| Combo YW SD Starter |   | % |   |   |
| Flour | 105 | 28.93% |   |   |
| Water | 85 | 23.42% |   |   |
| Starter Hydration | 80.95% |   |   |   |
| Levain % of Total |   | 29.01% |   |   |
|   |   |   |   |   |
| Dough Flour |   | % |   |   |
| Soft White Wheat | 58 | 15.98% |   |   |
| WW | 0 | 0.00% |   |   |
| Bread Flour | 100 | 27.55% |   |   |
| AP | 100 | 27.55% |   |   |
| Total Dough Flour | 258 | 71.07% |   |   |
| Salt | 7 | 1.93% |   |   |
| Water | 170 | 46.83% |   |   |
| Dough Hydration | 65.89% |   |   |   |
|   |   |   |   |   |
| Add - Ins |   | % |   |   |
| Dried Rosemary | 1 | 0.28% |   |   |
| Red Rye Malt | 2 | 0.55% |   |   |
| White Rye Malt | 2 | 0.55% |   |   |
| EVOO 10, SD Tom. 10, MdA 5 | 25 | 6.89% |   |   |
| Total | 30 | 8.26% |   |   |
|   |   |   |   |   |
| Total Flour w/ Starter | 363 |   |   |   |
| Total Water w/ Starter | 255 |   |   |   |
| Tot. Hydration  w/ Starter | 70.25% |   |   |   |
| Hydration w/ Adds | 69.29% |   |   |   |
| Total Weight | 655 |   |   |   |
| % Whole Grain | 30.71% |   |   |   |