I haven't had a chance to comment or post lately due to difficult circumstances.   I have been reading and enjoying people's posts from time to time and regret that I haven't had a chance to comment on them.    Today I finally had time to uncover my Wood Fired Oven and bake.    I gave it a long firing since I haven't used it since a brief hot spell in March - then baked a couple of durum loaves.    It was hot, too hot and when I came out to check the loaves after 25 minutes, they were done, done, done, with a bit of char to boot.  
I have been frustrated lately with the raggediness of my score openings, and thought that it probably was a function of air flow in my gas oven.   Despite fiddling this way and that, I wasn't able to fix the problem to my satisfaction.    Today, I think I confirmed that it is oven related, as I was much happier with the result in the WFO.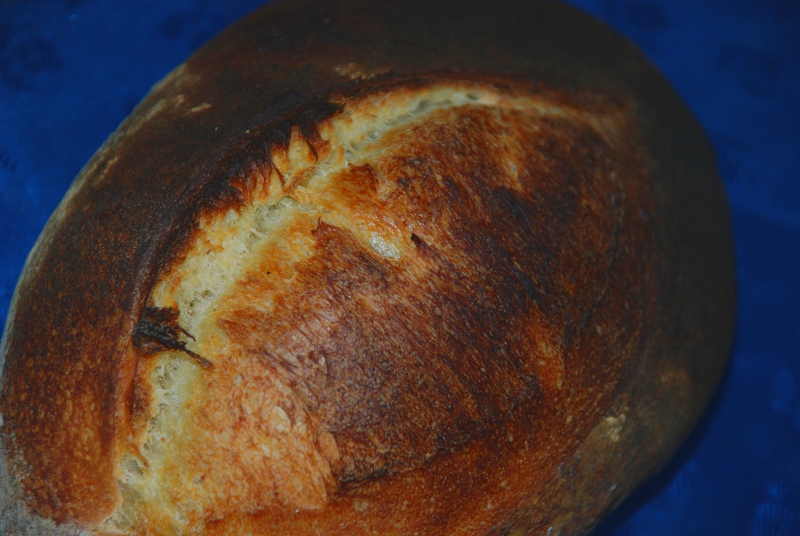 I only sprayed the loaves with water before loading and didn't put a steam pan in the oven.  
And here's the crumb: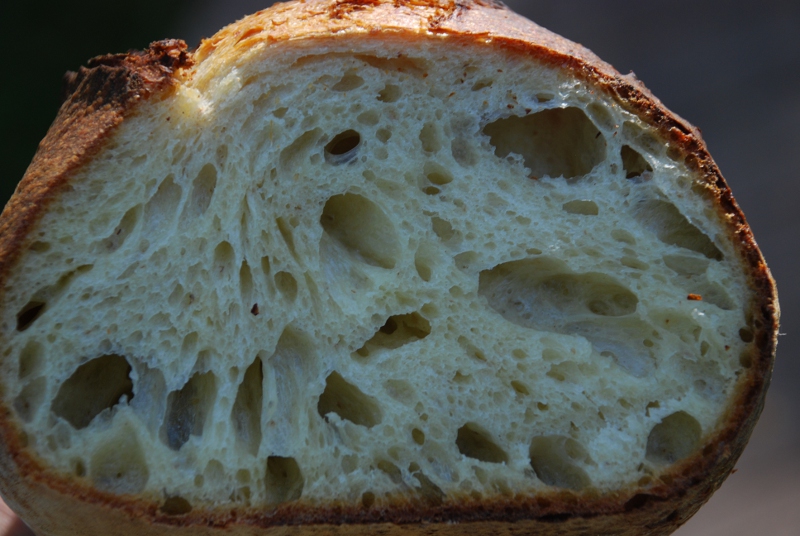 Formula and method:
Seed hydration

67%

 

 

 

 

King Arthur All Purpose

95%

 

 

 

 

Whole Rye

5%

 

 

 

 

 

 

 

 

 

 

 

 

1st feeding

 

Total

percent

Seed

32

 

 

 

 

King Arthur AP

18

143

 

161

95%

Whole Rye

1

7

 

8

5%

Water

13

100

 

113

67%

 

 

 

 

282

 

Feeding factor

 

 

 

 

8.8

 

 

 

 

 

 

 

Final

Starter

Total

Percent

 

King Arthur AP

0

137

137

21%

 

Whole Rye

0

7

7

1%

 

Durum

300

0

300

47%

 

KA Bread Flour

200

 

200

31%

 

Water

334

96

430

67%

 

Salt

12

 

12

1.9%

 

Starter

240

 

 

22%

 

 

 

 

1086

169%

 

Starter factor

0.9

 

 

 

 

 

 

 

 

 

 

Mix all but salt - autolyse for 1 hour

 

 

 

Mix for around 5 minutes with salt

 

 

 

Bulk Ferment (BF) 1 hour 5 minutes

 

 

 

 

Stretch and Fold

 

 

 

 

 

BF 55 m

 

 

 

 

 

Stretch and Fold

 

 

 

 

 

BF 45 m

 

 

 

 

 

Cut and preshape

 

 

 

 

Rest 20 m

 

 

 

 

 

Shape and place in couche

 

 

 

 

Proof for 1 hour 25 minutes

 

 

 

 

Slash and spray with water

 

 

 

 

Bake in very hot WFO for 25 minutes