Friday night P & P - Pizza and Pide
We took 100 g of our last bake:  The SD / YW Chacon Revisited – 90% Whole Grain, Multigrain Sprouts, Walnut and Sage Paste, and Pumpkin Seeds [1] and used that as the starter for the pizza and pide dough.  It was weird having nuts, seeds and sprouts in the final dough but sure made forming the crusts fun and interesting with these add-ins tearing holes when ever they were encountered :-)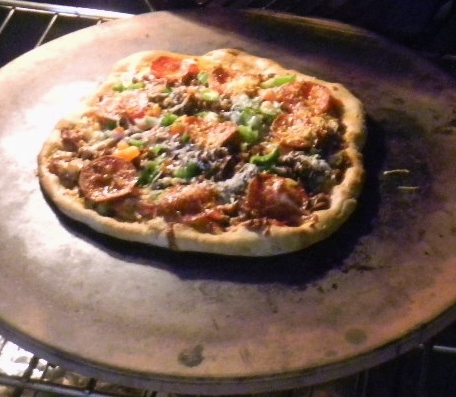 To this starter we added 100 g of whole soft white wheat we ground in the Krups grinder and 150 g of AP flour with 180 g of water.  The hydration ended up being around 75% since the starter was at 90% hydration.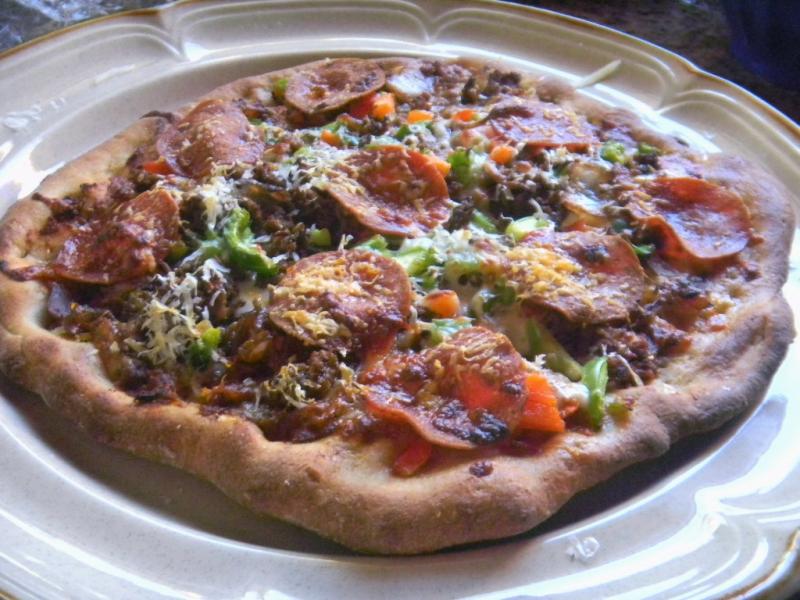 We ground up some dried rosemary from the back yard and added this to the pizza dough after it was formed into a pie and the Mojo de Ajo brushed on the top.  The pies and pide were pre-baked a 500 F on a stone for 3 minutes before the rest of the toppings were added.  Instead of rosemary, the pide was sprinkled with dried Greek oregano after the  Mojo de Ajo was brushed on.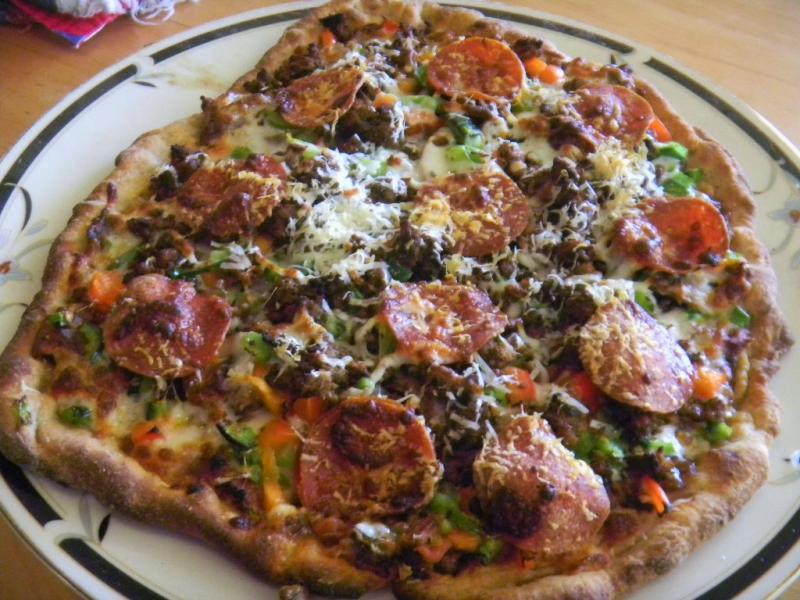 My daughter said is was the best pizza to date even through she and my wife preferred our standard Focaccia Romana with garlic, fresh rosemary and sun dried tomatoes in the dough.  I'm not sure how this squares with being the best?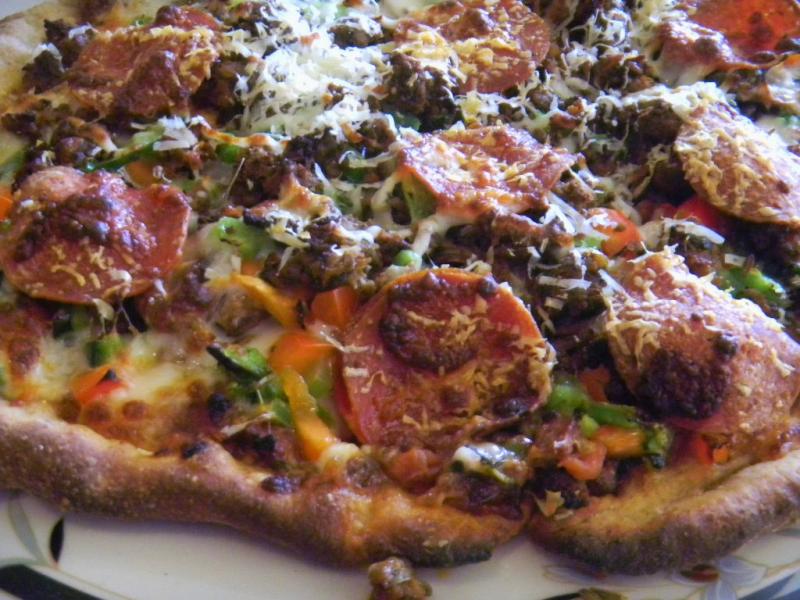 The pizzas had the usual toppings, home made Italian sausage, pepperoni, 5 peppers; red, green, poblano, Serrano and jalapeno peppers, caramelized onion and mushrooms,  3 cheeses; mozzarella, pecorino and Parmesan with fresh basil and garlic chives for garnish - after they came out of the oven.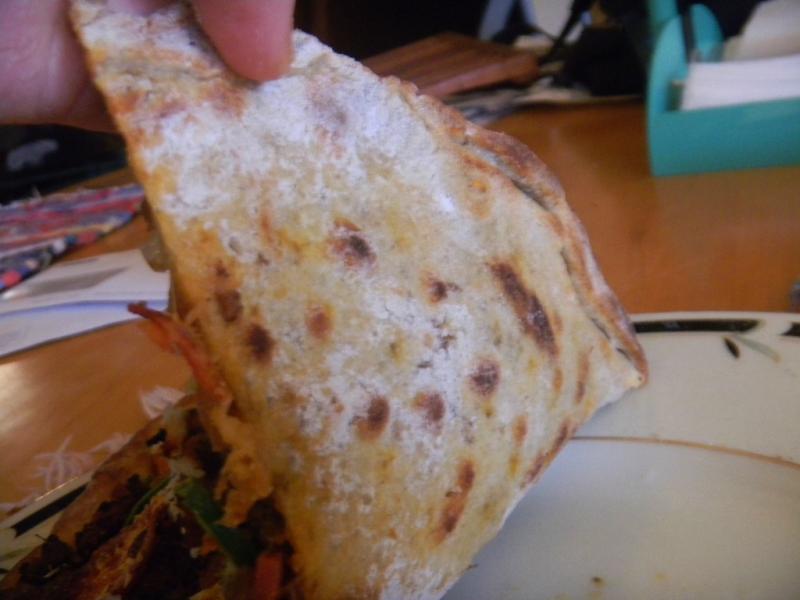 Since this dough didn't have any olive oil in it, it baked up thin and very crisp and stayed that way even when wrapped up for the freezer an hour later.  It didn't bend even when loaded with all the toppings. A crunchy delight that wasn't too much because it was so thin. Very tasty too.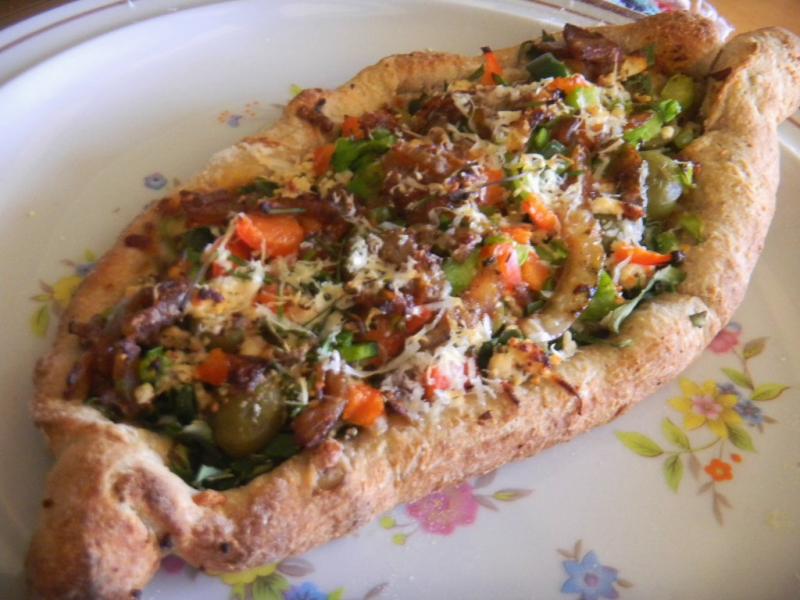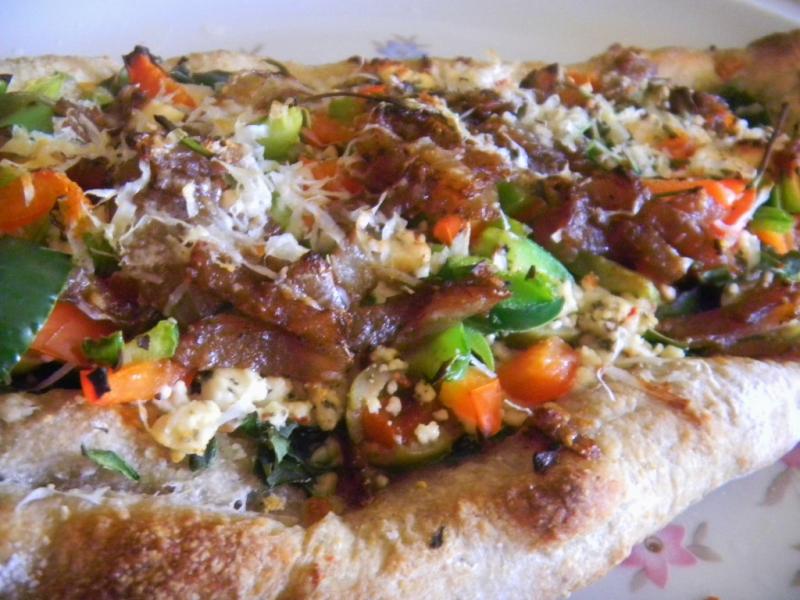 I liked the pide the best because of the toppings.  The oregano and Mojo de Ajo base, green olives stuffed with pimentos cut in half, sun dried tomato and garlic Feta, caramelized onion and mushrooms, the 5 peppers, thinly sliced Swiss chard with a hint of pecorino on top.  The little extra dough on the ends and side was also nice.  I'm sure the next bake will use the standard Focaccia Romana dough but the change this time was nice.  Next time, we have to bake it longer to get those dark, dark spots on the crust that makes Sylvia's look and taste so good.