Sourdough English Muffins and Introduction
Hello from Oregon, USA.  I'm Rennie and I've been lurking about Fresh Loaf for quite some time.  My first goal was to learn how to make my own sourdough starter.  My first effort was a failure; but, my second sourdough starter took off and after a few months has developed into the starter I had hoped I could create.  It is amazing stuff!  I've only made a couple of loaves of bread as yet.  Both of them turned out nicely and wish I had taken pictures of them.  I am a newbie at sourdough bread making and have learned so much from you all. 
I love sourdough English muffins and when I read a post here about them, I had to attempt them.  Here is a picture of my very first batch!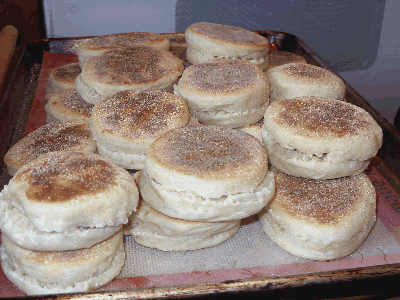 I am so jazzed!  They came out excellent, and the sourdough flavor was perfect.  I love my starter!! Oh, here is a pic of what the crumb looked like.  I fork split them all.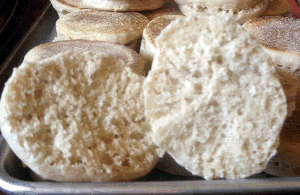 Look at all those nooks and crannies! They are so good toasted with a bit of  butter and jam.
I cooked my muffins on a griddle and was able to get them thoroughly done without having to put them in the oven.  I used a dough thermometer to make sure the centers were done.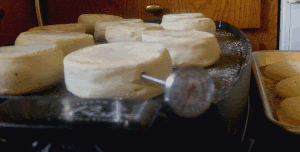 Here's the pic of them baking on the grill. 
I'm just an at home baker, here.  My goal is to learn all I can about how to make great breads.  I get so inspired every time I visit Fresh Loaf.  Thank you all for posting your tips and techniques.  I'm reading them and putting them into practice and I'm starting to make some amazing breads!