Experimental Yeast Water Boule
I started some AYW (Apple Yeast Water) a week ago.  It seemed to be going pretty well so I made a 100% hydration preferment.  To my surprise it more than doubled.  Not having planned anything I quickly took 100g of it and added another 116g of the AYW and 160g KA AP flour.  I always like to Autolyse so I added  ¾ tsp. of salt and 33g of KA AP flour after 30 mins.  Very simple.  Mix, do 2 S/F's and into the basement for the night (60 degrees).  This morning I shaped it and put it into a linen lined basket, which it stuck to (Arrrgh), then baked in my combo cooker.  I tried starting in a cold oven for the first time.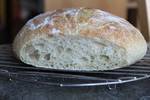 I'm thinking it would make a really nice baguette because it is so very light and moist.  The crust needs some work though, it would have been better on a stone.  The flavor was different but not really apply however the aroma was fruity.  I really like the crumb so I'll definitely keep the yeast water active for more experimentation.
Sorry about the small blurry photo, haven't figured that one out yet.
Happy baking!