SF Country Sourdough with looonng proofs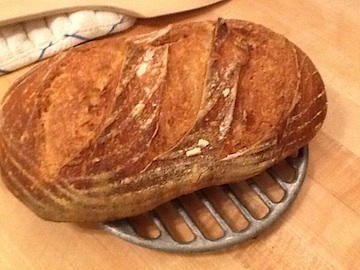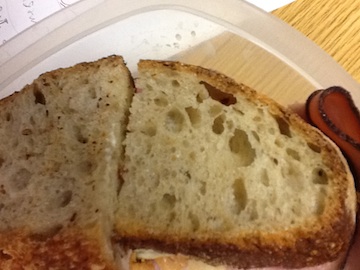 Made G Snyder's San Francisco Country Sourdough version 3-13-11 [1] modified with long bulk and shaped proofs. Came out great.
This month has been a milestone for me in my year of baking. After reading the post "the basic problem with my sourdough" [2] and the comment thread, I revised my starter routine. Combined with newfound revelations around patience and proofing (more like what I call "duh-piphanies"), I've been able to create very nice loaves without commercial yeast. Which has been a goal of mine from the beginning, inspired by the wonderful breads I see here from experienced folks and newbies alike. 
Another goal has been to reduce the "tyrrany of the bread" on my family schedule. So I've been pushing proof times for both bulk and final proofs to see what happens. Trying to get the bread to work around MY schedule, instead of vice-versa. 
For this bake, I used G Snyder's formula with this process:
Monday night: made the levain, left at room temp 11 hours (NB - my starter is 100% hydration)
Tuesday morning: made the dough; 30 min autolyse, 45 minute room temp proof, then in the fridge for 11 hours.
Tuesday night: out of fridge, 1 hr room temp, then pre shape and shape; 1 hour at room temp then in the fridge for 22 hours
Wednesday night: out of fridge, 1 hr room temp, then slash and bake in 500F preheated oven, lowered to 475F, covered for 20 mins and uncovered for 25 mins.
 Reminds me again how awesome this site is. Thanks to all who share their experience, advice and passion.