More Baking and Travel Impressions
Warnemünde is not only the harbor for Hansetown Rostock, but a graceful old Baltic Sea resort. Thanks to the former GDR's lack of money, none of the nice old houses was torn down to make place to modern non descript highrise hotels, like in West Germany.
When I first visited my cousin's family in 1957, houses were grey, with flaking paint, looking more and more dilapidated every year . That changed dramatically after the fall of the wall and the reunion 1989. All the houses were fixed-up, by and by.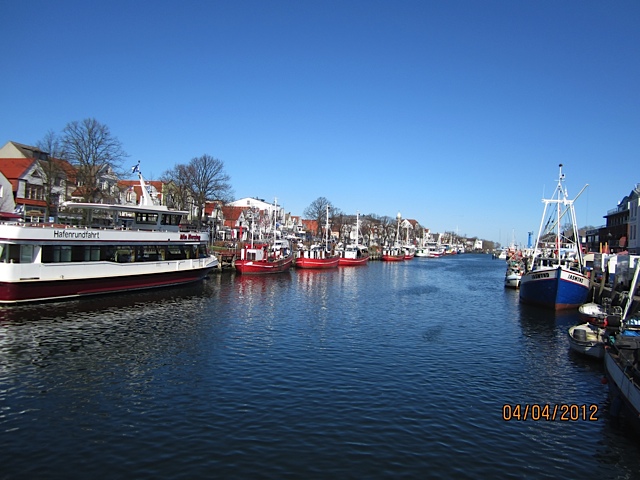 The yacht pier, used by communistic party VIPs (and closed to the public), was opened and turned into a fish market,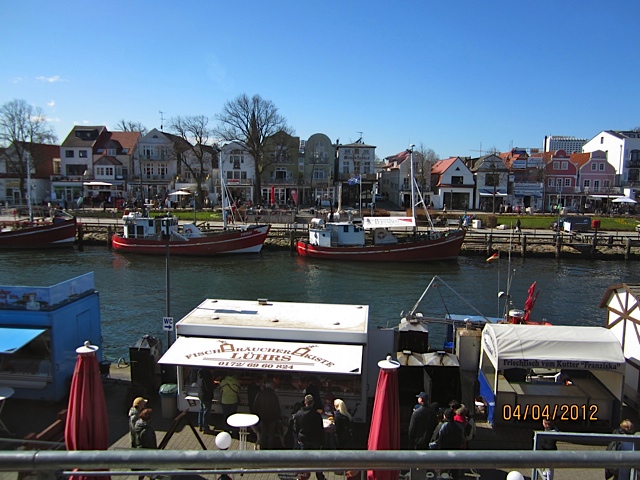 with lots of smoke shacks (I never saw so many kinds of smoked fish before) and even an open air bakery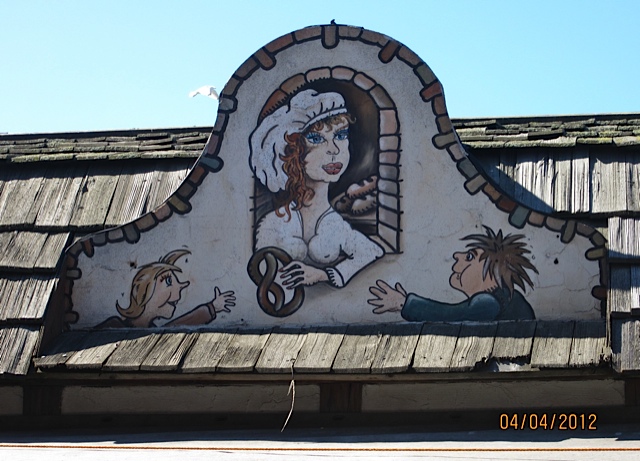 Those naughty boys on the bakery sign are Max and Moritz - characters from the classic German childrens' book.  After sneaking into a bakery, camouflaging themselves with dough, surviving being baked, and eating their way out of their bread armour, they get nabbed. Their long and successful carreer as juvenile delinquents ends as - kibbles for miller's geese!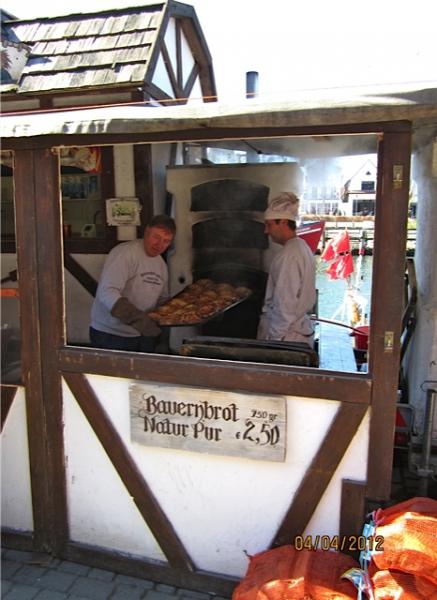 Street bakery at the fish market pier (with a woodfired oven) with freshly baked Potato Carrot Breads.
In one of the many waterfront restaurants we had "all-you-can-eat" herring. You can't buy them in Maine, though there are plenty - they all end up at bait for the lobster traps. Much as I like lobster, nothing compares to fresh, pan fried herring.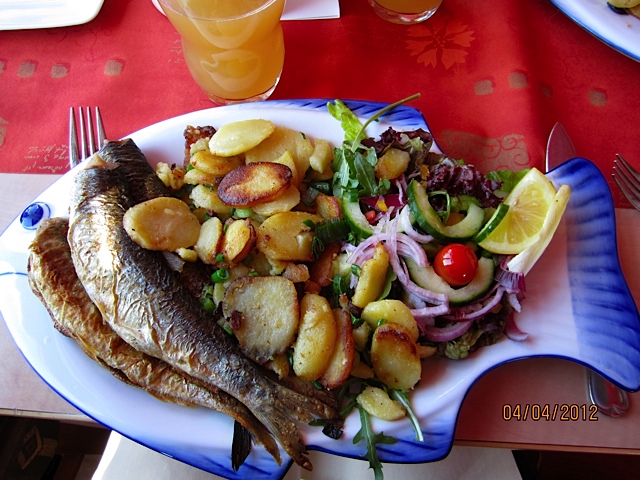 Easter was cold but sunny, we walked along the Alster - a large lake in the middle of Hamburg -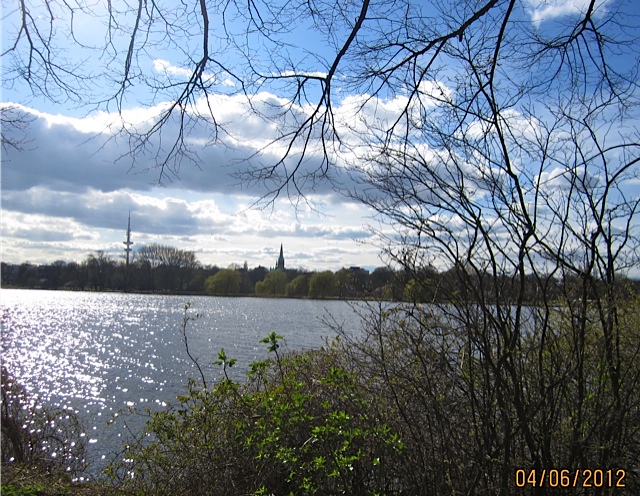 had family dinner overlooking the habor, where paddle wheel boat "Louisiana" passed by
And when we went back to the airport, and had time for breakfast, we were utterly amazed to find this:
a bakery that made everyting from the scratch, from organic ingredients, right in Terminal 1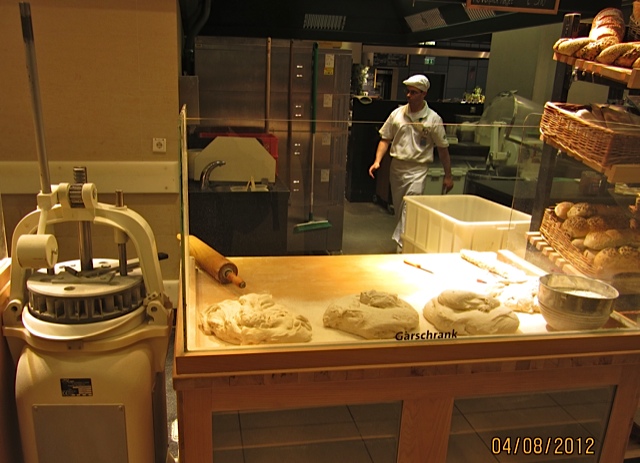 On the left is a dough divider (for rolls), the glass box a proofing cabinet.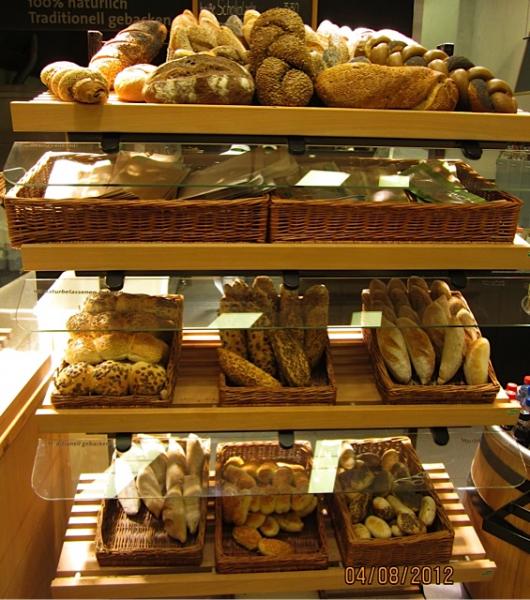 "Marché Bakery" offers a large selection of breads and pastries. I chose this roll with a twist: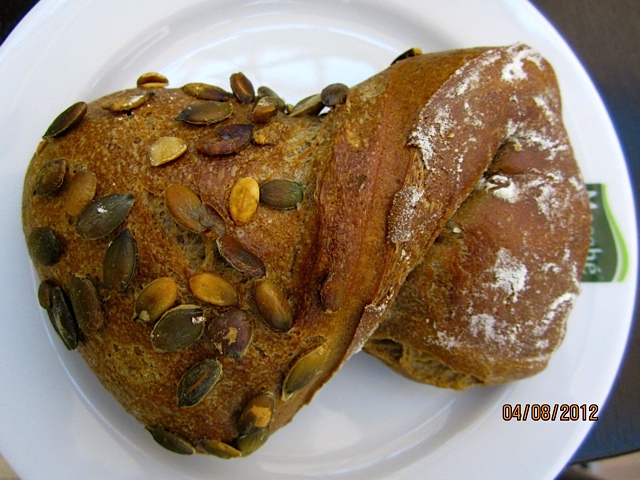 It was as good as it looked like! The best breakfast I ever had in an airport.