WW Batter Bread-Sandwich Style-not bad!
I just sliced my first loaf of a batter bread whole wheat sandwich bread and it's not too bad.I'm working on some way to have homemade bread while I have limited use of 1 hand and soon will have limited use of both hands due to surgery. I came across a chapter in a Red Star Yeast company cookbook on batter breads and thought it may be interesting. So here is the story,recipe and pictures.
The original recipe came in volume measurements. I weighed as I went along, so these are my measurements. Flour container was shaken to loosen then the scoop and sweep method was used for a level cup/tablespoon/teaspoon.
PREFERMENT:
1 3/4 c/386g warm water
2 C/265 g Whole Wheat flour
2 TBSP/12 g ground flax
2 TBSP/14g Rye flour
1/8 tsp/ pinch instant yeast
Mix well and beat for 2 minutes in a stand mixer using the mixing paddle. Let sit for 2-4 hours at room temp in the mixing bowl,covered. (I definitely recommend at least 2 hours but next time I might do an overnight to improve the flavor)
Then mix in yeast with just a few turns of the paddle:
2 tsp/7g instant yeast
Then add:
2 TBSP/60g Honey
2TBSP /28g oil
1 tsp/8g salt (needs a bit more)
1 c/125g AP flour
It looks like a thick,creamy batter.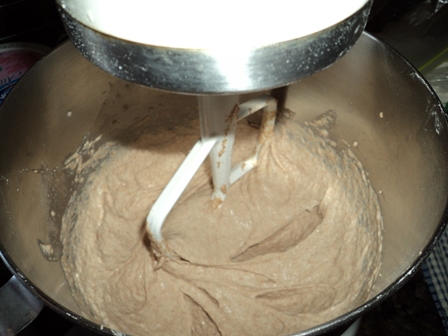 Cover and let rise until double-mine took 2 hours in a 68 degreeF kitchen
Stir down,briefly.
You can see there is some gluten formation: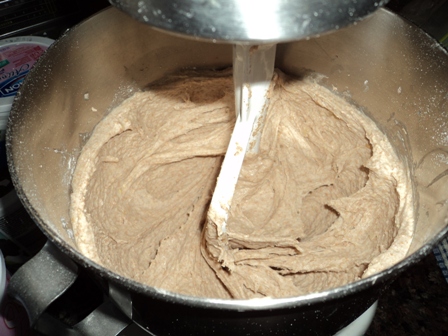 Pour into a greased 9x5x3inch pan
I covered the top of the dough with sesame seeds: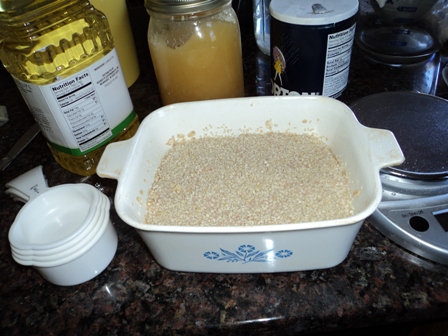 Cover loosely and allow to rise til it is at the top of the pan.
It took another 2 hours-kitchen was 68 degrees F: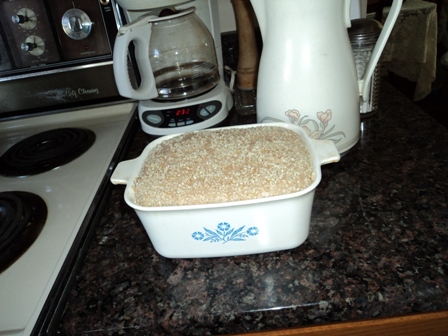 Do not allow cover to touch top of dough!It will deflate when the cover is removed.
Preheat the oven to 400F
Bake at 400F for about 30 minutes (My loaf took about 1 hour)-I turned the temp down to 350 after 30 minutes.
Cool in pan for 25 minutes (I won't do this next time-left the sides too wet)
Remove from pan and cool completely on wire rack.
Here is  a picture of the crust and crumb after the loaf reached room temperature: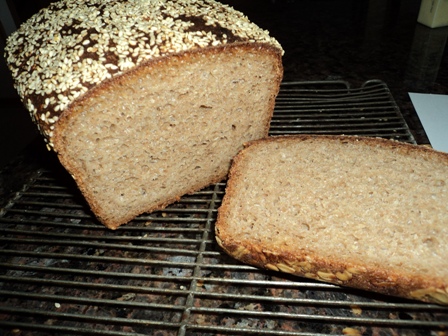 The crumb was still a little wet, for my taste and the flavor was rather bland. I am used to full flavored,long-fermented loaves but I believe I'm on the right track.
Next time, I will probably use a 12 hour preferment in the refrigerator or even an overnight retard. I also may incorporate sourdough, somehow.
This is a fascinating way to make bread that doesn't have a lot of handling or shaping issues.