Miche Point a Calliere from Jeffrey Hamelman's "Bread"
Late in 2010 I posted on a bake of James MacGuire's Miche, Pointe-a-Calliere from Jefferey Hamelman's "Bread" *here* [1] This is a bread I've been meaning to do a re-bake of for some time now, but for one reason or another hadn't gotten around to it until yesterday. Varda's recent post of her lovely high hydration Miche *here* [2], and that my flour stock includes some Central Milling Organic Type 85 Malted high extraction flour gave me the inspiration to finally have another go at this wonderful bread. The CM high extraction flour came to me because of breadsong's generosity in sharing some of what she picked up last year while in the Bay Area. Thanks again breadsong!
A miche size loaf isn't a terribly practical bread for me to make considering I'm the only one in our house other than our dog who eats wheat, and anything over a 1.2K loaf size is more than I can reasonably eat over a 7-10 day period. Practical or not, I decided to make it in the size it was intended to be and give enough away to friends and relatives that none of it would be wasted. Now that I've had a chance to taste it I'm seriously reconsidering that strategy. 
Having made this bread previously with good results I didn't see any reason to alter any of the formula percentages or procedures other than a minor change to the initial oven setting of 440F by increasing it to 460F in order to compensate for the temperature recovery time of a domestic oven ( or at least our particular oven) with a large dough like this. The dough was scaled to yield 2K, which by the time it went for bulk proofing was just around 70 grams less than that due to waste from stickage. At 82 % hydration this is indeed a sticky one at first, but it does become quite manageable after it's 1st of 3 stretch and folds, and as the author mentions, liberal dusting flour is needed during this part of the procedure. By the time it was ready for final molding the dough was soft and supple but with enough strength to easily shape it into a boule for it's final rise in a floured banneton. Because I'd managed to keep the DDT, bulk and final fermentation temps within 1 degree +/- of the recommended 76F, the final proof was almost bang on at the prescribed 2 hours, always a good sign.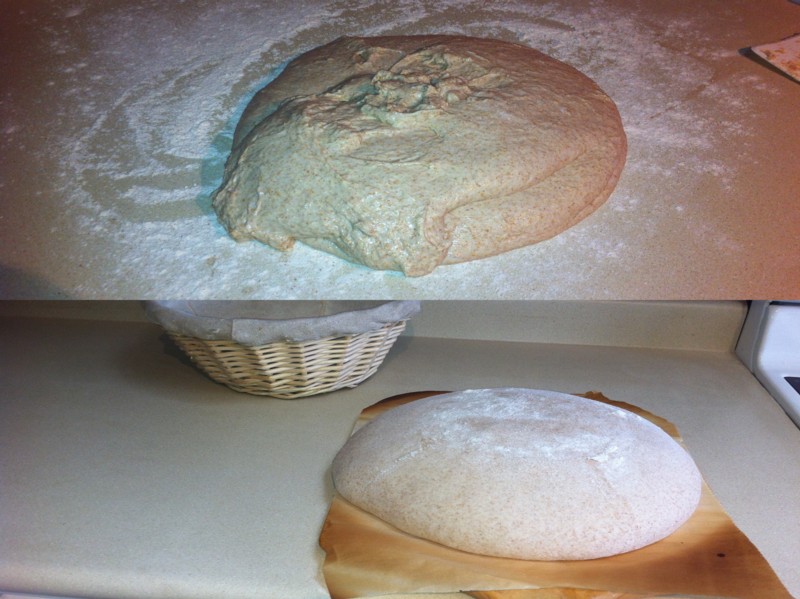 The last time I baked this bread I used Sylvia's wet towel method for steaming, but this time I was concerned that too much steam with this very soft dough might hinder good crust development. The dough was quite a bit slacker than I recall the previous one being, and after a brief debate with myself I decided I'd be better off just spraying the oven before and after loading and let the moisture of the dough do the rest. Whether my thinking was entirely correct on this or not I can't say for sure, since the loaf did in the end develop a satisfactory crust, however I do think it's time I invested in a second stone to put in the rack above the loaf for more even top heat.
The low profile shape of the loaf is fairly close to the one pictured in "Bread", but the crumb doesn't have the "large interior air holes" Hamelman refers to in his side notes, at least I haven't encountered any yet. The crumb is moist and chewy with a pleasantly mild wheat flavour and just a trace of sour at this point. I'd be quite happy with the flavour if it remained the way it is, but I know from the last loaf that it will become stronger over the next few days, which is fine with me as well so long as it remains fairly moist.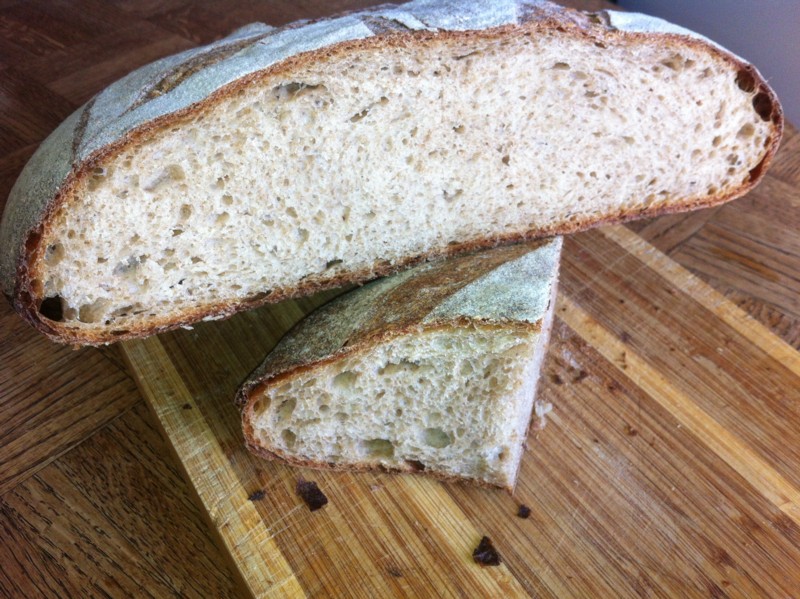 A very tasty lunch today of home made country pate, sharp cheddar, pickles, with Maui onion mustard and thick slices of the miche.
Cheers,
Franko