First bake in WFO - Sourdough with Rye Malt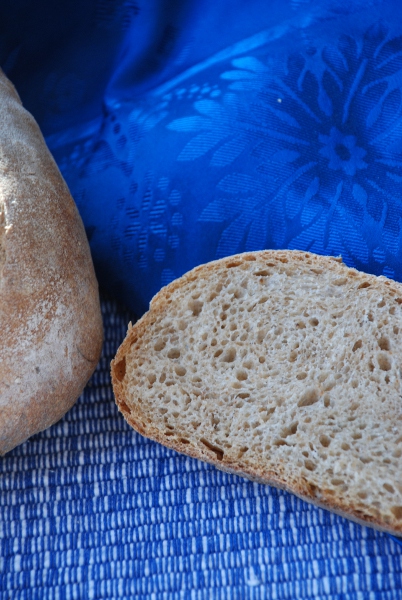 Word of the day: unseasonable.  I've been hearing that a lot lately.   What it means in practice is that after carefully checking the expected weather for the next few days, I decided it really was safe to bake in my WFO in March!    Last year my first bake was in July, but that was because I had to rebuild the oven first.    This year, the oven came through the winter more or less intact.    I pulled off the tarps and burned a bit of brush in there yesterday to warm it up.    Then today, fired it up and baked.   It was that simple.    Except it may take me awhile to get back into the routine.   This bread was totally overproofed since it took me forever to get a fire going and the weather is so warm that proofing was fast.    If I had baked it in that state in my gas oven, it would have just sunk like a stone.   Also, I didn't quite manage to get a steam pan into the oven.   Too much to keep track of.   Next time.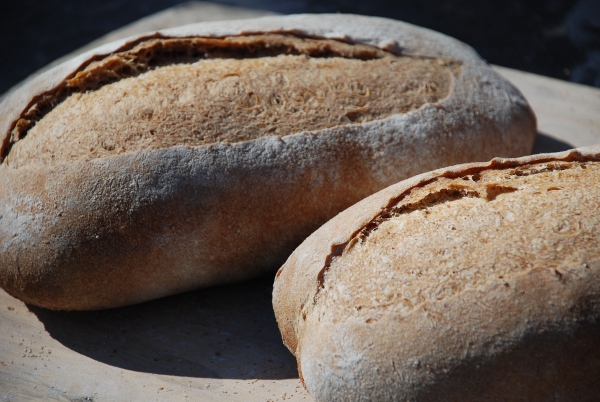 This bread is a multigrain sourdough.   The wrinkle is that I threw in my leftover rye malt.   My son said it was delicious.    I thought it tasted vaguely similar to eating a beer.   Not sure why, since most beer isn't made with rye.    So actually pretty good, but strange.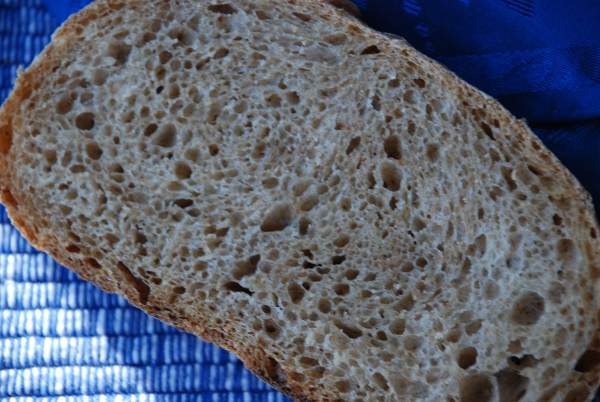 Here is my hobo oven ready for baking: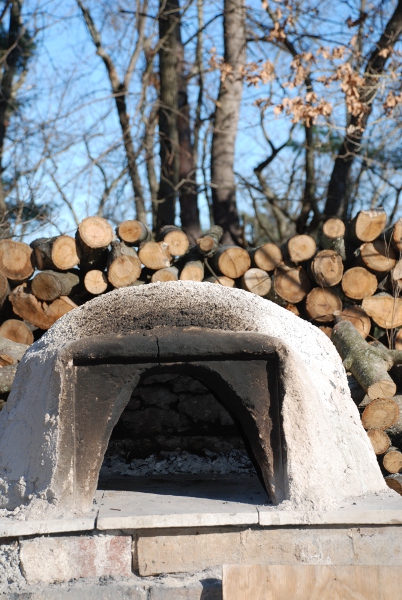 Update:   Formula and Method
3/20/2012

 

 

 

 

Sourdough with Rye Malt

 

 

 

 

 

 

 

4:35 PM

9:30 PM

 

 

 

Starter

35

 

 

 

 

 

KAAP

20

47

62

129

 

 

Dark Rye

1

3

3

7

5%

 

Water

14

55

100

169

125%

 

 

 

 

 

305

 

 

 

Final

Starter

Total

Percent

 

 

KAAP

350

123

473

75%

 

 

Dark Rye

 

7

7

1%

 

 

Whole Rye

50

 

50

8%

 

 

Spelt

50

 

50

8%

 

 

Whole Wheat

50

 

50

8%

 

 

Water

285

162

447

71%

 

 

Salt

12

 

12

1.9%

 

 

Rye Malt

17

 

17

2.7%

 

 

Starter

292

 

 

 

 

 

 

 

 

1106

 

 

 

 

 

 

 

 

 

 

Mix all but salt and autolyse for 45 minutes

 

 

 

Add salt.   Mix in KA at low speed for 25 minutes

 

 

until dough is pretty strong and doesn't just flow down

 

 

when you lift the mixer arm

 

 

 

 

BF for 3 hours with no S&F

 

 

 

 

Cut and preshape

 

 

 

 

 

Rest for 30 minutes

 

 

 

 

 

Shape and proof (2 hrs)

 

 

 

 

 

Bake for 40 minutes in WFO