My First Loaf with my Brød and Taylor
Based a lot on the reviews I read on The Fresh Loaf, I ordered myself a Brød and Taylor folding proof box last week and it arrived today.  It is absolutely amazing -- it's compact, yet large enough to suit my loaf needs; I set it to 85F degrees and my themometer read the temperature as 85.3F, so the temperature control is amazing.
This is my first loaf made with my proof box: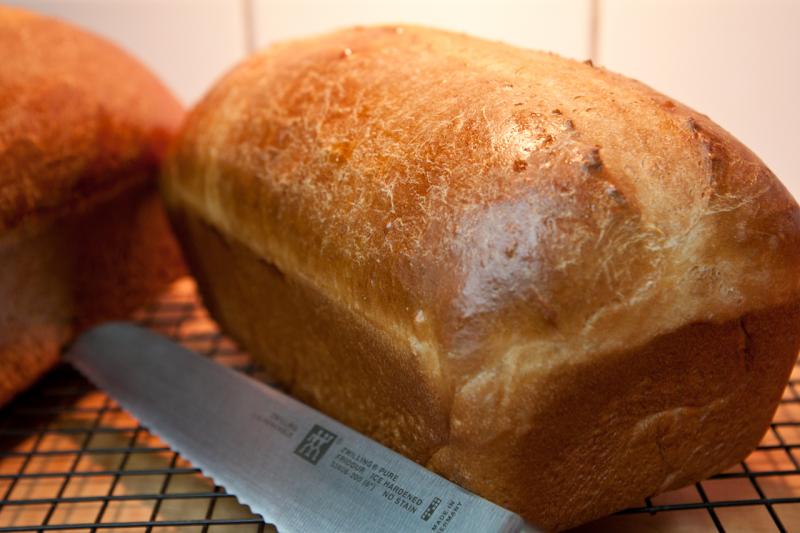 They're currently cooling, and I CANNOT WAIT to cut into them.
For those who are interested, here's the recipe and my method:
360g Water (105-115F) 
35g Nonfat Dry Milk Powder
30g Sugar
15g Salt
15g Dry Active Yeast
720g Bread Flour
30g Butter, unsalted, softened
2 eggs
Egg wash 
Combined the water, milk powder, sugar, salt, yeast and 360g of flour into the mixer and mixed until incorporated.  Added the butter and eggs.
Stirred in the remaining flour 60 grams at a time and kneaded about 8 minutes.
Bulk fermented with humidity for about 70 minutes at 85F.
Shaped into loaves and proofed at 85F for about 20 minutes or so. (it proofed quite quickly!)
Applied the wash and scored down the middle.
Baked at 375F for about 35 minutes.
Once I'm able to cut into the loaves, I'll see if I can't update with a picture of the crumb.