Yeast Water, Glazed, Spiced, Walnut, Bourbon Fruit, Chocolate Chip, Almond Granola Streusel Polish Babka
My daughter has a sorority sister in from CA staying with us this weekend and I wanted to make something she and my daughter  probably have never been fortunate to taste before.  This weeks ITJB bake is Babka so I thought I would give it a try - with a few twists and not just twisting the dough - which I also did.  This babka leans Polish but besides being leavened with minneola / apple yeast water,  in place of a coiled loaf - I used a Bundt pan.  In place of cake crumbs, I used a almond, vanilla, granola streusel.   I also added bourbon rehydrated dried fruits (apricots, cranberries, raisins), cocoa powder and chocolate chips to the filling.   Then I put a powdered sugar / vanilla drizzled glaze on top to finish it and anyone who eats it,  off.  This is a very flavorful breakfast bread that the yeast water really helps in its soft crumb and browning.  It is not as sweet as cinnamon rolls and it is twice a sophisticated.  We have a new breakfast favorite and special treat in  DaBrownman's house from now on.  It's just yummy! Recipe follows pix's.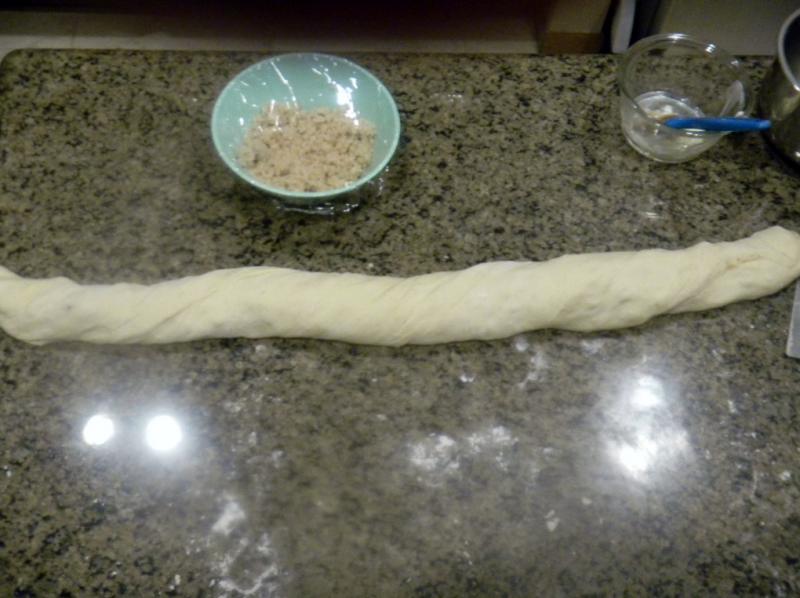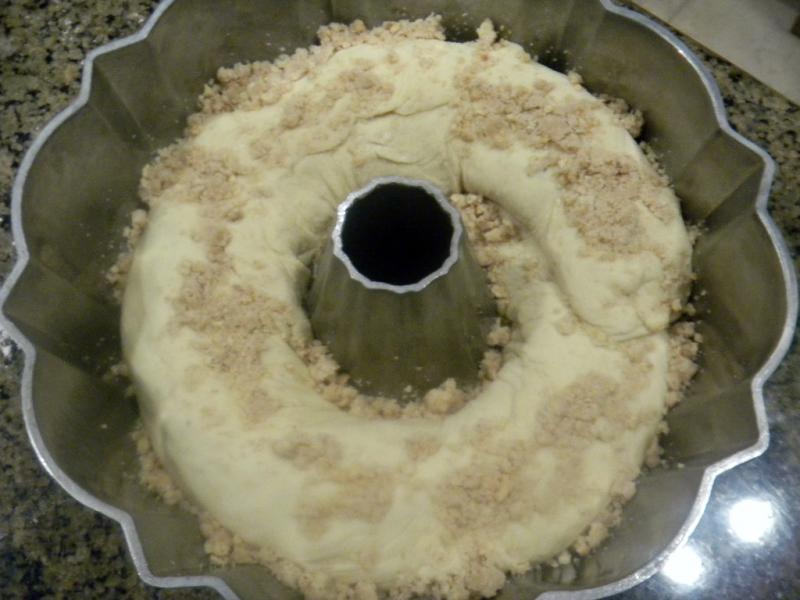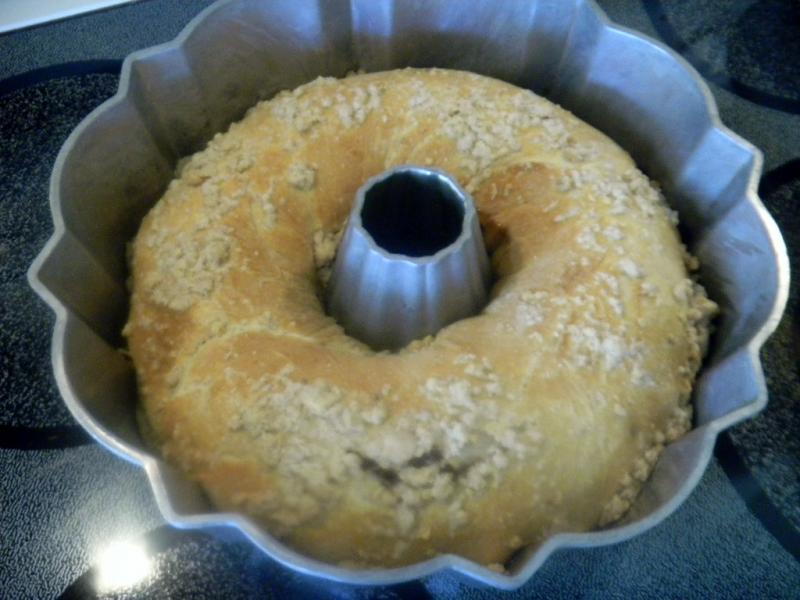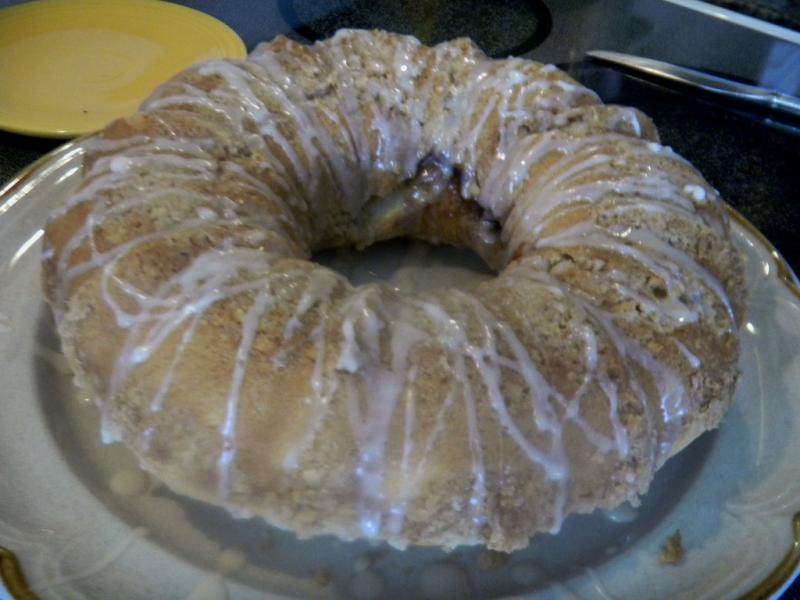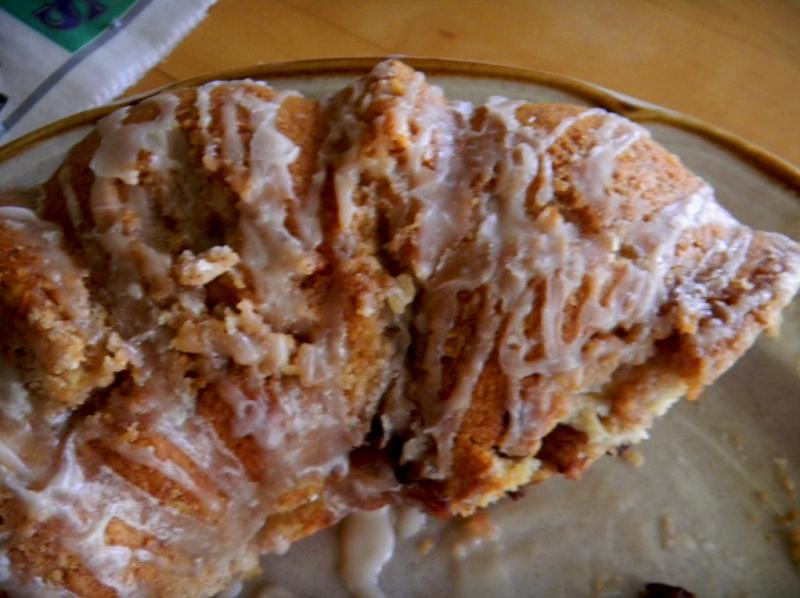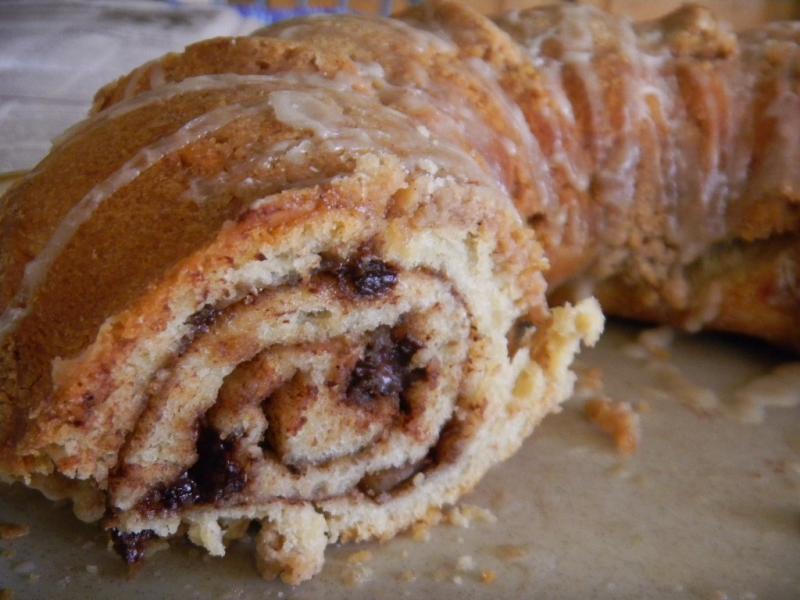 Yeast Water,  Glazed, Spiced, Walnut, Bourbon Fruit, Chocolate Chip, Almond Granola Streusel Babka
 Dough Ingredients
1 T white sugar
1/6 C honey
1/4 stick butter (chopped in small pieces)
1/2 tsp salt
5/8 C scalded milk
1/3 C cold water
1 large egg beaten
2  C AP flour (If you use bread flour skip the vital gluten)
¾ C whole wheat pastry flour
1 T vital wheat gluten
200 g yeast water - entire levain build
 YW Levain Build
 Add 30 g flour to 30 g yeast water and mix well - let sit 4 hours.  Add 30 g flour and 30 g yeast water let sit 4 hours.  Add 60 g flour and 20 g yeast water and let sit 4 hours. It should be ready to go in 12 hours.
 Directions
 Put the first 5 ingredients into the mixer. Stir with a rubber spatula until the butter is incorporated.
Add the rest of the ingredients with the exception of salt. Mix with dough hook until well incorporated 1 minute and then let autolyse covered for 1 hour.  Spread salt onto top of dough and mix on KA 3 for 8 minutes until window pane is achieved.  Move to a covered oiled bowl.  Let rest for 15 minutes then do 4 S &F's on a floured surface.   Place back in a covered oiled bowl and let rest 15 minutes. Do 4 S & F's on a floured surface and return to covered oiled bowl. Let rest 30 minutes.  While dough rests make the filling and streusel.
Spray bundt pan with non stick cooking spray and set aside.
 After dough has rested 30 minutes after last S&F roll out dough on a floured surface to a12"x20"x 3/8".  Brush top with softened butter and sprinkle filling over the top.  Roll up dough jelly roll style from the long side and pinch seams together to make sure they don't come apart.  Twist the roll like you would to wring out a wash cloth making the roll into a twist.  The roll will get longer and double in length to nearly4'as you do this.
 Place 2/3 rds of the streusel mix into the bottom of the bundt pan.  Place twisted dough into the sprayed bundt pan.  It should go around the bundt pan twice to end up with an even top.  Cover the top with the remaining streusel.  Let rise in pan, covered in plastic wrap for 1 hour.  Place in refrigerator over night.  It will rise about 20% overnight.
Take out of the fridge 2 hours before you bake.  Preheat oven to325 Fand bake babka for 40 – 45 minutes until golden brown.  Remove from bundt pan and drizzle with a glaze of ½ C powdered sugar, 2 tsp milk and ½ tsp vanilla.  Let cool slightly and serve warm – Yummy!
 Filling Ingredients
3/8 C packed brown sugar
1/4 C flour
1 T pumpkin pie spice (ginger, allspice, cinnamon, cloves)
1/2 C chopped walnuts
½ C dried fruit (cranberry, raisin, sultanas, apricot) reconstituted in bourbon.
1 T cocoa powder
1/3 C chocolate chips
¼ C butter softened to brush on rolled out dough before filling is sprinkled over it.
 Directions
 Mix dry ingredients together. Keep butter and reconstituted bourbon fruit separate from the dry.  Place in refrigerator until needed.
 Streusel
 1/2 C almond vanilla granola - crushed
¼ C flour
¼ C brown sugar
¼ C butter
1 tsp pumpkin pie spice
pinch salt
 Cut butter into other ingredients with finger tips and place in refrigerator until needed
 Alternate – no bundt pan
Instead of using a pan, on a piece of parchment paper, coil the dough around like a pinwheel creating a super large cinnamon roll, tucking the loose end of the dough under so it doesn't unravel. Brush dough very well with melted butter to prevent a skin from forming, cover with streusel and let dough rest for 10 minutes.
 Bake at 325° F for 40 minutes on a stone until the Babka is golden brown.
.Make a glaze out of powdered sugar, milk and a little vanilla. Drizzle this over the Babka and let it cool slightly.  Serve warm.  Yummy!