St Paddy's Day Dutch Oven Sourdough - Tartine Method
For St Paddy's day I decided to not do a croissant bread or one shaped into an Irish Harp but one that was sort of shaped into a soccer ball (the national sport of Ireland by far) with alternating green and a white-ish patches.  Plus it had to have a bottle of Guinness as well  along with 10% WW and Rye for a well rounded flavor.  I won't have crumb shots till tomorrow but the crust turned out a deep brown with cracks, just like the last DO SD bread managed to exhibit.  The spring was about 3" or about 75%.  It started 1" blow the rim of the DO when it went in the oven and ended up 2 inches above it.  It is a fine looking loaf.  Here are some pix's and the recipe follows them.  Couldn't wait - here are some crumb shots.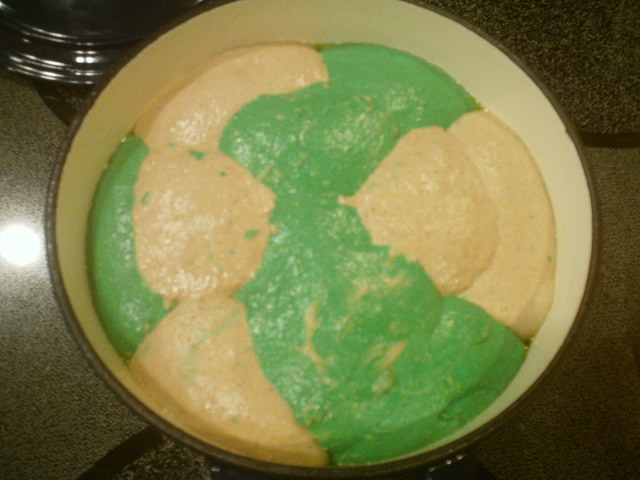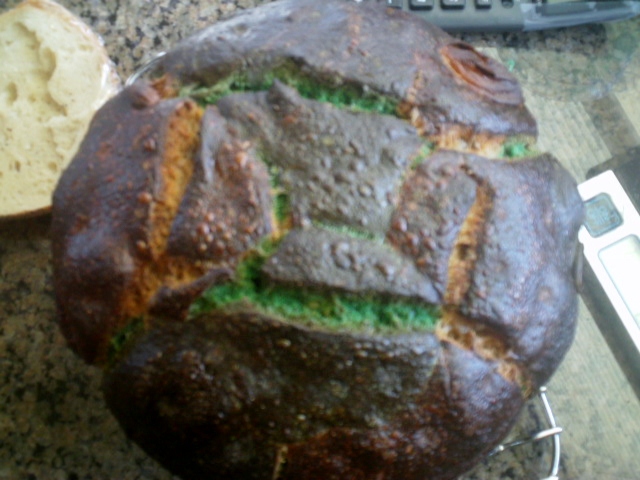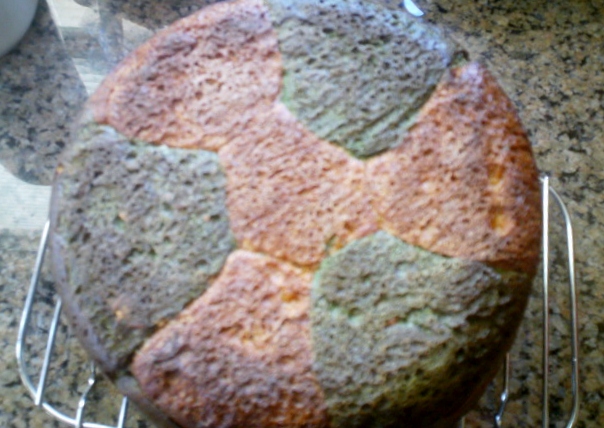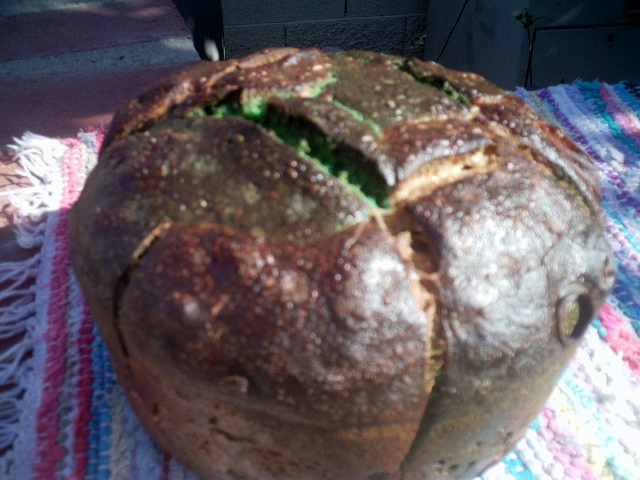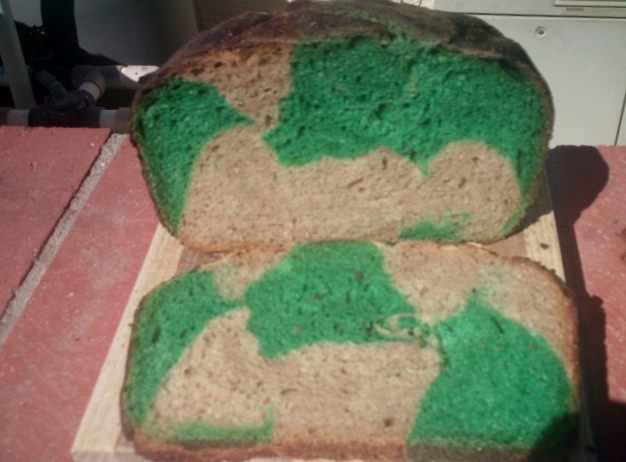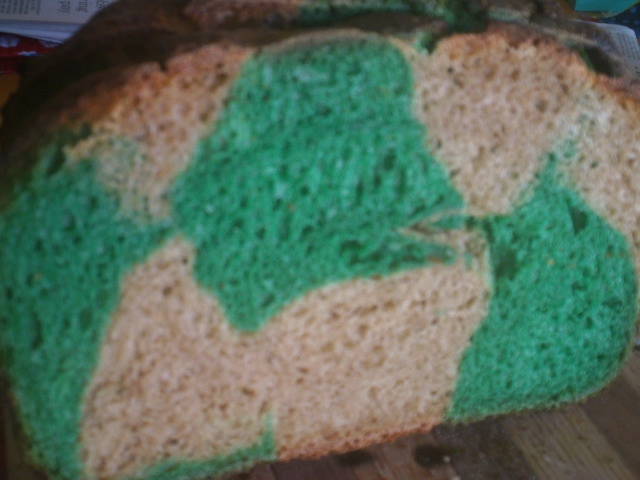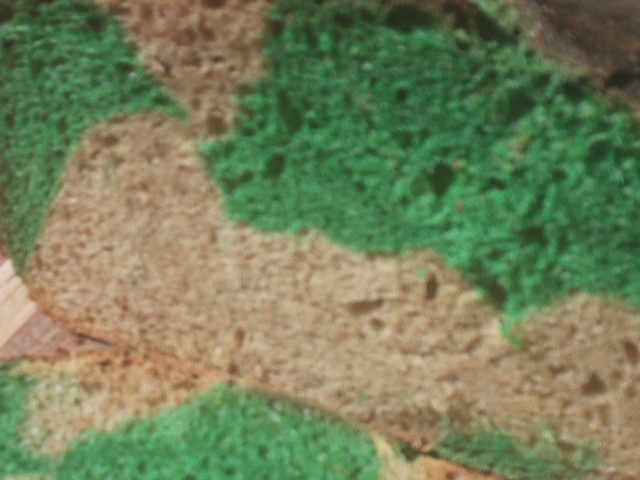 St Paddy's Day  Dutch Oven  Sourdough- Tartine Method
Yield: one 1065 g loaf.
Ingredients
Levain Build
125 g KA AP flour
50 g Whole wheat flour
50 g Whole rye flour
140 g water, cool (60 For so)
50 g active starter (75% hydration)
Final Dough (75% hydration, including levain)
30 g rye
225 g KA AP flour
225 g KA bread flour
340 g Guinness (1 -12 oz bottle)
50 g water
1 tsp barely malt syrup
10 g pink Himalayan sea salt (1.5%)
Directions
1. Levain : Make the final build 10-12 hours before the final mix.
2. Mix: Add all the ingredients to the mixing bowl, including the levain, but not the salt. Mix just until the ingredients are incorporated into a shaggy mass. Correct the hydration as necessary. Cover the bowl and let stand for an autolyse phase of 60 minutes. At the end of the autolyse, sprinkle the salt over the surface of the dough, and knead 8 minutes with dough hook on KA .
3. The dough should have a medium consistency and pass window pane. Divide in half and place ½ in an oiled bowl and cover.  Add green food coloring (about ½ tsp) to the remaining half and mix with dough hook on speed 3 until incorporated.  Move green dough to an oiled bowl and cover.
3. Ferment with S&F: 3 hours. Stretch and fold each dough in the bowl 4 strokes at 15 minute intervals 3 times. Stretch and fold again, 4 strokes, at the one hour mark folding each dough into a ball in lightly oiled bowl. Do 1 S &F two more times at 90 and 120 minutes. Form each dough ball into 8 smaller balls (about 75 g each) being sure to stretch the skin tight.  Arrange balls in DO (8" w x 4" tall) alternating colors using 7 balls on the bottom layer and 7 balls on the next layer making sure to alternate colors vertically too.  There will be 6 balls in a perimeter circle and1 inthe middle for each layer.  Place the remaining 2 balls on top near the center.  Wet palm of hand and press top of dough assembly flat.  Cover and let rise for 1 hour until the dough has risen 50%.
4. Retard for 8-20 hours in the refrigerator, depending on how much time you have and sour your taste.
5. Take DO out of refrigerator let it come to room temperature about 1 ½ hours
6. Ready to bake when poke test dictates.
7. Pre-heat: oven to 500 with steam apparatus in place - 45 minutes minimum. I use a loaf pan half full of water and a dry 12"cast iron skillet that go in the bottom rack of the oven at the beginning of pre heat and the stone on the rack above.
8. Bake: Do not slash loaf.  Place DO in a 500 F degree oven on the stone for 15 minutes.  Remove cover, turn down oven to 450 F and throw 1 cup of water in the iron skillet for additional steaming.  Bake an additional 10 minutes.   Turn down oven temperature to 425 F (convection this time) and remove steaming apparatus.  Also remove loaf from DO and place on the stone.  Bake about 30 minutes more, turning loaf every 8 minutes for browning evenness as necessary. When done (205 F internal temp), leave loaf on stone with oven door ajar, oven off for 12 minutes. Move to cooling rack until loaf is room temperature.