February 25, 2012 - 9:42pm
I needed a break from gluten free baking and felt like baking with REAL flour!!! lol I found this recipe a while back on the Internet somewhere but sadly no longer have the link.
500 grams wheat flour
280 ml water
7 grams dry yeast
15 grams baking malt
15 grams of salt
Lye solution
20 grams of sodium hydroxide (NaOH)  dissolved into 1 litre of cold water
Mix all ingredients until the dough forms a nice soft ball, I used my mixer with the dough attachment and then kneaded by hand because I haven't kneaded a dough in soooo long! Kneading is like free therapy :-)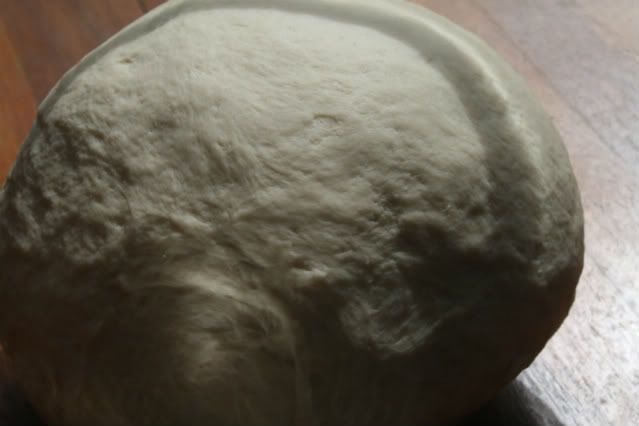 Cover the dough and place in a warm spot for 1 hour or until it has doubled in size.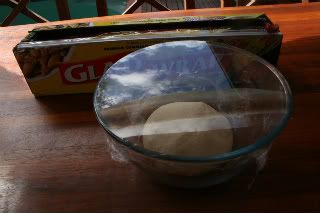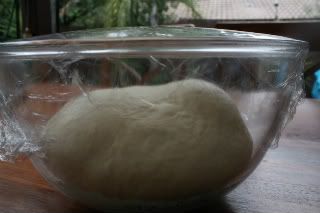 Remove the dough and knock it down and then divide the dough into 12 equal balls (66grams) let rest for 10 minutes and then form into pretzels and place on an oven tray lined in baking paper.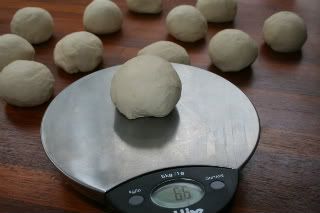 Cover and let rise for 20 minutes in a warm place.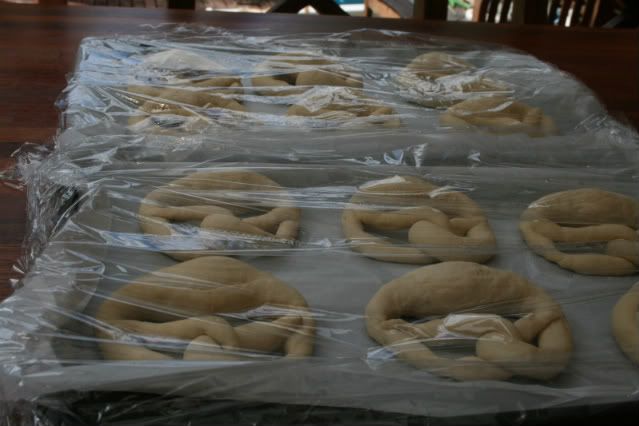 Then place the trays in the fridge for 1 hour (or longer if that suits you, I have left them overnight) this makes the pretzel firm and they will not fall apart when you dip them into the lye bath.
BTW this photo is NOT my food fridge, it's the beer fridge in the backyard!! lol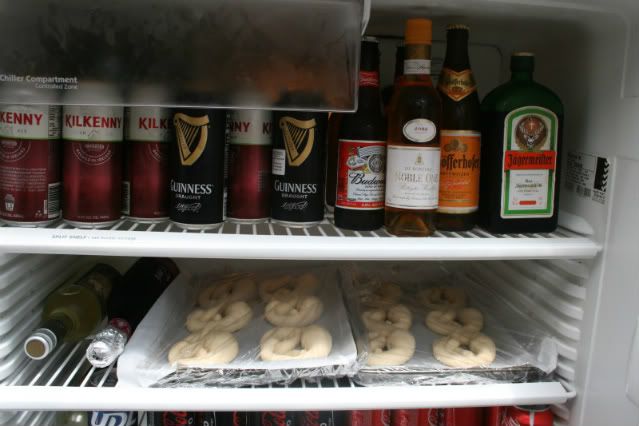 As you can see after 1 hour in the fridge you can easily pick them up without the pretzels bending. Leave the pretzels in the fridge until you are ready to dip them, they soften very quickly!
Next the Lye Bath:
USE EXTREME CAUTION: Caustic even a weak solution like this is considered corrosive. Always use gloves and use extreme care. Never use Aluminium with caustic soda, and always line your baking trays.
Add 1 litre of COLD water into a GLASS bowl and then add 20 grams of sodium hydroxide (NaOH) into the water and stir until dissolved. I used a stainless steel slotted spoon to stir the mixture.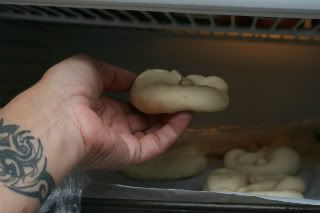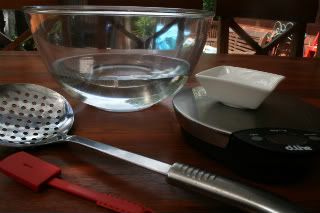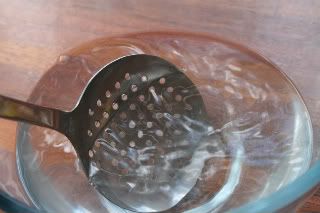 Put the pretzel onto the stainless slotted spoon and then lower it into the lye bath for about 10 seconds.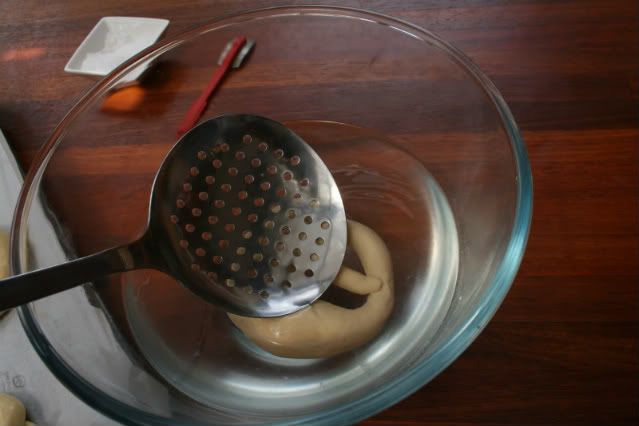 Drain the Pretzel and place back onto the lined baking tray, score (through the thick part of the pretzel horizontally) and  sprinkle with salt. Place in a preheated oven at 180 Degrees Celsius for 20 minutes. Once you have dipped them they need to go straight into the oven, so if you have a few trays leave the surplus trays in the fridge  and dip and bake them when the oven is free.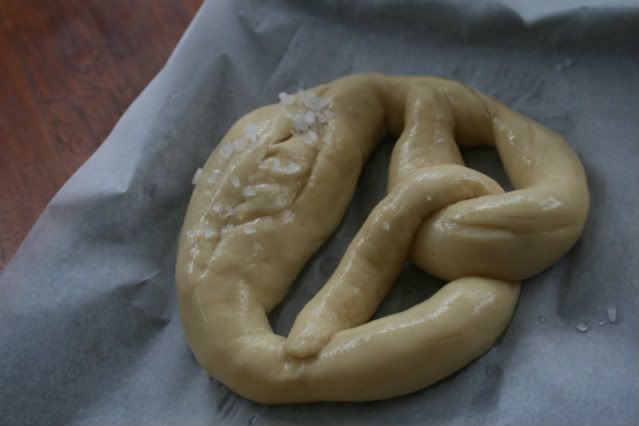 Now I'm off to eat these with a BBQ dinner that my husband is cooking :)
Cheers Sonia