January 10, 2012 - 5:37pm
Onion & ricotta sourdough
I mostly prefer straight breads, but had some ricotta that was left over and in danger of souring, so decided on a whim to add it to a bread dough I've been baking a lot lately, along with some fried onion. The result knocked my socks off!

The onion is as good as you might imagine (especially the slightly charred bits on the outside of the crust). The ricotta, while not itself evident as a distinct flavour presence, seems to enhance the texture of the crumb (soft, yet firmly structured with just the right amount of chew), as well as coaxing the sweetness out of the wheat - and this in a bread that already sings with sweet wheaten harmonies counterbalanced with rye.

The bread I'm referring to is a variation of David's lovely 'San Joaquin Sourdough [1]'.

I like to make up a starter comprising 30% wholewheat + 70% baker's flour and have lowered the salt content, but otherwise stick to David's original formula. Hard to beat, I've found. My process is different, though. I dispense with the 21 hour retardation, instead completing the bulk proof then retarding the shaped loaf for 8 hours and baking straight out of the fridge. Works extremely well for me with my flours, current ambient temps and schedule.

I would think this would work equally well whether you use my version or David's original, but since I have only tried my version with the onion and ricotta additions, this is the one that appears here.

Formula:
100gm ripe starter @ 75% hydration (30% ww, 70% AP flour)
450gm AP flour (mine is 10-11.5% protein)
50gm whole rye flour
365gm filtered water
8gm salt
50gm ricotta
half a medium brown onion, chopped and fried until caramelised golden (would have used red onion if I'd had some)

Method (ambient temp 26C/80F):
Hand-mix all ingredients except onion until it just comes together, rest 30 mins.
Stretch and fold several times, strewing the dough lightly and evenly between folds with fried onion until it is incorporated in the dough. Cover with oiled plastic food-grade bag.
Do one set of S&Fs every 30 minutes for 1.5 hours. Then allow bulk proof to complete (total BP was 1.5 hours in my warm conditions).
Preshape, rest 10 minutes, and shape.
Retard in fridge at 4C/40F for 8 hours. 
Slash dough down middle (to maximise grigne where bits of onion can char - utterly delicious!), and bake straight out of fridge, as follows:
Baking
12 minutes with steam, starting with maxed out pre-heated oven and turned down to 225C/435F a couple of minutes after loading.
Remove steam source, then bake 13 mins @ 215C/420F
Turn down to 200C/390F, bake another 15 mins.
Turn oven off and rest bread with door ajar for 5-8 minutes.
Here's some pics: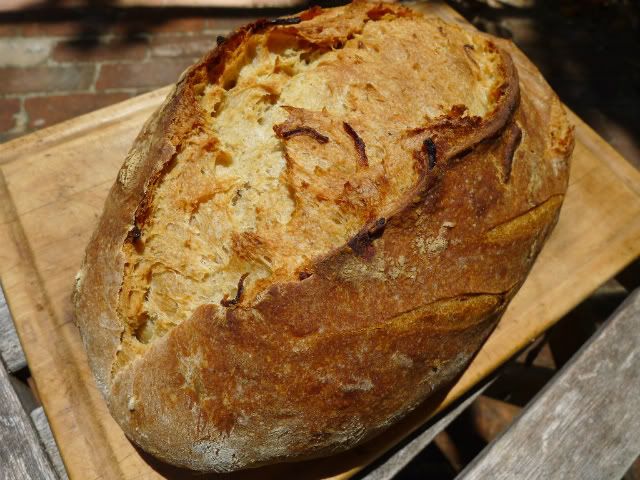 Yes, a little lavish with the butter, but the flavour of this bread was too good to clutter up with any but the simplest of toppings - and is there anything better on good bread than butter?
As with any enriched savoury bread, it was not particularly versatile, but with the right accompaniments - oh my my! eg: Thin-sliced cheese and hot English mustard just popped with the onion backdrop, sliced cold roast beef with horseradish also very yum. Two days down the track, it was superb toasted lightly, rubbed with garlic and drizzled with EVOO, and topped with sliced fresh-picked backyard tomato.
Cheers all!
Ross