December 8, 2011 - 2:32pm
First 100% Rye The Vollkornbrot attacks!
I'm doing it, my first Fresh loaf post! I've been a regular on this site for almost two years and now it's time.I'm very grateful for everyone's wonderful post and I hope I get some congratulations for this first post because my bread certainly won't be getting any.
I felt it was time to rise to the next level of baking so I chose a Vollkornbrot bread from Peter Reinharts 100% whole grains. The finished product came out as scary as the word "Vollkornbrot" sounds.
Any ideas, suggestions or advice of any kind would be gratefully appreciated.
Here's what went down...
Mash:
900 g 165°f water
360 g dark rye flour
3 g diastatic malt
85.5 g flaxseeds
Kept around 150° f for 3 hours
Sarter:
213 g rye mother starter (75% hydration)
639 g light rye flour
510 g water
developed at room temp for 6 hrs
Final dough:
1362 g starter
1275 g mash
765 g light rye flour
127 g sunflower seeds
30 g salt
21 g instant yeast
42 g cocoa powder
This, again, was my first time working with 100% rye, it was awkard. Like making bread for the first time. I ended up adding another 100-200 g rye flour to get the dough to meet Peter's final description, "very tacky, verging on sticky". 1st question, how do you know when a rye dough has been sufficiently worked? After mixing cluelessy well with the dough hook(since I've realized the paddle would have been smarter) I let it rise for 1 1/2 hour then placed it in the fridge overnight.(it was getting late). Took the dough out 3 hrs before shaping. 2nd question is this ripping normal with such a dough?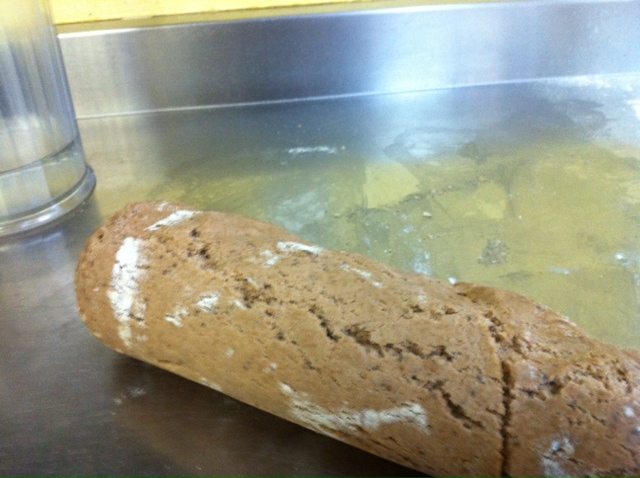 After shaping and panning..
 I let it rise for about 1 hr 15 mins(it still hadn't quiet doubled) I followed Peter's baking instructions.
500°f oven steam pan, steam, turn down oven 375°(i did 350) bake 30 mins, taking steam pan out at 10
turn 90 deg then bake another 30 mins
remove from pan and bake 40 more mins turning very 10
let cool 3 hrs, wrap in towels and let sit 24 hrs.
and the final product..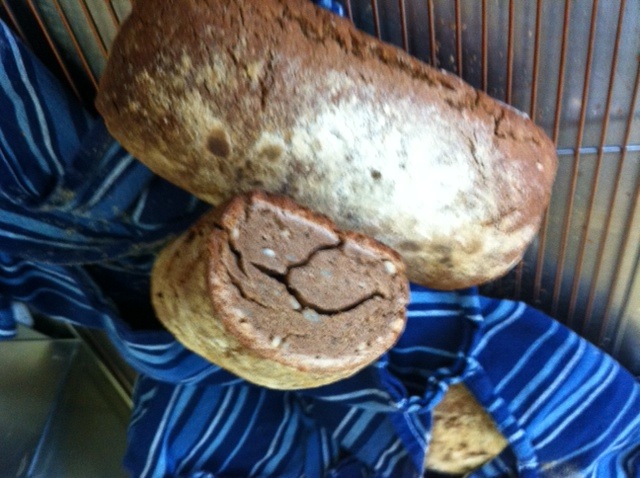 3rd question why can't i get this photo rightside up? :)
The crust almost broke my thermometer and my teeth. The flavor was pretty sour, but besides for that very vollkornbrot like yummy. Also, it fell apart when sliced.
Thanks to everyone for this wonderful forum.