November 5, 2011 - 10:18pm
Trouble with ITJB Vienna Bread
I baked two loaves of Vienna Bread from Inside the Jewish Bakery tonight, and have a problem I have not seen before with pan breads.  Since pictures are worth a thousand words, here they are: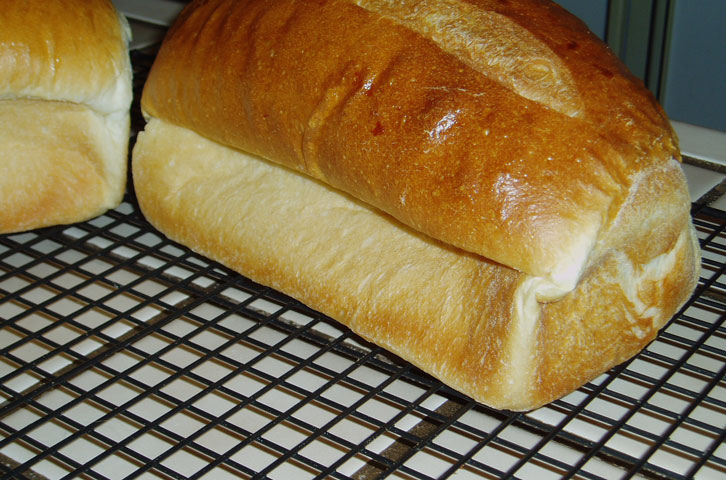 and the crumb shot: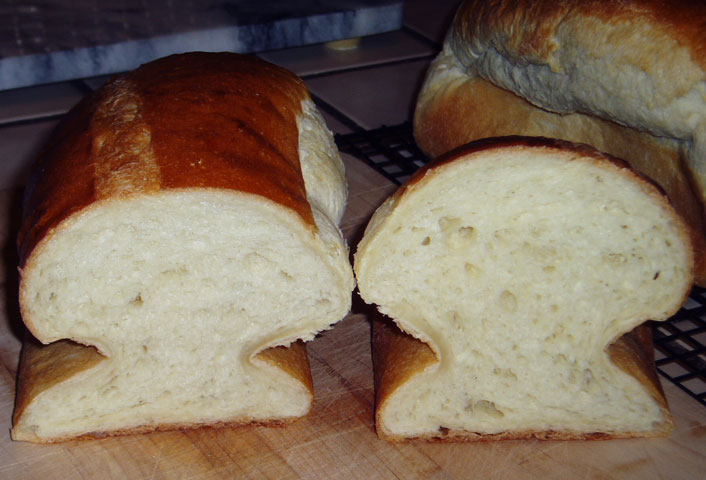 These loaves went together without a hitch, using my stock Pendleton Mills Power bread flour.  I mixed the dough in my Bosch.  It took 13 minutes to get to a nice window pane.  Bulk rise went about 1 hour and 15 minutes due to the cold day and cold kitchen.  Same for final proof going about 1 hour and 30 minutes after shaping and panning.  The oven preheated for an hour with stones in place, and the bake took 30+ minutes to get the internal temperature up to 204F.   I took the loaves out of the oven and unpanned them onto my wire rack and went back to the movie.  When I looked in on them in about a half hour, I saw what you see.
The sides and ends of the base of these loaves all collapsed inward at the mid-line up the panned section.  If you look at the background loaf in the crumb shot you can see evidence of a "breakout" that would indicate the loaves could have proofed even a bit longer.  As the crumb shot itself shows, the loaves have a distinct hourglass figure now that they are fully cooled.  The crumb is light, with many holes of varied size, yet there is also a puzzling doughy patch up just part of just one side of this loaf.  I am assuming, but can't actually know, that this was the "inside" of the pan, toward the center of the oven and about 6 inches away from the other loaf, baked at the same time.  Given that the loaf made 204F in the center, this is a complete puzzle to me.
I ate a piece of the sample above, and aside from that doughy patch, it tastes excellent, is well done, tender and soft in the crumb with a nice "chew" to it.  I don't understand the collapse, and if you have and idea what causes this, I'd love to hear them.
Thanks for stopping by.
OldWoodenSpoon