October 30, 2011 - 5:32pm
25'ish % Sour Rye withToasted Seeds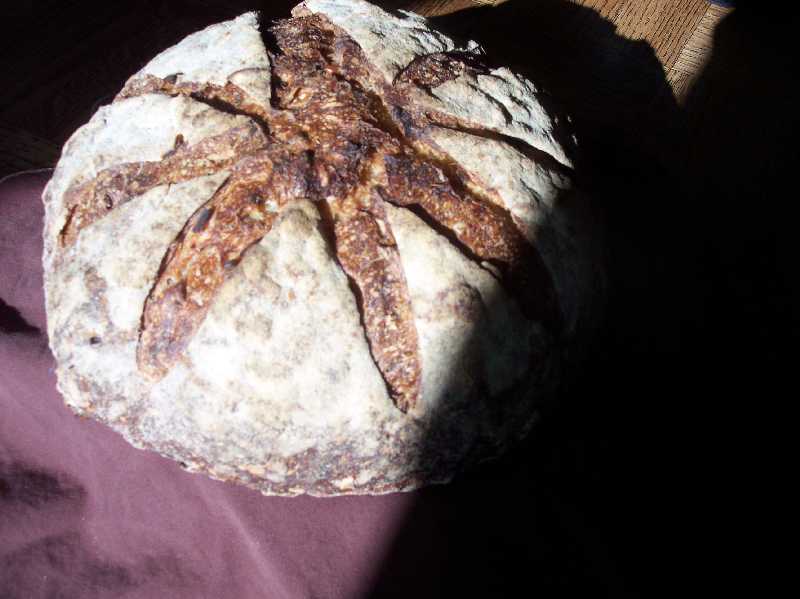 The first time I made and tasted a rye bread with toasted sunflower seeds I was hooked. It was based on Jeffrey Hamelman's 80% Sour Rye with a Rye Flour Soaker from his book 'Bread' . I adapted it slightly by adding some toasted seeds to the mix and ended up with one of the most delicious breads I've ever made. As much as I enjoy eating a high percentage rye bread it's not something I like having on a regular basis. With this bake I wanted to see if a 25%-30% rye would do as well as a high ratio rye in terms of complex flavours. I was happy to discover that this bread is every bit as flavorful as the 80% but with a lighter texture, making it more suitable for my everyday bread. Quite often now I find with lean breads such as this one, that Chad Robertson's 'Tartine' method for making his Country Bread gives me the kind of crust and crumb that I prefer. I don't always use a Dutch oven for the baking, but on this bake I did, hoping to maximize as much of the flavour from the toasted seeds as possible as well as have that lovely burnished crust typical of Dutch Oven bakes.
Procedure:
The hydration and salt percentages were kept close to Robertson's Tartine Country Rye however I changed everything else in the original formula, but basically kept to Robertson's procedure as much as possible. The dough was hand mixed, then bulk fermented @ 76F-78F over 3 hours with stretch and folds in the bowl done every 30 minutes for the first 2 hours. The last S&F was done on the counter before a 30 minute rest and eventual shaping. The final rise was done in a floured banneton over a 3 hour period and then baked in a 500F pre-heated Dutch Oven for the first ten minutes, then at 470F for the remaining 45 minutes bake time. After 30 minutes I took the loaf out of the DO and placed it on the baking stone for the last 15 minutes of the bake, then turned the oven off and propped the door open for an additional 20-30 minutes before removing it to rack for overnight cooling.
Evaluation:
The final proof was more than it needed by 20-30 minutes to give it a higher profile, but the crust is fine with a good crunch to it. The scoring is a bit wonky I'm afraid and I really have to remember to keep to a few straight slashes when the dough has a high percentage of seeds like this one. The blade simply catches on too many of them during slashing to get any good, clean cuts for an attractive pattern. Cosmetic sins aside, the crumb I like...a lot, and the flavour is wonderful with a long lasting medium sour tang and a rich nutty taste from the toasted seeds that goes well with everything I've pared it with so far.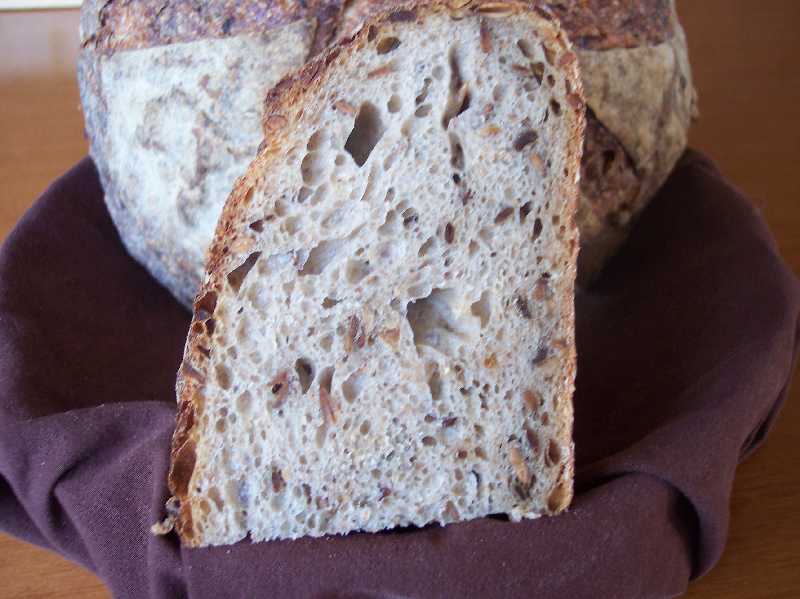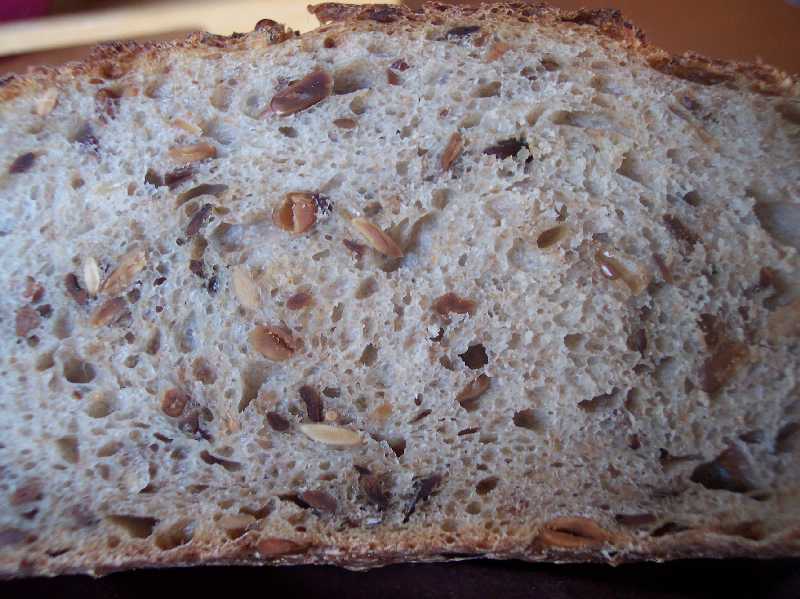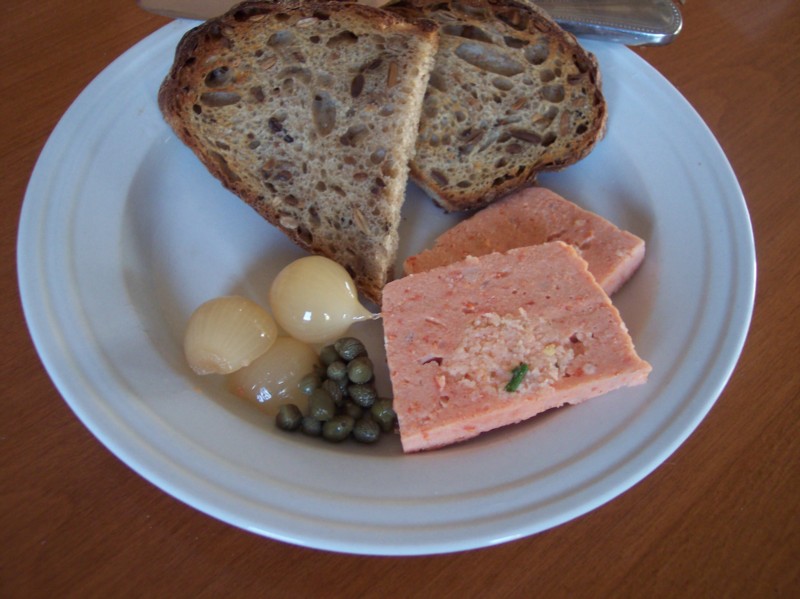 The bread matched particularly well with a smoked salmon and shrimp pate that I'd made the day before, one of the results of my new interest in charcuterie. To my surprise our normally aloof feline has suddenly become my new best friend when the salmon pate comes out of the fridge for a snack. I'm not sure which of us enjoys it more spread on a piece of the toasted bread, but I know our dog is not happy with this turn of events one little bit.
Formula below and a link to the spreadsheet for anyone who'd like to download a working copy for themselves.
https://docs.google.com/spreadsheet/ccc?key=0AjicIp92YPCTdHlSZm5nSEd4R1l4S1o0LUc2TXBRcnc [1]
Cheers,
Franko
| | | |
| --- | --- | --- |
| 25 % Sour Rye Bread with Toasted Seeds | % | Kilos/Grams |
| | |   |
| Ingredients |   |   |
|   |   |   |
| Levain |   |   |
| Organic AP Flour | 50.00% | 29 |
| Dark Rye Flour | 50.00% | 29 |
| Mature Rye Starter -100% | 12.50% | 7 |
| Water-75F | 100.00% | 58 |
| Total weight | 212.50% | 124 |
| DDT- 65-70F 12-16hrs |   |   |
|   |   |   |
| Toasted Seed Mixture |   |   |
| Sunflower Seeds | 80.00% | 77 |
| Pumpkin Seeds | 20.00% | 19 |
| Total weight | 100.00% | 97 |
|   |   |   |
| Final Dough Weight |   | 1200 |
| Final Dough |   | |
| Organic AP Flour | 75.0% | 403 |
| Dark Rye Flour | 25.0% | 134 |
| Levain | 23.0% | 124 |
| Toasted Seed Mixture | 18.0% | 97 |
| Sea Salt | 2.3% | 12 |
| Water | 80.0% | 430 |
| Total weight | 223.3% | 1200.00 |
| DDT-75-78F BF- 2.5 hrs with 2-3 S&F |   |   |
|   |   |   |
| Overall Formula |   | Kilos/Grams |
| Total Flour | 100.00% | 596 |
| Bread Flour | 72.56% | 432 |
| Dark Rye Flour | 27.44% | 163 |
| Mature Rye Starter-100% | 1.22% | 7 |
| Toasted Seed Mixture | 12.99% | 97 |
| Sea Salt | 2.08% | 12 |
| Water | 81.95% | 488 |
| Total weight |   | 1200 |