October 30, 2011 - 7:26am
I've been lurking on these forums and sourdough.com for some time. Finally found time to get a starter going last week.
Starter is 20% org rye, 80% org white. Using spring water at 100%. It was surprisingly easy to get going, just followed all the advice - room temp, feed daily at start then 2 - 3x day after 4 days. Alcohol smell stopped after 4 days, used a clean container every 2 days.
Baked with it for first time this morning (8 days since starting).
680g org. heavy white, 90g org. rye, salt, 300g starter (100% hyd), 455g water - based on a Pain au Levain recipe on breadcetera.com.
Made the dough last night - folded 10pm, 11pm. Formed 2 loaves. Fridge overnight, then 1 hour at room temp. Cooked for 30 mins in top Aga oven with ice cubes at start (which seems to be a little shorter than others but it was clearly ready).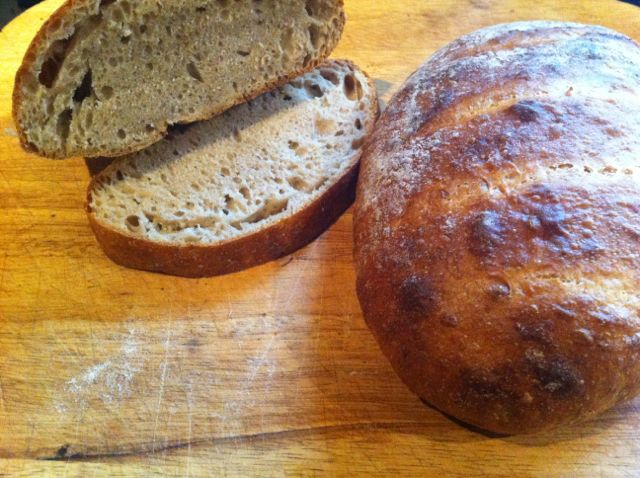 I'll do some work on the proofing next time. Also dough felt a little too sticky so may increase the flour a little. Will do more work on this recipe before trying any others.
Any feedback appreciated.
Thanks for all the help.