October 23, 2011 - 1:19pm
Russian Rye and Really Simple Sourdough (from A. Whitley's Bread Matters) - now with pictures
Hi,
For the harvest festival at my son's school I revisited Andrew Whitley's formula for Russian Rye, an inspired by Varda and JanetCook I used some of the surplus starter to make two variations of his "Really Simple Sourdough", both from his book"Bread Matters".
Both formulas call for baking in tins.
Here the results, from left to right: Wholegrain Spelt, Shipton's Swiss Dark Flour (high extraction), Russian Rye ...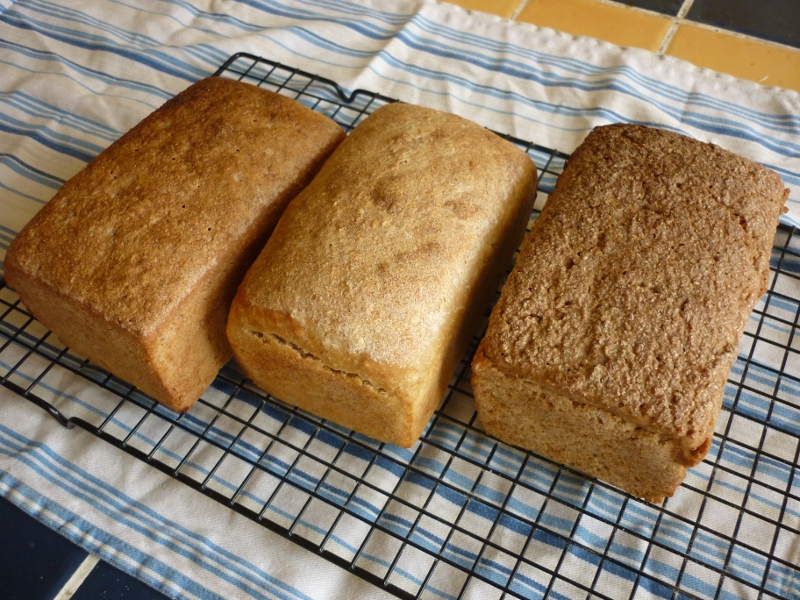 And the crumb, in the same order: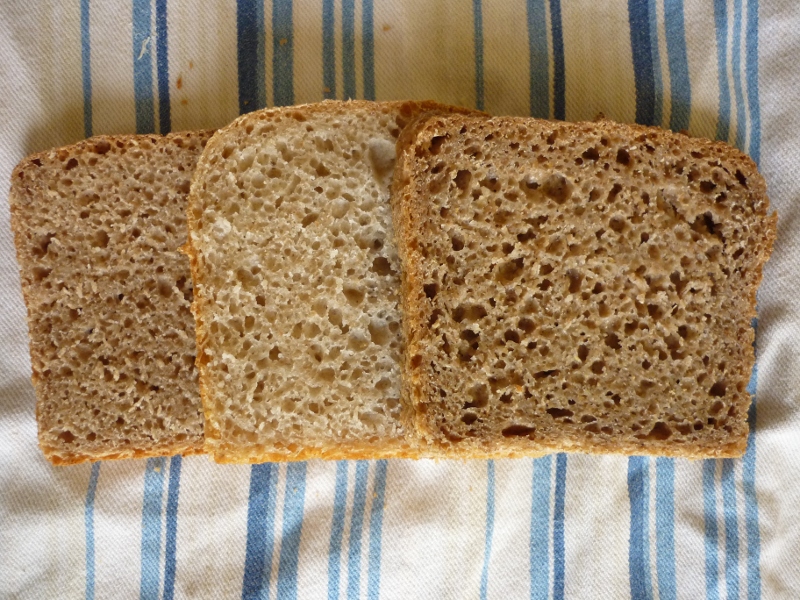 The Starter is a 200% hydration starter wich I had going for over a year  now. I keep it in the fridge; for baking I essentially follow Andrew Whitley's instructions - I make a "production sourdough" with 100% wholegrain rye, 200% water and 25% starter from the fridge (The book recommends 100% starter). My kitchen was about 22C, and I left it ferment for ca. 16 hours. (At the end it was a bit frothy with a slightly sour taste)
I prepared the starter to bake the Russian Rye on Tuesday evening so that the bread would have time to set and develop character until Friday, the day of the festival. I put thje surplus starter into the fridge on Tuesday afternoon after mixing the Russian Rye,
The "Really Simple Sourdoughs" (RSSD) were mixed on Saturday evening (9pm) with the starter coming right out of the fridge - this formula calls for just 40g starter for a 500g loaf. They proved overnight in their tins at about 17C and were  baked on Sunday morning at 10am.
The Russian rye has been slightly underbaked and tasted watery at first, but fr Sunday's supper it was excellent with chicken liver pathe. The spelt variant of the RSSD tasted a bit bitter after the bake, with a distinct nutty note. On Sunday evening the bitter note had disappeared.
The RSSD with Swiss Dark Flour became an instant favourite of my wife - the crumb is springy, the taste is wheaty, but not nominating.
I'll keep this in my repertoire (I hadn't made RSSD since joining The Fresh Loaf, I think)
** UPDATE: The Formulas **
Both breads are shaped with wet hands right after mixing and proofed in tins.
Russian Rye for 2 hours to 8 hours at 24C or more,
Really Simple Sourdough for up to 12 hours at 20C
Russian Rye
Production Sourdough (Dough Temperature 30C)
Wholegrain Rye flour 31%
Water 62%
Yield 92%
Final Dough (DT ideally 28C)
Wholegrain Rye flour 69%
Water 42%
Salt 1%
Production Sourdough 92%
Yield 205%
Really Simple Sourdough
Rye Starter (can be taken from fridge if not too starved)
Wholegrain Rye flour 5%
Water 10%
Yield 15%
Final Dough (DT 20C)
Wholegrain flour (Wheat, Spelt) 95%
Water 66%
Salt 1.5%
Rye Starter 15%
Yield 178%
That's it.
Cheers,
Juergen