October 10, 2011 - 9:55am
Experiments in Pasta #2: Spinach-Garlic Fettucini
Last night was my second attempt at homemade pasta using home-milled flour. While my first attempt (http://www.thefreshloaf.com/node/25340/experiments-pasta-milling-my-own-flour [1]) was delicious, I tried a few new things based on comments there and reading elsewhere.
 I started out milling a 50/50 mix of durum wheat (14%) and hard white wheat (13%). After milling, I used a #30 mining pan (yes, as in 'gold mining.' It fits perfectly on 5 gallon buckets and large containers like the one shown) to sift out some of the bran, ending up with 85% extraction by weight. I ended up with a little more than 2 cups of flour.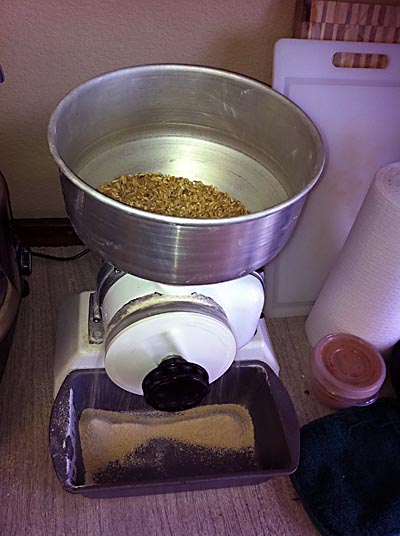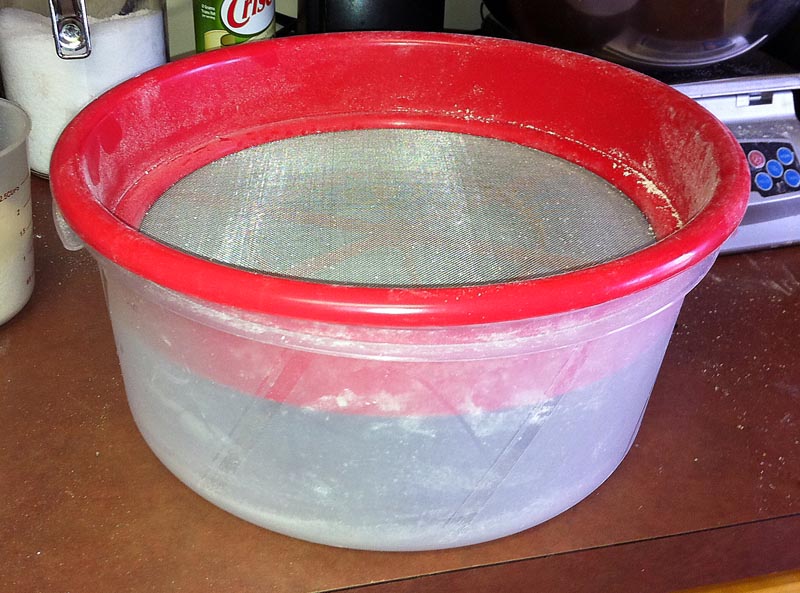 Next, I medium-chopped three cloves of garlic and sauted them in a tablespoon of butter for 5 minutes or so, then added 6 oz of fresh spinach, sprinkled lightly with kosher salt, and cooked 3-4 minutes, until nicely wilted. Moved to a seive and let drain and cool a bit for 20 minutes.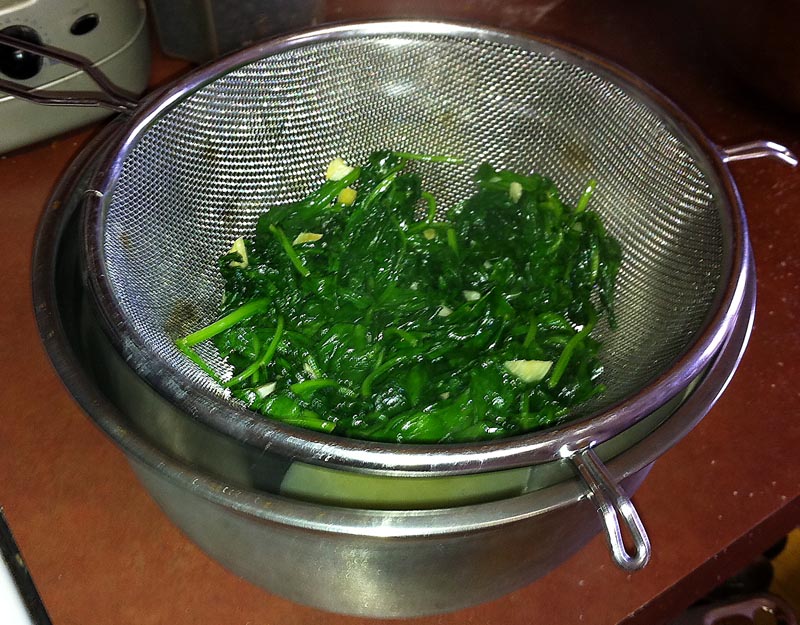 After draining, I put the spinach/garlic mix into a blender, added two room-temperature eggs, a teaspoon of salt and a teaspoon of olive oil (remember there's butter and salt from the spinach). Blended up, and poured into a well with the flour.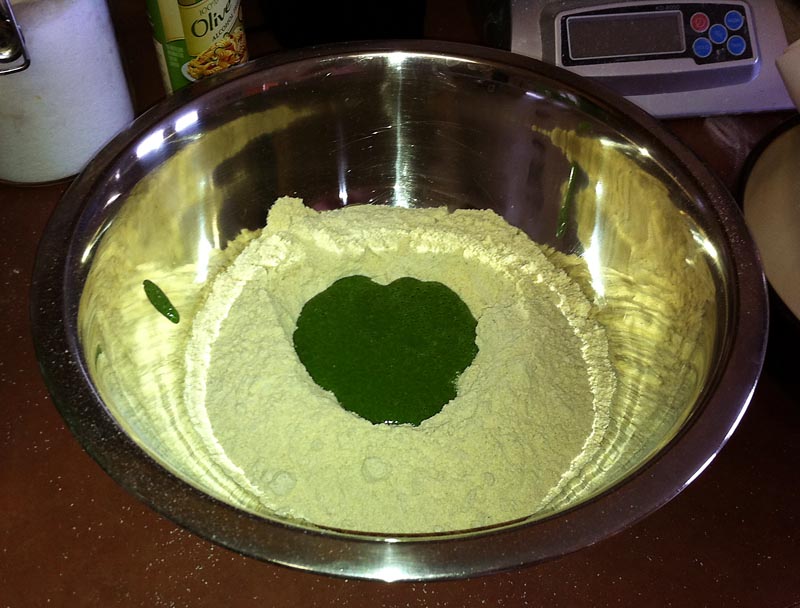 I worked this in with a fork until it became too much to stir. After ending up with an excessively wet dough last time, I was determined to sneak up on the proper hydration this time. I dumped the still-dry mixture onto my board, and began working in water by hand until it just came together.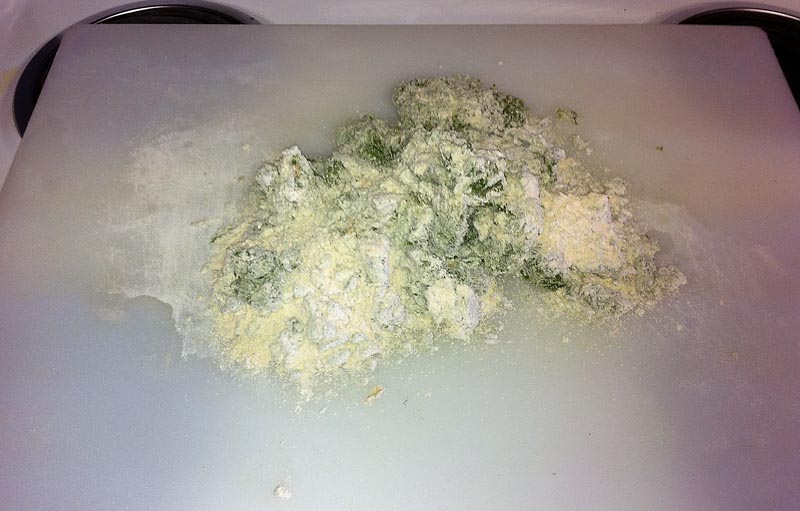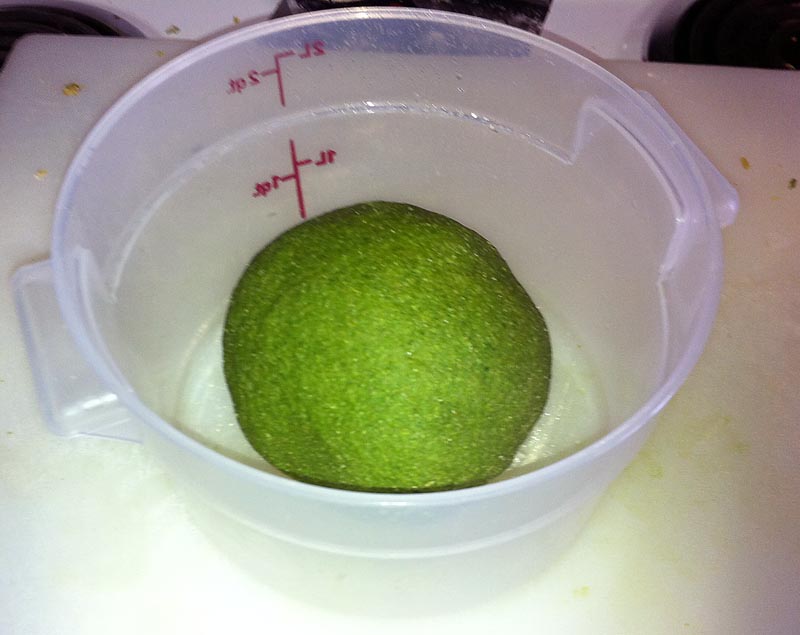 After about 12 minutes of kneading, it came together into a nice dough that felt like Play-do. It wasn't at all sticky, nor was it noticably dry. I sprayed it with olive oil, put the lid on the container, and then went about my day. I got back to it four hours later. I put it on a lightly floured board, rolled it out to about the thickness of a pencil, and fired up the Atlas.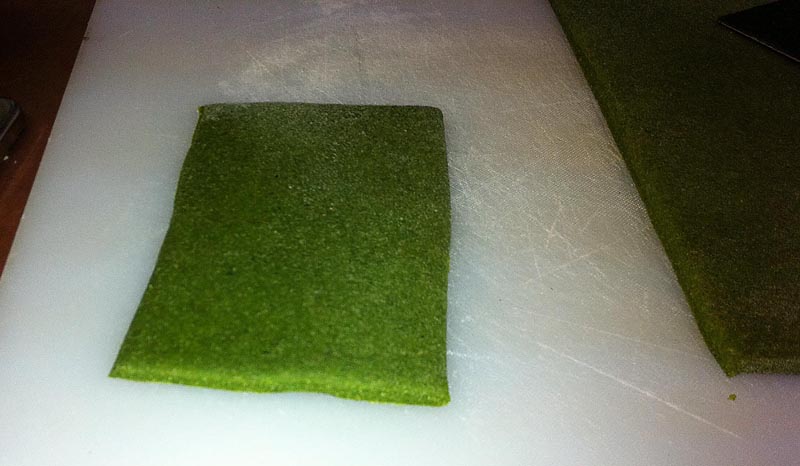 This time, I only had to add a tiny, tiny bit of flour to the sheets between setting 3 and 4, and they cut perfectly. They got to dry for right at an hour while I worked on everything else.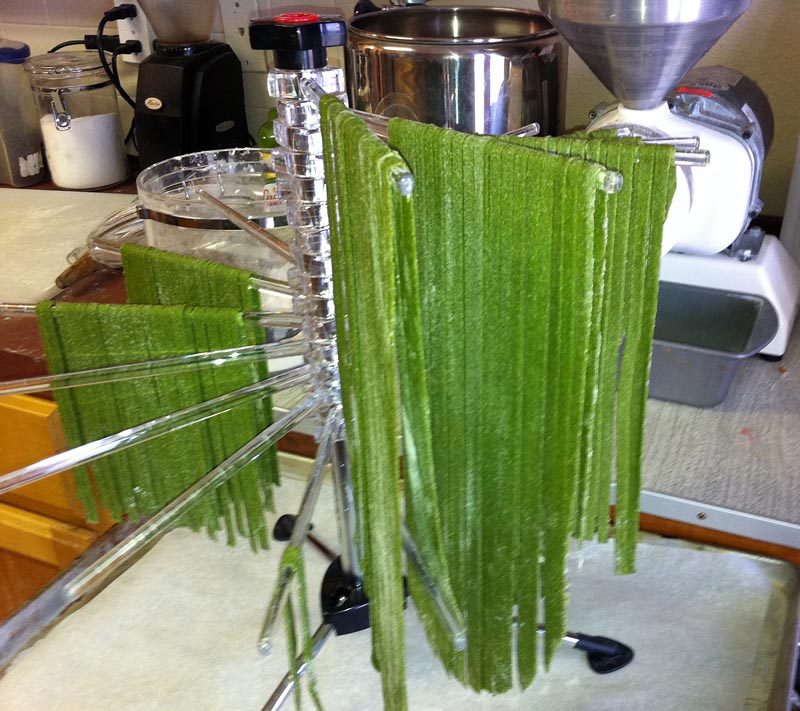 Here's the final dish. Toasted almond slivers, mushrooms, onions, garlic and green peas with shrimp. The pasta was cooked for around 4 minutes, then mixed in with everything for a couple of minutes in the pan. It had a great flavor, and was sooooo soft, almost like udon.