October 3, 2011 - 11:03am
50% Whole Wheat Sourdough - First Attempt
Here's my first attempt at a sourdough with 50% whole wheat. I'm about 75% pleased with the result.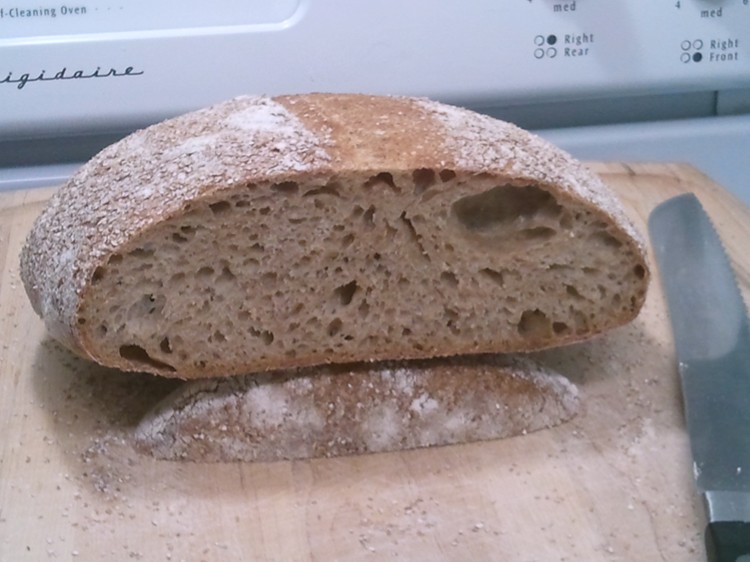 I've made a few sourdough loaves over the years, but have mainly used my starter for pizza dough.
I used a 100% hydration starter modeled loosely on the one described in Tartine Bread. It's about 3 weeks old and maintained with 50% whole wheat, 50% bread flour. I removed it from the fridge Thursday evening and fed it every 10-12 hours until early Saturday morning.
Here's the formula I followed--which is to say, made up as I went along.
Starter 100g
Hodgson Mill 50/50 Flour 400g
Water 250g
Salt 9g
I whisked together the starter and the water, then stirred in the flour about 100g at a time. After it was thoroughly mixed, I rested it for about 20 minutes, then kneaded in the salt.
My kneading schedule was adapted from the "periodic" model suggested by Dan Lepard. That is, for the first 30 minutes, I alternated 1 minute kneading sessions and 10 minute rests. Thereafter, for the next 90 minutes, I kneaded for 10 seconds and rested for 30 minutes. After each kneading session, I rounded the dough and placed it into a clear container. In all, I kneaded about 3:30, and after the final 30 min rest, I did a stretch-and-fold, rounded the dough, and let it rise it at room temp for about three hours. 
After it was about 1.5 times its initial volume, I shaped the dough and placed it in a cloth-lined wicker basket covered with a perfectly-sized Corningware glass lid. (To flour the cloth, I sifted about .25c bran out of the flour and spread it evenly over the cloth.)
It proofed about 4 hours, again a room temp. When it passed the poke test, I turned it onto my peel, slashed it (too shallow, in restrospect), and slid it onto my stone in a 500F oven with a couple of ice cubes tossed onto the oven floor. I meant to do the "magic bowl" thing and cover it with a stainless steel bowl, but alas, I forgot to pre-heat the bowl and didn't want to crack another stone.
After 10 minutes, I turned the temp to 450F, baked for 15 minutes more, then removed to a wire rack. By the middle of Breaking Bad last night, I could stand waiting no longer and sliced a piece. Lovely flavor. Perfect with butter. More sour than my family likes, probably, but really wheaty, too.
I think next time I'll try to push the hydration a bit higher and rely more on stretch-and-folds than kneading after the first 30 minutes. For now, I'm pretty happy with this as a first attempt.
Cheers,
Jason