September 26, 2011 - 11:21pm
Yesterday was the dinner  for CHAINES DES ROTESSIUERS
I had agreed to make my home brew stout bread for the occassion so after starting off the soak of stout and wholemeal at 8.30 in the morning i took to my normal purchasing duties until lunch time and then with thanks to my manager was allowed to go down to the kitchen.
The soak consisting of 2kgs of organic wholemeal and 500g of ryemeal 200g of sour dough starter 2.1Litres of home brew stout and a further 700mls of water, i could have used my last bottle of stout but wanted to reserve that for colleagues to sample to see if they thought that the flavours had carried through.
The rest of the dough was formed by 2.5Kg flour 100g salt, 100g gluten, 75g dried yeast 200g malt extract from a brew kit, 100g butter.
As the mix was coming together a generous litre of water was added which bought the liquid content to 76% it was sticky and possibly a little less may have been better.
The dough when mixed was placed in a large bucket  and for the benefit of the two mature age overseas students that were assisting me a mark placed on the side. the 2 students one from Taiwan and the other from Malaysia along with another 3 from our college have just been chosen to assist with the food for CHOGM (Commonwealth Heads of Government Meeting) that is being held in Perth very soon.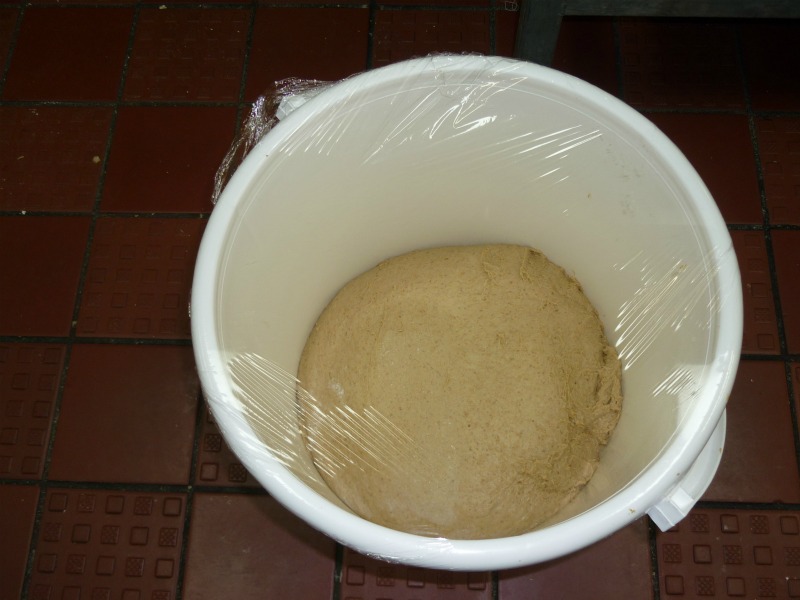 DOUGH MIXED IN BUCKET FOR PROOF I was anticipating a 2hour bulkfermentaion period with 1.5% yeast but with the soak in active bottle fermented stout and an addition of sour dough culture it came through quicker than anticipated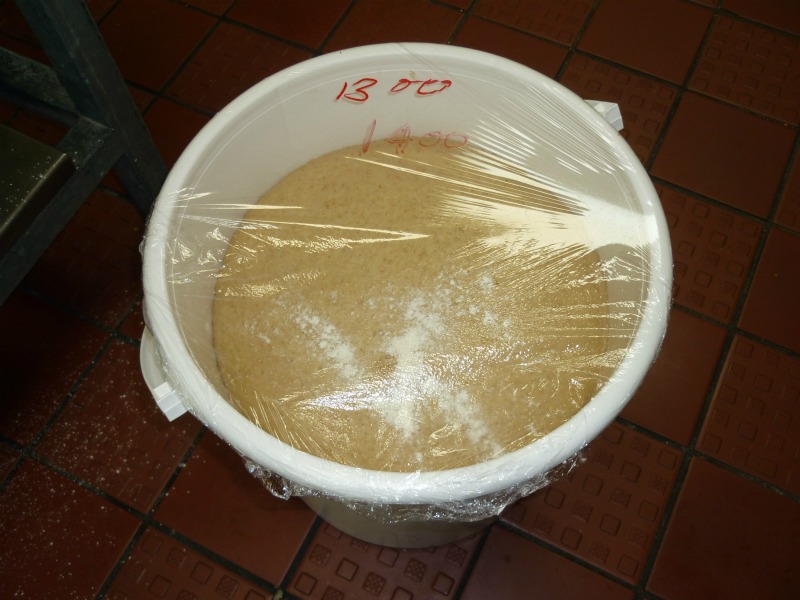 in fact as can be seen ready in 1 hour
50 g dinner rolls  out of the oven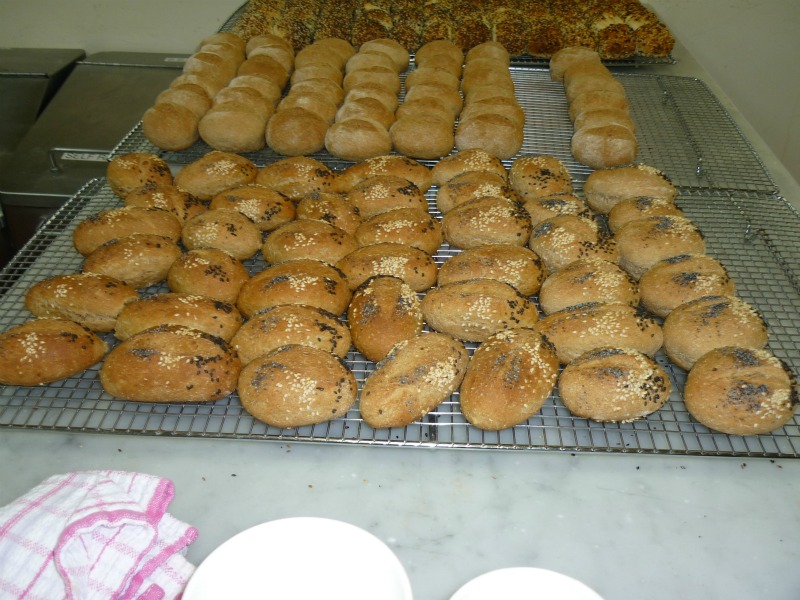 there wes plenty of extra dough so sticks and a couple of loaves were made the sticks i gave to the visiting chefs to take home and was much appreciated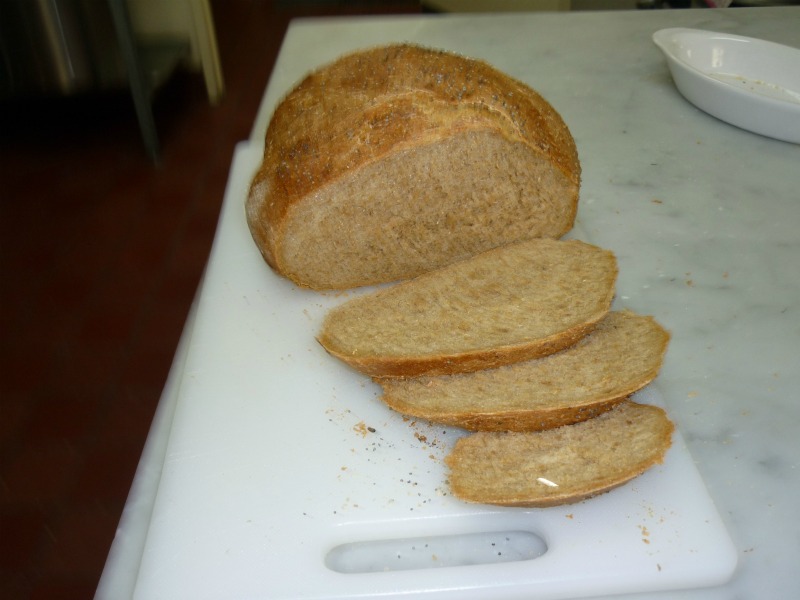 some bread with the french butter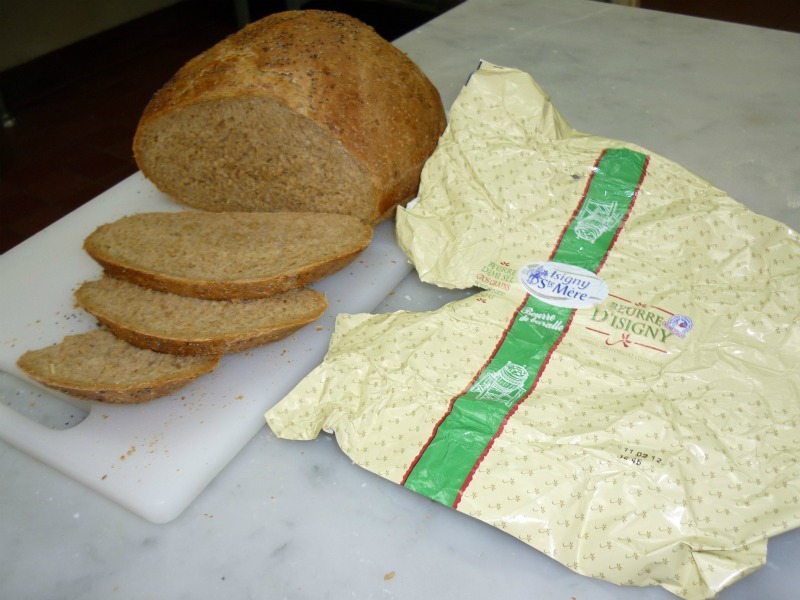 also attached the menu for the evening i didnt stay for the meal and got away not long after my normal knock off time i did have the stich with some nice blue costello and tomato and cucumber.
CHAINE CHEFS DINNER 2011
canapés
Chef Marco Bijl –
Prawn with jackfruit and lime chutney
Crevettes et son chutney de jackfruit et citron vert
Peppered beef with caramelised onion jam on a German rye
Boeuf au poivre avec sa confiture d'onion caramelisee sur canapés de son
Duck breast on orange salad
Magret de canard et sur salad a l orange
Smoked Salmon with Japanese mayonnaise topped with Wasabi
Saumon fume avec sa mayonnaise Japonaise et wasabi
champagne
TEAM CHALLENGER INSTITUTE: fresh breads & beurre d'isigny (normandy)
Pain du jour et beurre d' Isigny (Normandie)
CHEF PHIL WESTWOOD/ CHALLENGER INSTITUTE – quail flambé with port/pink pepper jus, golden egg & enoki mushroom garni
Caille Flambee et son jus de poivre rose au porto
Oeuf d or et champignon Enoki garni
d'Arenburg sparkling red chambourcin (Aus)
CHEF GRAEME SHAPIRO/ WILD POPPY- pork belly in caramel with crispy crab, pork & crab relish
Travers de porc au caramel et crabe croustillant, accompagnee d une compote de crab and porc
trois mont bier (Fr.)
CHEF DOUGLASS KERR/ BOUCHARD RESTAURANT-Pan fried line caught fish, petit pois a la francaise, potato and clam veloute.
Poisson de ligne et son veloute de  petits pois a la francaise, pommes de terre et coques
wine
CHEF LUKE WAKEFIELD/ NATIONAL JEUNE CHEF 2010- corn fed chicken gallontine, sweet corn croquette, chanterelle fricassee, tomato essence
Gallantine de poulet de ferme aux grains, croquette de mais, fricassee de chanterelles et essence de tomate
Tricastin La Ciboise Blanc (cotes du rhone) '09 (Fr.)
CHEF SOREN KOBERSTEIN/ GEORGE ST. BISTRO- sour beef cheeks, almond & sultana jus, brussel sprouts
Joue de boeuf aigre douce au jus de raisins et amandes
pirathon by kalleske '09 (Barossa)
CHEF MATTHEW LADKIN/ FRIENDS RESTAURANT- coconut pannacotta, pineapple carpaccio & raspberry and mint salad.
Crème de noix de coco accompagnee d un carpaccio de framboises et ananas
Wine
DAVID MOPIN/ PHIL WESTWOOD/ TEAM CHALLENGER INSTITUTE-coffee & petit fours
Café, petits fours
Service: Jeanette Paladino & Clare Russel.              Beverages: Gary Bird.
Supported by Food and Beverage Students & Trainees
 regards yozza