August 29, 2011 - 10:04am
I'm in the process of learning about different flours and thought it would be edifying to see what comes out of the same basic 70% hydration formula.Some of you will remember my 100% first clear flour loaf last week.  Yesterday I took the exact same formula (600g flour, 9g yeast, 12g salt, and 420g water) but changed to 50% first clear flour, 50% Bay State Dark Rye flour, and threw in 12g of caraway seeds for flavor. The result?  A dense, moist bread about 1/3 the size of the 100% clear loaf.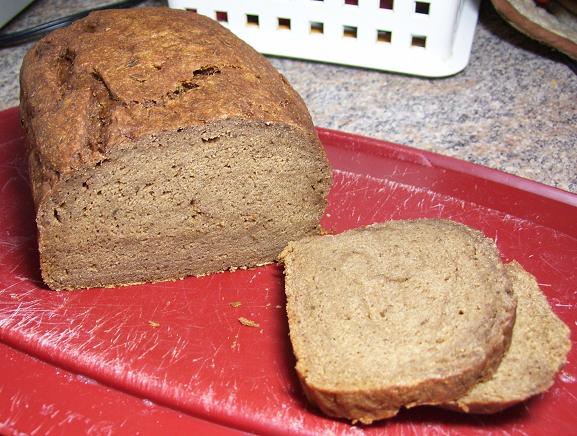 I did the three stretch-and-folds at 45 minute intervals.  Then, since I had ribs cooking slowly at 250F and had read about slow-cooking rye, I decided to create a faux-pullman pan with a metal loaf pan and foil.  The bread spent 3 hours at 250, at which point I removed it from the pan.  The inside still hadn't come to 200F so I wrapped the loaf tightly in foil and jacked the oven temp up to 350F for another hour, at which point I turned the oven off and left the oven and the foil-wrapped bread in it to cool together overnight.
This morning, when I unwrapped it, I had a tasty ersatz-European-rye that is pretty yummy and I saw a good demonstration of how the rye flour, even at 50%, is completely different from wheat flour in terms of development.  Yes, I have read the wonderful lessons of many of you all about rye and pentosans, rye and hydration, etc., but I really needed to have the two different breads from the same basic formula to reinforce the difference in feel and dough reaction in my head and hands.
Both breads are delicious but they bear extremely little resemblance to each other.  For those who may not remember, here's a picture of the 100% first clear flour loaf for comparion.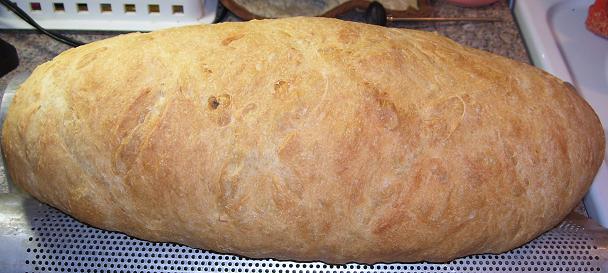 and the crumb shot with the rye crumbshot next to it and about proportional in size!: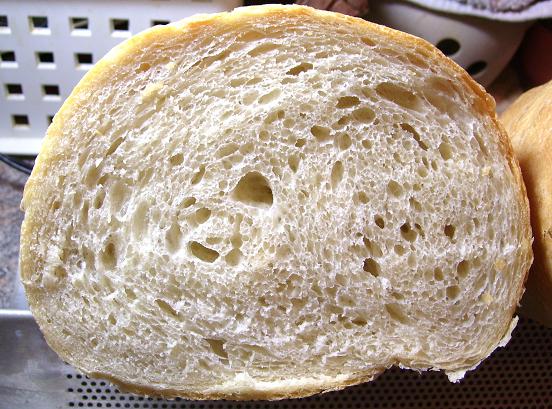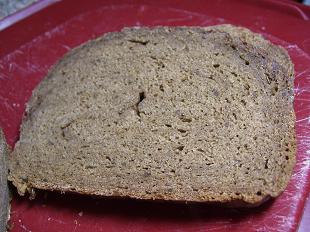 The rye is the third very different bread in a row using this 70% formula.  Earlier last week I made one that was 550g of 00 pizzeria flour and 50g semolina.  You may remember these pics: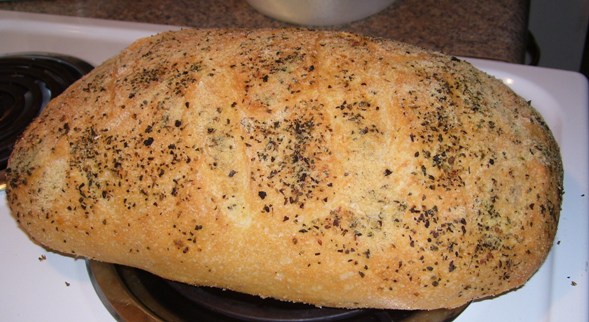 and crumb: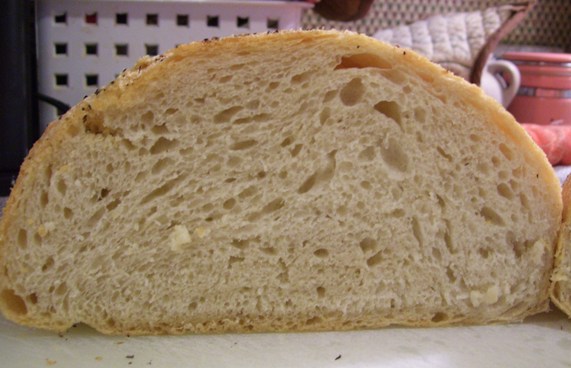 The 100% first clear Flour loaf had tremendous oven spring and came out the of oven almost cylindrical whereas the 00/semolina loaf had the usual sag. 
Anyway, I'm having fun with my experiments and getting a better feel for what the different flours do.  It's lunch time, I think I'll go spread something savory on thin slices of moist dark rye.