Today I was planning to do a baking test (inspired by Varda [1]) comparing a filone made with Atta and AP-flour against the way I usually make it; with AP and another durum flour that I have that is slightly coarser and pale yellow. The formula is based on Glezer's filone.
Did you ever measure out the water you needed for a formula and then left both measuring cups on the table during mis en place? You guessed it; by the time I got to combining the final dough for the "traditional" filone, I thoughtlessly poured in the wrong (way too much) water...
I decided to turn things around to save the situation so I dedicated the over hydrated dough to my Atta experiment and made another "traditional formula" filone.
The Atta that I added to the over hydrated dough became the main flour, together with a little AP and 250 grams of "fine durum" (by lack of a better term). I should have kept track of the numbers but I didn't... I went for roughly the same consistency as the normal filone.
And, as I was already messing up my initial test, I also gave both Atta's the Richard Bertinet-way of developing the dough a spin... or rather a SLAP [2] (in this case by what must be the cutest baker in the western hemisphere).
I felt like I was boldly going where probably most of you have gone some time ago. It was a blast! I felt like a kid in a candy store.
Durum should of course be handled with care. But once I got going and felt the dough developing under my hands faster than I ever experienced before... I went for it! As a matter of fact I was so happily slapping it around I woke up half the house... but it worked so nicely I couldn't resist, even it is a Sunday...
As a matter of fact I decided to also give the traditional filone a slap. That turned out to be not so good a decision. As much as the Atta didn't really seem to care being slapped around, Glezer's filone didn't really benefit from it but rather suffered.
So, after breaking all the rules, and just doing things by good ole intuition, I ended up with this trio: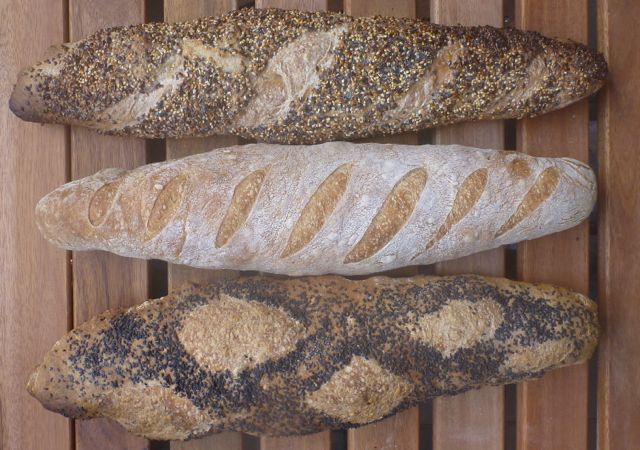 Number one and two are the Atta's and number three (as usual going all slug on me) the traditional formula for Filone, with black sesame as a variation. The first Atta is decorated with a seed mix pretty much similar to the one that goes onto the pain aux céréales [3] and number two is, as you can see... plain.
The taste of the Atta blew me away!
The black sesame filone ended up a bit more yellow than I'm used to (or is it because it stands out so yellow against the Atta?):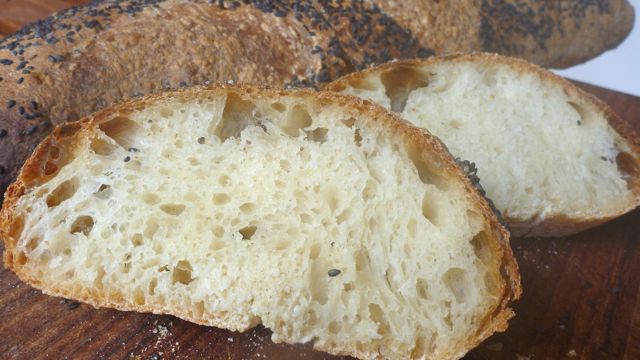 My filone crumb usually has bigger holes and is bit more chewy, but I'm perfectly happy with this.
Lesson learnt:  This last durum definitely wants to be handled with care, whereas the Atta seems to be more tolerant to this method of handling.
And!
Don't leave water jugs you don't need on the table during mis en place...
Happy Baking
Freerk