Pizza Margherita after Jeff Verasano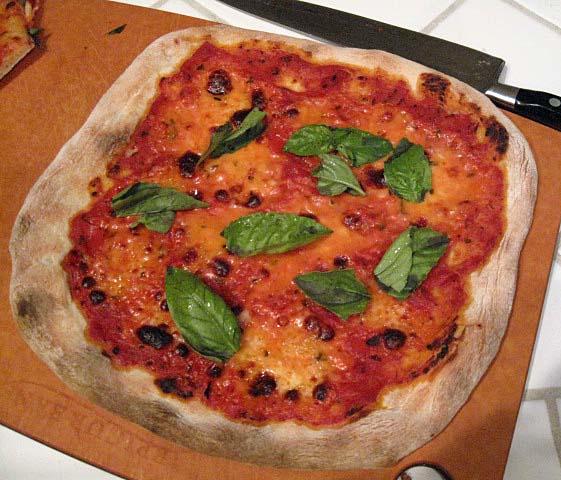 The pizza I made two weeks ago (Pizza Napoletana [1]) elicited many helpful comments and suggestions. That pizza had a cracker-crisp crust and minimalist toppings. This week, I was shooting for a more robust, chewy crust that would stand up to tomato sauce and cheese. (Heavier toppings yet await a future pizza-making session.
Based on the advice of several more experienced pizza makers, I chose to make my dough using Jeff Verasano's well-known method. His long and passionate treatise on pizza-making at home can be found on his website. (Jeff Verasano Pizza [2]) His formula for dough is as follows: 
Jeff Verasano's Dough for one 13" pie
| | | |
| --- | --- | --- |
| Ingredient | Wt. (g) | Baker's % |
| Water | 110.5 | 65.5 |
| Flour (12.7% protein) | 168 | 100 |
| Salt | 6 | 3.5 |
| Liquid levain | 15 | 9 |
| Instant yeast (optional) | 0.5 | 0.25 |
| Total | 299.5 |   |
 This formula is scalable. For two pies, double the ingredients, etc.
Because of a variety of considerations (including whims), the dough I made was modified from Verasano's as follows:
dmsnyder Dough for five 11" pies
| | | |
| --- | --- | --- |
| Ingredient | Wt. (g) | Baker's % |
| Water | 440 | 65.5 |
| Flour (12.7% protein) | 672 | 100 |
| Salt | 14 | 2 |
| Liquid levain | 120 | 18 |
| Instant yeast (optional) | 2 | 0.3 |
| Total | 1248 |   |
As you can see, I quadrupled the formula for one pie, but divided it into 5 pieces. I decreased the salt and increased the levain. The effect of doubling the levain percentage was to raise the actual overall hydration of the dough to 68%.
Verasano's instructions for mixing and fermentation are very specific about some steps but leave out some other information which would be helpful. Here is my method, annotated:
Method
In the bowl of a stand mixer, mix the water, salt, levain and 3/4 of the flour for 1-2 minutes at slow speed.

Cover the bowl and let it rest (autolyse) for 20 minutes.

Mix at low speed for 5 minutes. (Note: Verasano is using a DLX mixer. I have not altered his mix times for the KitchenAid.)

Add remaining flour gradually (over 1-3 minutes).

After 6-8 minutes, increase the mixer speed to medium (Speed 2-3 for a KitchenAid).

Mix until the dough forms a ball, then for another minute. (Note: For me, the dough formed a ball very quickly and cleaned the sides of the bowl. However, it was extremely slack and left a large portion of the dough in the bottom. In hindsight, I had not compensated for the increase in water and dough hydration resulting from my doubling the percentage of 100% hydration levain. I mixed at medium speed for about 15 minutes, at which point I had a rough window pane.)

Let the dough rest in the mixer bowl, covered, for 20 minutes.

Transfer the dough to a lightly floured board, dust the dough and your hands with flour, and divide the dough into 4 or 5 equal pieces. Roll each piece into a ball. (Note: Verasano says that, after transferring the dough to the board, he kneads it for a few minutes before dividing it. I did two sets of stretch and folds, after which the dough had really good strength.)

Place each ball into a lightly oiled container and either allow to ferment until increased in volume by 50% or refrigerate for 1-6 days to use during that time or freeze for future use. (Note: Verasano does not specifically say to divide the dough before bulk fermentation, but that is a common procedure, and I believe that is his intent. He also gives a huge range of estimates for fermentation time. He does not say whether these estimates are with or without the optional instant yeast. I suspect they are without the added yeast. I froze 3 balls and allowed 2 to ferment at room temperature. They were 50% expanded after about 2 hours, at which point I refrigerated them.)

If the dough is expanded 50% before you are ready to use it, refrigerate it.

If the dough was refrigerated, allow it to warm for 60-90 minutes while you pre-heat your oven for baking the pizzas. If the dough was frozen, I would thaw it in the refrigerator and then proceed.
I made two Pizza Margheritas. I made the crust quite thin. The sauce was that in Floyd's A Pizza Primer [3]. I used a very soft fresh mozzarella. Fresh basel was added after the pizzas were baked.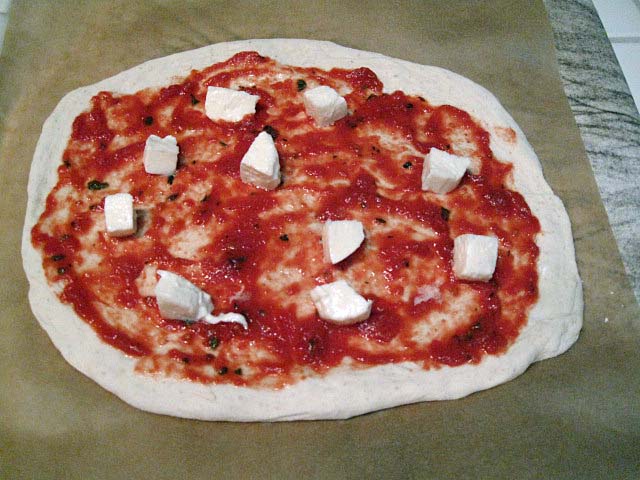 Pizza, dressed for baking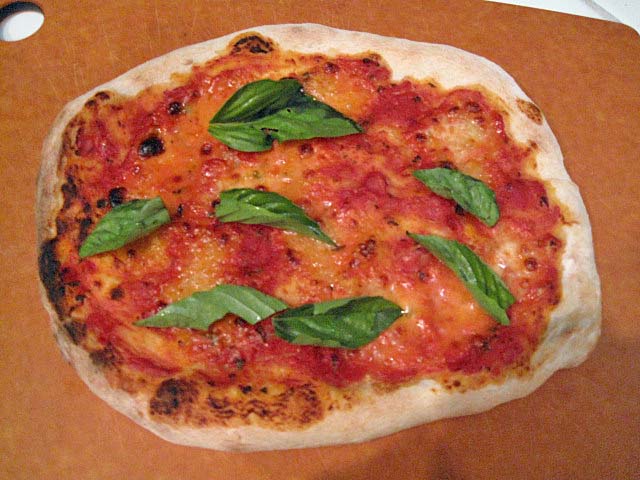 Ready to slice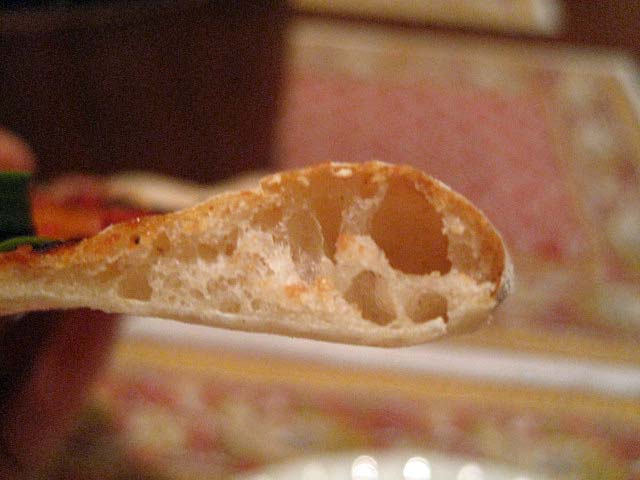 Slice crumb
This crust stood up to the sauce and cheese rather well. It was not soggy at all. It was very chewy under the toppings, but the corona was crisp. The flavor was good, but I bet it would have been better if the dough had been cold retarded for a day or two. That said, I covertly watched my wife eat her pizza slices. The truest test of pizza crust is whether she eats the rim. She generally doesn't eat the crust when we have pizza out. Tonight, she left not a crumb. I guess it was pretty good.
Personally, I'd like to split the difference between this crust and the one of two weeks ago. Maybe I'll try adding a little oil to soften this dough or use a lower gluten flour. I'm less tempted to try a much lower hydration dough, because I like the extensibility of this dough so much.
Thanks to all of you who contributed to my previous pizza blog. The quest continues! 
David