Light Rye, Caraway, and Emulsified Raisin Yeast Water Loaf
Light Rye, Caraway, and Emulsified Raisin
Yeast Water Loaf
 Updated: 110615-1100 Added Summary Table of the 3 loaves at the very end of this blog
For the initial two loaves,
see these link:s:
http://www.thefreshloaf.com/node/23945/emulsified-raisin-yeast-water-loaf [1]
http://www.thefreshloaf.com/node/24010/replication-bake-emulsified-raisin-yeast-water-loaf [2]

  This loaf combined light rye flour and caraway seed with emulsified raisins in the Raisin Yeast Water (RYW). I also made the overall development come very close to the initial loaf's 105 hour development timing, about 106 hours. However, rather than a 45+ hours final dough retard the major retardation was done with the Build-#3 of the 3-build RYW Levain.
  This loaf, was baked primarily to test two points: Firstly, was the prolonged final rise a result of the newness of the culture in the initial loaf's levain, or was it the extended retardation periods that most caused the slower final rise?  Secondly, how well would the emulsified RYW flavors work when combined with rye flour (and caraway seed, of course) ?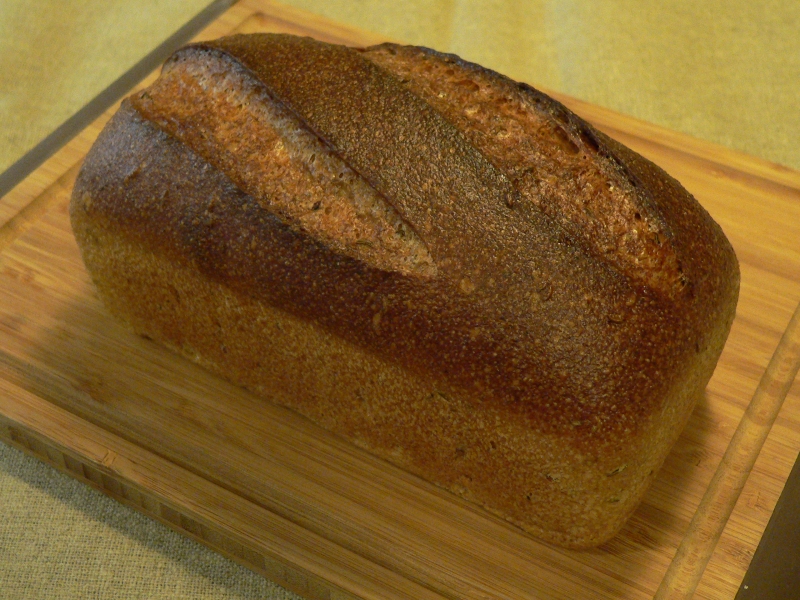 Oven spring was comparable to both previous emulsified RYW loaves, as was the darkness of crust - although, the longer development loaves (this and the first) may have a slightly darker crust, but if so, it is marginally so.
  The two longer development loaves also did develop a more full bodied flavor, but even the short development loaf (second loaf) had an above average flavor – at least in my opinion. 
   The first and (this) last loaf had development times of 105 and 106 hours, respectively, from start of Build-#1 of the 3-build levain to the dough entering the oven, while the second shorter development loaf was developed over 28½ hours. The long cycled loaves took 10 and 9 hours respectively for final rise, while the short cycle only took 6¼ hours for final rise. Thus, I conclude that the culture's age had little, or nothing to do with the longer rise time, and that extended retardation, be it in the levain builds, or in the final dough, caused the observed increase in final rise's time that were observed.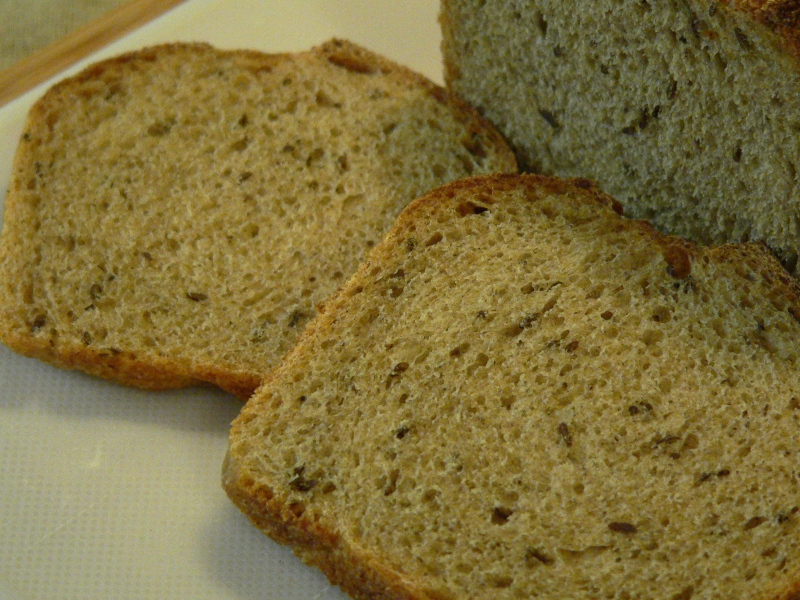 The crumb texture, moistness, and flavor of this final loaf were judged by me to be very good. The Rye and Caraway certainly did nothing to decrease my pleasure with the loaf.
   When I next make this combination, I will likely increase the percentage of rye flour and maintain the caraway seed at the 2 B% used here.
   These next links are to 3 baking logs in PDF format for this loaf, the initial loaf, and the previous 'replication' loaf.
    This
loaf's baking log at
Google Docs link:
2B_110621-17_Rye&BF_RYW_Repli_
478g [Photos]_110623-14305 .pdf -
https://docs.google.com/viewer?a=v&pid=explorer&chrome=true&srcid=0B_MScoZfDZkwODFlOTk0MDItZDAyMi00ZWVmLTlhYTUtYWE1NjRhNmUxMDc4&hl=en_US [3]

     The
previous 'replication' loaf's baking log at
Google Docs link:
2A_(Z)-110618-17_RYW_Replicate
478g[Photos]_110619-1200 .pdf -
https://docs.google.com/viewer?a=v&pid=explorer&chrome=true&srcid=0B_MScoZfDZkwMmViYjljN2ItMzVjZS00NWE1LWJjZjQtYzg2ZWMxNmIxN2Ew&hl=en_US [4]

     The
initial loaf's baking log
at Google Docs link:
Z-110614-10_RYW_478g
[Photos]_110615-1540 .pdf -
https://docs.google.com/viewer?a=v&pid=explorer&chrome=true&srcid=0B_MScoZfDZkwMDVmMmVkYWQtNjlmMC00YjVmLTgwMmYtODhlOTM3ZjE4ZDli&hl=en_US [5]

Update - Added Summary Table of the 3 loaves below: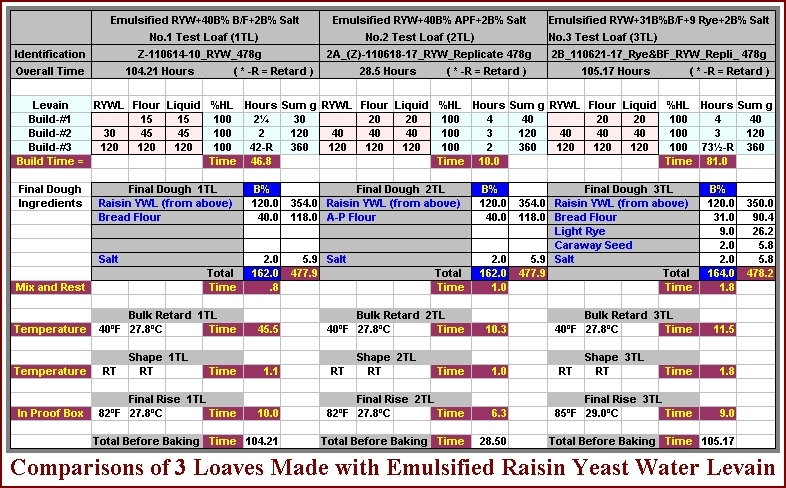 The above table, without a doubt, will have time entry errors of a few percent, but then I would hate being perfect ROFL
    Ron