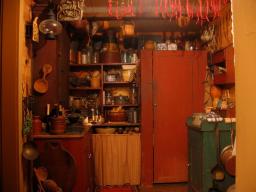 I made these two poppy seed loaves today using the focaccia recipe from the book NO NEED TO KNEAD and the NYT technique. The loaf in the back was left to rise and baked on a pie plate (I broke the bottom of my La Cloche), covered with the heated top from the La Cloche. The pie plate had a fluted edge and it affected the way the loaf browned. The bread also stuck to the pie plate even though I put down semolina.
 The other loaf was put into a heated oval 4 1/2 qt. Le Creuset and cooked nicely. Both breads are delicious, have lots of holes and a very nice crust.
Later I'll put a picture on of a nice big rye that I also made today in the oval Le Creuset. I'm still working on a large sourdough and some Columbia loaves. This has been a busy day. Oh, I also made today two baguettes from the same focaccia recipe as the poppy seed loaves. 
 Sometimes everything comes together good and today was one of those days. One loaf was ready to go in the oven when one came out and now I have a break before the Columbia loaves need my attention. It's been fun.