Semolina Sourdough Bread with Black Sesame Seeds - made it with durum flour finally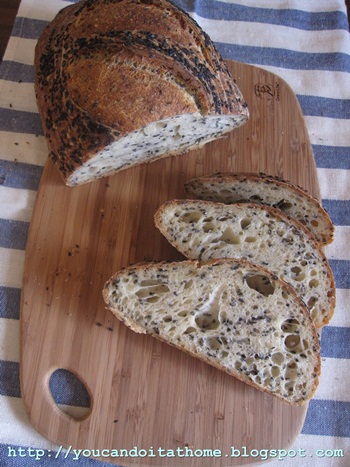 Now that I finally found (the elusive) durum flour (after been making semolina bread with fine semolina all along), I wanted to find out what differences between fine semolina and durum flour would produce in a finished product. I wanted to try this with the bread that I made using fine semolina before, Semolina Bread from Jeffrey Hamelman's Bread cookbook.
Taste-wise I couldn't tell or feel the differences. They both have lovely flavour and nice chewy texture (though the bread I made with fine semolina was a distant memory).
The differences were more in the dough structure. I found durum flour absorb the water better and easier to work with. Fine semolina hardly absorbed any water and the dough was really wet and slack from my memory.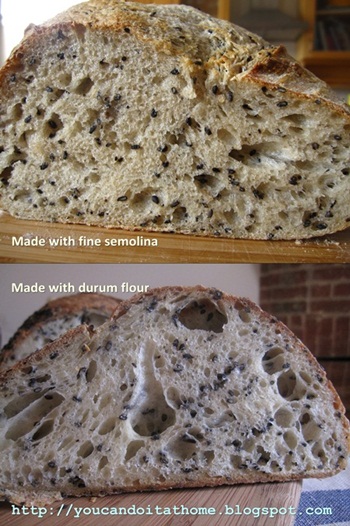 Bread made with durum flour also got better crumb structure, it was more open and rise well during the bake. The one made with semolina were rather flat, the crumb was relatively open and all but it just didn't rise and dome nicely.
This bread has 60% durum flour and 67% hydration. I was surprised that the crumb wasn't creamy and yellow as I would expect from durum flour. It was only a tad creamier than an all-wheat bread.
This bread is one of my favourite. I love the aroma and texture of sesame seeds in bread (or in anything really) and the durum flour also add sweet creamy flavour to the bread, and tender crumb. I used black sesame seeds instead of white as I find the black sesame seeds are more flavourful. I love its smoky flavour.
Full post and recipe can be found here [1].
Sue